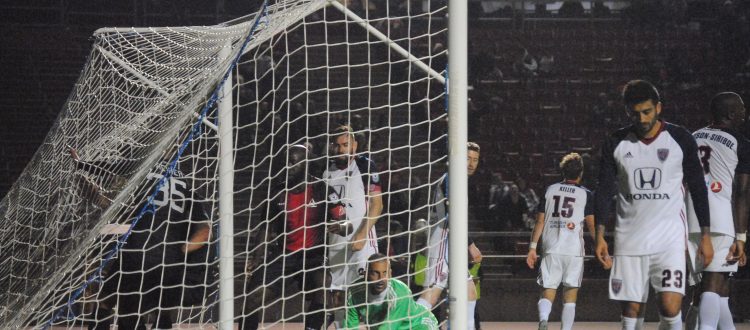 Deltas' Coach Marc Dos Santos' Post Match Thoughts: After Late Equalizer vs. Indy
Photo Credit:@theporjectfc
The Deltas dominated their 3rd NASL meeting with last year's League runner up, Indy 11. This match comes after two draws against Indy 11 already this year, including one at home in the Deltas' inaugural game. The Deltas looked to get more this time around, but had to settle for a come-from-behind 2-2 draw.
The 1st half of the match saw one-way traffic as the Deltas started the game much more brightly than their opponents. However, they were unable to capitalize on their numerous 1st half attempts on goal. Nana Attakora and Tyler Gibson watched their attempts on goal go over the bar before Reiner Ferreira missed on the doorstep. Then, John Busch came up with two huge saves to deny the headed effort of Tommy Heinemann and a free kick by Kyle Bekker.
The 2nd half started much like the first before all of a sudden, the Deltas were down 1-0 off of a goal from Lovel Palmer in the 56th minute. Heinemann responded with a header off the crossbar for the Deltas, before Brad Ring doubled the lead for Indy in the 79th minute. The Deltas then began to really apply some pressure, but continued to see their chances go just missed. Multiple huge chances hit the bar, were saved, or just went over.
Finally, Christian Portilla's magical left foot found the back of the net direct from the corner kick in the 85th minute. This brought the Deltas back to 2-1. San Francisco eventually found the deserved 2nd goal in the dying seconds of the game, when Kyle Bekker found substitute Devon Sandoval for the game-tying goal in the 93rd.
Here is what Head Coach Marc Dos Santos had to say after the match.
Q: Do you think that you might have possibly deserved the full three points tonight?
MDS: I think so. I think so. Do you think so? Yeah, you know I think that 1st half we controlled a lot. Busch is impressive for his age. He keeps on demonstrating that soccer is not about age. He was very good on that side. He made two incredible saves in the 1st half. We should have been one nothing up. It didn't happen. But then I think somehow out of the blue we are down two nothing in a game that we are dominating. We were creating more, and they score two goals. Our reaction to that was absolutely fantastic. Our guys never gave up, always believed, kept pushing. And to push like that after you travel to New York, you come back, you travel to Phoenix, and now to play a team like Indy that had rest. I think it's a very positive point at the end of the day.
Q: Do you think you could have done more to get the goal in the 1st half? Do you think it hurt to not get the lead?
MDS: Yeah, it did hurt, it hurts you because you lost two games in a row here, and when the opponent scores the 1st goal, it's a huge blow on us. You know we felt it was unfair for everything we were doing in the game, but again the reaction of the guys and the mentality of these guys is very strong. That is very positive, and at the end of the day it's a positive point.
Q: This is the 3rd time you have now played Indy. All three have ended up in draws. What do they do that makes it so difficult to get the full three points against them?
MDS: You know, I think today we deserved the full three points, and what I think is that they are a very experienced team, if you look at the starting line-up, Franco, Busch, Falvey, Lovel, Palmer, Ring, Zayed, Sinisa, it's all guys that played in the final, and won the Fall season with Indy. So it's an experienced team, and hopefully we'll get them the next game.
Q: Do you think that a 90th minute goal can help build some momentum? I know it's not a win, but to build some momentum at home?
MDS: Yes, yes, it's a good point. I told the guys, we can't focus on "we have to win at home." We have to start getting points at home you know, and slowly build it up. It's tough you know for every team on the road. If you look at the NASL results when teams play at home, they always face teams that sit and defend deep and wait for the counter, and every team has struggled a little bit at home. The same for us, but you have to put in consideration that we never train in Kezar. We only play here, so for this to really be a home advantage field, it's going to take at least one year that we are here every game, and it's going to take a little bit of time. We've played five games here. They've played two games here, so it's not like a huge difference, and it's not like we train here. So at the end of the day, I think It's going to take time for us to really see this as an advantage.