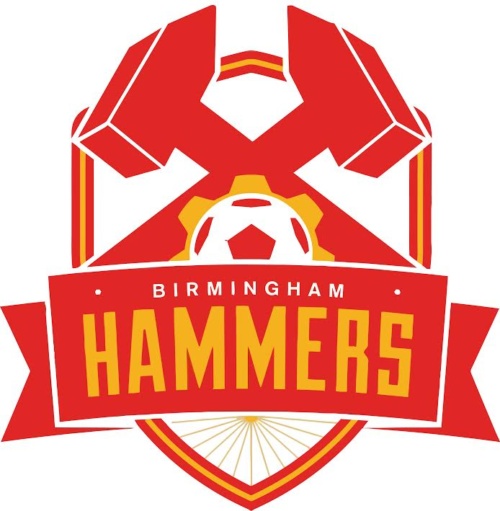 Hammer Time:  Grassroots Club Taps Into Birmingham's Soccer Potential
XI Questions With… Birmingham Hammers
Birmingham is one of the largest metro areas in the USA without MLS or one of the four major league pro sports.  With a population of 1.1 million, Birmingham is a bigger TV market than established major league towns Buffalo, New Orleans and Jacksonville.  The area has an appetite for soccer, as evidenced by the USWNT drawing over 35,000 to Legion Field for a friendly against Haiti in September 2015.
In March 2014, Morgan Copes helped organize a friendly between the Atlanta Silverbacks and UAB that drew 2057.  There were rumors at the time that the struggling Silverbacks NASL franchise might relocate to Birmingham, however that never came to pass.  Without a pro team moving into town, Morgan Copes and his partners took matters into their own hands and created the Birmingham Hammers soccer club, which started play in 2016 in the National Premier Soccer League.
Just one season in, the Hammers are off to a good start.  They have attracted BBVA as a shirt sponsor, and have a supporters group with the Magic City Brigade.  Playing in suburban Birmingham, they draw 700-800 fans to a typical NPSL match, and as much as 1500 when they play a local rival such as Chattanooga FC.  On the field, they performed as expected for an expansion club and look to make a bigger impact on the NPSL Southeast Conference next season.
Midfield Press was able to speak with Morgan Copes, President and Co-Founder of the Birmingham Hammers to discuss the club's past, present and future.
1. How and why was the club founded?
I was sitting at a local brewery in Birmingham with our co-founder John Killian.  We got a few beers in us and talked about starting this.  We asked some people at the bar what they thought and they liked the idea.  So we ran with it.  We staged a couple of exhibition games with the Atlanta Silverbacks.  After we got 2200 people to one of the games we knew there was a market for it.
2. Your crest is awesome.  The red and yellow color scheme with the hammers evokes a Soviet feel.  Is that intentional?
We get asked that quite a bit.  The people who ask that don't live in the state of Alabama.  It is actually based on the flag of the city of Birmingham as well as the state of Alabama.  It actually represents our city and state, it was never our intention to have a Soviet feeling to it.
3. What venue does the team currently play in?
We currently play at Sicard Hollow Athletic Complex.  They have been really good partners for us.  Without them, we may not have gotten off the ground.  It is in a nice quaint community, off the beaten path a little bit.
4. What does attendance look like a typical match?  What was your best attended match and the circumstances around it (including the attendance numbers)?
Our first home match last year we had about 1500 against Chattanooga. More typically we would see 750-800 per match.  It was our first official season in the league.
5. What does the supporter culture for the team look like?  
We have a supporters group that announced themselves to the world, the Magic City Brigade. They've been there with every game we've played and they continue to grow. Last year they had about 25-30 people each game on the sidelines singing and waving flags and creating an atmosphere.  The local American Outlaws chapter also comes out and supports us.
6. What is the long term vision for the team?
We want to try to get up as high as the US soccer pyramid as we can.  We are working towards that.  We think Birmingham can be one of the top soccer supporting cities in the country.  Birmingham has been the top rated TV market for the USMNT in the country for some games.  Birmingham has a really passionate sports fan base.  During the Spring and the Summer it goes dormant a bit because football is over.  There is an opportunity there, but we have to do it at the right pace and the right time.  It is the largest TV market in the US without a top tier sports team. [Editor note: Birmingham is among the largest TV markets without a top tier sports team, but not the largest.]
7. What does the current investor profile look like?
We have eight partners who are owners in the club.  We have skills from finance to marketing to legal to operations here on the board.  It is a good group of guys who love soccer and the city of Birmingham.
8. "Scratching the Pitch" among others have reported that a Birmingham-based USL team is in the works. Have you spoken with potential investors about moving the team up to USL/NASL?
We haven't heard any of those rumors around town.  We are focused on getting ready for the 2017 season in NPSL.
9. Would the current venue hold up if you moved to USL/NASL or would you need to find a new home?  If so, are there existing stadiums you could use in your area or would the investors need to build a new one?
If we were to make the jump to a bigger league, we would have to reassess the facility against the requirements of that league.  We're happy with the facility for where we are right now.
10. We have recently seen informative write ups on the financial and operational aspects of successfully running a lower league team by the owners of the Kingston Stockade (NPSL) and Minneapolis City SC (PLA/NPSL) in an effort to "open source" a soccer success formula to communities around the country.  What are some of the most important lessons you learned and what advice would you give to folks looking to start a similar club in their home town?
One of the biggest benefits that we have is that we got to run an exhibition season in 2015 before we made the financial leap to join the NPSL.  We learned so much about how to handle ticketing, merchandise, players, coaching staffs.  We learned how much we didn't know.  It was the best thing that could have happened to us to get us ready to be a good product for the NPSL.  I would recommend people try to run a few exhibitions in their town, do the best they can, to test the viability of the market.  Invite a pro team to come play a local college during the preseason.   If you think you can put together a 4 or 5 game home schedule of exhibitions that will give you a great way to learn what you are in for, and then be in a position to do it right when you get started in a league.
11. What else should the readers of Midfield Press know about your club?
At the end of the day, one of the coolest things about our group is that people told us that there was no way we could pull this off.  They say no one would support it.  We gave it a shot anyway.  If you think this is something you want to do, do it.  I never would have imagined 10 years ago when I played in college that I would be running a semi-pro sports team.  My partners and I get to play fantasy football manager in real life.  Look where we are now, going into our second season in the NPSL.  We're already outselling what we did last year in terms of season tickets.  We've got new merchandise that people are buying.  It is a wild rollercoaster.  The highs are really high and the lows are really low.  In the end, you cannot replace the amazing feeling of doing something to give back to your community.
More On Birmingham Hammers: