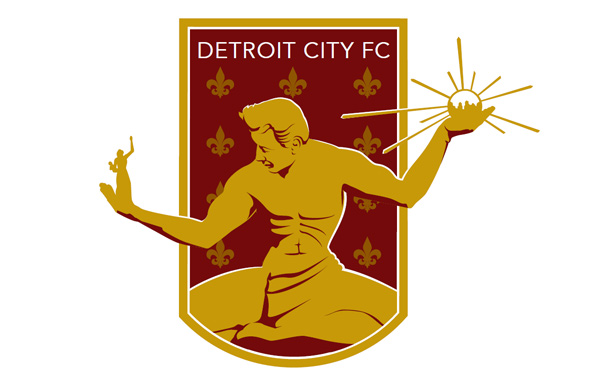 Detroit City FC Charts A Course For Pro Soccer
XI Questions With… Detroit City FC
Detroit City FC is perhaps the most famous soccer club in the USA outside of MLS, NASL or USL.  The club came about as a result of project to bring Detroit neighborhoods together through the power of soccer during a difficult time for the city. The five founders of Detroit City FC met through this city-wide league, and giving the club as authentic a claim as any to the "City" brand since the team represents the unification of neighborhoods of Detroit under the Detroit City FC banner.
DCFC has grown steadily each year.  In 2012, the club's first season in the NPSL, they drew 1,295 fans per match.  In the second season, attendance rose 32% to 1,715. In 2014, the club saw an average of 2,857 through the gates on average, up 66%.  In 2015, DCFC drew 3,528, up 23% and requiring a move out of their stadium at Cass Tech High in Detroit.  This year, their first season at historic Keyworth Stadium, saw Detroit City FC draw 5,208 on average, up 48%.  These are remarkable year-over-year growth rates in any industry.
The story around the renovation of Keyworth Stadium demonstrates how special the movement around Detroit City FC is.  Fans raised $750,000 to upgrade the old stadium and make it a suitable venue for the next phase of the club's growth.  As the club's momentum continues to build, Detroit City FC is working with investors on a move up to a professional league like the USL or the NASL.  Meanwhile, the prospect of an MLS team in Detroit owned by Tom Gores and Dan Gilbert offers potential challenges and opportunities for the team in the future.
Midfield Press was able to speak with Sean Mann, a co-founder of Detroit City FC, to discuss the club's past, present and future.
1. How and why was the club founded?
I started a recreational soccer league based around the neighborhoods in the city of Detroit.  There were a lot of issues with the city and lack of services. I was trying to create a way for neighborhoods to come together that was fun.  We just finished our seventh season, and now we have 32 neighborhoods in the league.  It was through that league that myself and the four other founders of Detroit City FC got to know each other.
I was on a business trip to Chattanooga and met one of the Chattanooga FC owners there.  He held my hand a bit and gave me some background on what they've done.  So we started kicking around the idea that we could do this in Detroit.  There was an entrepreneurial spirit in the city at the time.  It was a moment in time where if you weren't starting a business you weren't cool.  So this was our way of giving back to the city.  There was also talk at the time of some Greek-Canadian investors who wanted to put an MLS team in Pontiac at the Silverdome.  We thought that wouldn't work and wanted to build a team in the city for young adults.
2. The club famously led a renovation of historic Keyworth Stadium last offseason for roughly $750,000.  This is an incredibly ambitious project. Can you tell us a little bit about how that bold project came to pass, and how it has worked out for you?
By our third year playing at Cass Tech, a newer high school stadium in downtown Detroit, we began to outgrow it.  The stadium only had a capacity of 3500.  By the fourth year we sold it out.  We needed a bigger place to play.  We want to grow the club, so we needed a bigger venue to support that.  Our options were fairly limited.  One of the options we did have was this old stadium.  Keyworth was actually a stadium we looked at in 2012, but we wanted to sell alcohol and the school district wasn't OK with that at the time.  We went back to them (after the growth and they were OK) and proposed a public-private partnership to rehab the stadium in return for a long-term lease.  It is a different vibe than Cass Tech, but we think it really speaks to the spirit of our club and the spirit Detroit in a lot of ways.
3. Detroit City FC has become perhaps the most iconic club in the United States below the level of MLS, NASL and USL.   What drives your increasing popularity and success?
I appreciate the compliment.  I think it is all about location and timing and our approach.  I think being in the largest metro region without a pro team gave us a vacuum to operate in.  Social media has helped spread our story.  I think we're authentic.  I think we're genuine about what we want to do and how to go about it.  As owners, we are just regular guys.  We know the fans and supporters.  It is really the story of the whole community.  Whether they joined in the beginning our when we moved into Keyworth, the fans are part of the club and can take an active role and sense of pride in the growth of the club.
4. What does attendance look like a typical match?  What was your best attended match and the circumstances around it?
We averaged 5200 and change this season.  Our first match at Keyworth Stadium was our best attended match at over 7400.  It was a packed house.  It was a really magical environment.  There was something in the air that night.
5. Detroit City has a famous supporters group in the Northern Guard.  What does the relationship between the Northern Guard and the club look like, and are there are other supporters groups as well?  Overall, what is the supporter culture like?
We have a relationship of mutual respect with the Northern Guard.  There's nothing top down about it.  We give them a lot of leeway.  We're very open to the supporters culture. As the front office, we view ourselves as the host of the party and not the life of the party.
6. What is the long term vision for the Detroit City FC, and what does the current investor profile look like?
The goal is to be Detroit's soccer team. In our eyes, Detroit is a big community and a big region.  There are high expectations of a sports team in this town so we have to continue pushing ourselves.  Detroit is a unique American city in that it truly has a global brand, for better or worse, and we are going to continue to use the world's game to spread the story of Detroit to wider audiences.
7. Several articles in the past have mentioned that Detroit City FC has spoken with additional investors about moving the team up to a professional league.  Does the club still have the ambition to go to a pro league?  If so is there a preference between the NASL and USL models? Where does this stand today for Detroit City?
We have been very open that we've been talking to investors about going up to the professional ranks in the near term.  We want to play more games, and play on a national stage. We have a fan base that deserves that.  In terms of which league, we are having those conversations with our investors and that is a focus of this offseason.
8. Detroit is one of the top remaining markets without a pro soccer team in MLS, NASL or USL.  Recently NBA owners Tom Gores (Pistons) and Dan Gilbert (Cavaliers) announced their intentions to bring a MLS team to Detroit.  How do you think the presence of an MLS team in the market would impact Detroit City and your ambitions?
We have been in regular contact with the Gores-Gilbert camp throughout their process.  There is opportunity to work with each other.  But we're committed to the vision and culture we've created.  If we had a partner who wanted to take that to a higher level, we'd consider that.  We've had those conversations.  Maybe it is possible Detroit City becomes an MLS team.  Maybe we stay a team that plays in a smaller stadium in Hamtramck.  Our focus is continuing to grow our club.  Our goal next year is to fill out every game in our stadium.  In 2017, we want to be the D4 team that is getting 7000 people at every game.  We're talking to those folks, but it would be quite a while before anything would come from that.  We've had a lot of conversations with potential investors over the years so this is no different.
9. Would Keyworth Stadium be a suitable venue if Detroit City moved to a pro league or would you need to find a new home?
Keyworth Stadium would work for USL or NASL with the next phase of renovations.  We could take capacity up to 10,000-11,000.  We would add some seating, and replace the field.  We had that in mind as we moved in.  This can be our home for that next step.
10. We have recently seen informative write ups on the financial and operational aspects of successfully running a lower league team by the owners of the Kingston Stockade (NPSL) and Minneapolis City SC (PLA) in an effort to "open source" a soccer success formula to communities around the country.  As one of the most successful NPSL teams around, what would be some of the most important aspects of your success formula that you can share with folks looking to start a club like Detroit City FC in their town?
First and foremost, plan that you will have more expenses and less revenue than you think you will.  Sponsorship revenue will not be that big in the first year.   Making sure you have a reliable venue – this can't be understated.  Staff is important – have a coaching staff that can put a team on the field that you can be proud of.  We have largely outsourced the on the field operations to our coaching staff.  You need to be pragmatic about your own capacity and expertise.
11. What else should the readers of Midfield Press know about your club?
We appreciate everyone's support and interest in the club.  Keep an eye on us. We have a fun international friendly coming that we'll announce later this month.  One of the greatest things since we started 6 years ago is that there are other great clubs that have come about to push us and keep us on our toes.  It is a really exciting time in soccer.  It is kind of the wild west right now.  There is a lot of cool stuff happening at the local level around the game.
A big thank you to Sean for taking the time to answer our questions, and look for more "XI Questions With…" NPSL and PDL teams in the future.
More on Detroit City FC: