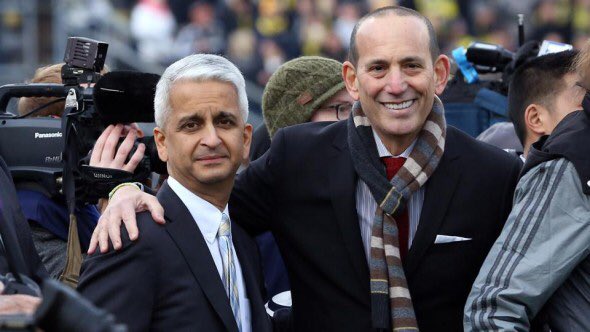 The Future Of US Club Soccer At A Crossroads: Part Three – Could 2018 Look Like 2010 When It Comes to Division 2 Soccer in the United States?
In 2010, the United Soccer Leagues and the Team Owner's Association, a group of club owners who disagreed with the direction of USL, were at war.  The TOA broke off from USL and would go on to form the new North American Soccer League.  Intervening to save the 2010 season, the United States Soccer Federation forced clubs from both groups to participate a joint league called USSF-D2 for a year while it sorted out which group would be D2 and which would be D3 going forward.  Ultimately, the federation decided that NASL would be D2 and USL would be D3.  
Since then, the NASL and USL have had a contentious relationship, even though few people from the USL-TOA rift are still involved with either league.  While NASL got off to the faster start, USL has gained ground over the past few seasons on the backs of its affiliation partnership with Major League Soccer, similar to a war between two small nations where a faltering rival receives backing from a regional power that shifts the tide.  With USL now applying for D2 status, the USSF could take the opportunity to revise the system altogether, calling an end to this "soccer war."
Ultimately USSF is closest to Major League Soccer among the professional three leagues, as MLS and the federation share a partnership in Soccer United Marketing.  SUM is a key revenue generator for both organizations that sells the broadcast rights to the national team games and MLS matches as a bundle.  The North American Soccer League aspires to grow into an alternative first division to MLS, as we explored in Part Two of this series.  USL aspires to be a minor league supporting MLS, as explored in Part One.  The situation has sandwiched second division NASL between a passive-aggressive first division MLS and an outright hostile third division USL.  USSF may not particularly care to see NASL's ambitions come to fruition.  It could seize upon NASL's loss of momentum and reshuffle the D2 and D3 deck before the league has a chance to regain its footing.
While the United Soccer League (no longer plural these days) may prefer to continue to fight an opponent that appears to be buckling at the knees, the federation may be more interested in stopping the fight to make sure strong NASL clubs in great markets such as Tampa Bay, Indianapolis and Raleigh-Durham are not irreparably damaged by a potential NASL collapse.  Even if that call comes before it's really necessary, stopping the fight benefits USSF partner Major League Soccer's agenda.
It seems unlikely this could take effect for the 2017 season, but 2018 is also the rumored debut year for the Canadian Premier League.  It seems possible that we could see sweeping changes in 2018 across North American soccer that shake up the landscape for the next decade.
What Would a Merged D2 Look Like?
While it is hard to speculate who might run a merged second division, or what it might be called, the structure is easier to guess.  While NASL is a league of independent teams, USL is a league of both independent teams and MLS reserve teams.  Simply combining both leagues would result in a second division with roughly 42 clubs today, not including the many potential expansion teams hotly rumored for both leagues.  Even if you split such a sprawling second division into two, three or even four conferences, that is a massive league.  
What would make more sense is to create both a second and third division from a merged NASL-USL, with the dividing line being strong, independent clubs making up D2, while weaker independent clubs and reserve teams make up D3.  For the purposes of this article, we will draw the line between having an affiliation that consists of loans being acceptable for D2, while a team where an MLS club runs the entire soccer operations would not be able to rise above D3.
USSF could add further legitimacy to this second division by requiring that any ownership group that wishes to launch a team in MLS operate at the second division level for a minimum of three years.  This would help ensure D2 expansion teams in Detroit, San Diego and Las Vegas happen.
Here's a look at what USSF-D2 2.0 might look like, including some clubs from our expansion rumors updates that are targeting 2018 starts:
D2 Eastern Conference
New York Cosmos

Tampa Bay Rowdies

Carolina Railhawks

Jacksonville Armada

Miami FC

Indy Eleven

Puerto Rico FC

FC Cincinnati

Rochester Rhinos

Richmond Kickers

Charleston Battery

Charlotte Independence

Louisville City

Baltimore (rumored Wilmington Hammerheads relocation)*

Nashville SC (USL expansion team scheduled for 2018)*

Chicago NASL (Peter Wilt's city-based club)*
D2 Western Conference
San Francisco Deltas

Sacramento Republic

Orange County (Blues today but rebranding per new owner)

San Antonio FC

Saint Louis FC

OKC Energy

Tulsa Roughnecks

Arizona United SC

Colorado Springs Switchbacks

San Diego (new franchise owned by SD MLS bidders)*

Las Vegas (new franchise owned by Vegas MLS bidders)*

El Paso (new franchise owned by MountainStar Sports)*

Austin Aztex (return of Austin, whose owners covet MLS)*

FC Tucson (PDL team trying to move up)*

Albuquerque Sol (PDL team trying to move up)*

Los Angeles NASL*
*Speculated teams based on recent rumors catalogued in our monthly expansion tracker.
32 teams in total and 16 in each conference would allow for a balanced home-and-away schedule of 30 matches for the regular season.  This would be fairly similar to what USL does today from a scheduling perspective, with clubs from each conference only meeting those from the other conference in the playoffs.  In this scenario, two struggling NASL clubs drop down to D3. The Fort Lauderdale Strikers, who have had financial issues, and Rayo OKC, which could be abandoned by the Spanish club but kept alive as the originally planned Oklahoma City FC by the local minority investors at a lower cost D3 level.
MLS expansion will ultimately take its toll on this second division, with teams in Sacramento, St. Louis, Cincinnati, San Antonio, Oklahoma City, Nashville, Arizona and Louisville as well as possible clubs in Austin, Detroit and San Diego with their eyes on the MLS prize.  Under this dynamic, former NASL clubs in Tampa Bay, Carolina and Indianapolis would likely step up their MLS efforts as well.  It appears certain that a maximum of eight MLS berths remain to be handed out over the next decade, so as D2 loses some of those clubs, it can try to replace them with teams in good potential D2 markets like Hartford, Birmingham, Milwaukee, New Orleans, Omaha, Memphis, Virginia Beach, Grand Rapids, Inland Empire, Providence, Cleveland and Buffalo as well as hope a club like Pittsburgh gets the additional investment to step up.
How About D3?
The third division would become the home for the MLS reserve sides as well as provide a place in the system for independent clubs in that are in smaller markets than meet the D2 standards or those that lack the financial backing of D2 clubs.  A city like Pittsburgh might have the potential to move up to D2 one day, but a market like Harrisburg is likely at its correct level in D3.  The third division could experience even more granular regionalization than USL has today, starting with three regional divisions (East, South, West) and possibly moving to four (add the Midwest) as expansion continues.  This could make it easier for NPSL and PDL clubs to professionalize and move up to D3, especially if USSF were to soften its ownership requirements at that level in light of the limited travel costs associated with greater regional play.
D3 Eastern Conference
Bethlehem Steel FC

NYRB II

Pittsburgh Riverhounds

Harrisburg City Islanders

FC Buffalo*

Lansdowne Bhoys*

Philadelphia Fury*

Cleveland*

Detroit City FC*
D3 Southern Conference
Fort Lauderdale Strikers
Rio Grande Valley FC
FC Dallas 2*
Swope Park Rangers
Orlando II
Oklahoma City FC* (successor to Rayo OKC by minority owners)
Chattanooga FC*
Birmingham*
As D3 expands, Swope Park, OKCFC and the Texan teams could shift to a Midwest conference.
D3 Western Conference
Seattle 2
Portland 2
LA Galaxy II
LAFC2
Real Monarchs
Reno 1868
Boise*
San Francisco City FC*
Fresno (the Fuego or the second Fresno group reported by Evan Ream)*
*Speculated teams based on recent rumors catalogued in our monthly expansion tracker.
The third division could grow as more lower league teams are able to make the jump up, or investors groups emerge in mid-market cities across the country.  If D3 splits into Eastern, Midwestern, Southern and Western Conferences, the reduced travel could make it easier for a New Orleans Jesters, Memphis City FC or Virginia Beach City FC to join the South, a Grand Rapids FC, Des Moines Menace or Milwaukee Torrent to join the Midwest, or a North County Battalion, Southern California SC, Ventura County Fusion or East Bay Stompers to join the West.
How About the Canadians, Eh?
With the Canadian Premier League hotly rumored to start in 2018, it would make sense for Canadian NASL and USL teams to switch over the that league rather than slot into a revised US system.  This would allow them to concentrate on developing Canadian talent with more focus, while the three MLS teams offer players coming through that system a path to a higher level.  Add in the confirmed team in Hamilton, as well as rumored clubs in Calgary, Regina, Quebec City and Winnipeg to bring the CanPL to an even ten.
Canadian Premier League
Toronto II
FC Montreal
Vancouver 2
Ottawa Fury
FC Edmonton
Hamilton
Calgary*
Winnipeg*
Regina*
Quebec City*
Could There Be Promotion and Relegation Between D2 and D3?
Promotion alone makes sense as a way for D2 to cope with the loss of teams to MLS expansion.  If there were ever a place to test out promotion and relegation, it would be between the second and third divisions.  However, it would make sense to limit the clubs that could be eligible for promotion to organizations that can meet D2 standards and non-reserve teams, similar to how reserve teams are barred from the US Open Cup.  This would provide a path to the second division for third division teams as they grow and get more financial backing.  Relegation to D3 provides a way to lower expenses for any D2 teams that run into financial trouble. As long as the second division was at 32 teams, new clubs would have to start in D3 and fight their way up. It would put more at stake in a system where the top tier of soccer is locked away with MLS.
How Independent Would This System Be From MLS?
Today NASL does not take MLS territory rights into consideration when expanding.  A key component of the Chicago NASL bid is that the team would be located in city limits, allowing it to serve a different audience than the suburban-based Chicago Fire.  While the USL will allow a Colorado Springs team to enter the Rapids MLS territory or Sacramento to enter the Earthquakes MLS territory, it has left actual in-market franchises for the "MLS 2" sides.   Chicago NASL would be a competitor to the Fire in the market, albeit a lower league competitor, just as a potential LA NASL team would be to the Galaxy and LAFC.  If the D2/D3 system is independent from MLS, expansion teams directly in MLS markets, not just MLS territories, should be permitted.
Beyond territory rights issues, there would be issues surrounding player development.  One of the benefits that the independent clubs bring to the US men's national team system is that they can form their own academies and develop talent within their markets with more focus than an MLS franchise would from afar.  However it would be important that the USSF force MLS to do the right thing in terms of compensating these clubs for talent that moves up to MLS.
One area where NASL has impressed is that it has attracted big names into the league. Marcos Senna, Raul, Omar Bravo, Gerardo Torrado, Joe Cole, Niko Kranjcar and Georgios Samaras are among the famous names to play in the league in recent years.  With apologies to Carlton Cole, this is not the case with USL.  It would be nice to see teams in this system retain enough roster freedom to allow that to continue.  It is likely a key reason why NASL has been able to attract more broadcasting interest than USL.  USSF D2 2.0 would want to keep NASL's TV contracts in place.
What Happens to the NASL D1 True Believer Clubs?
The New York Cosmos and Miami FC have been two of the most ambitious NASL clubs.  It is unclear what impact a NASL-USL merger would have on them.  Both clubs have bought into the idea that NASL could become a first division league. Would their ownerships be interested in continuing in a system where they are locked into D2?  There are two roads they could go down aside from the most straightforward of either joining the new D2, or folding.
The Cosmos could attempt to buy out the New York Red Bulls with the money they were planning on investing in their Belmont stadium.  Forbes values the Red Bulls at $178M, quite a bit lower than the Cosmos' reported budget of $400M for the Elmont Crossings project.  Sports franchises usually sell for a premium over what they are valued at, but, even still, buying out the Red Bulls and their stadium is likely cheaper than building the Belmont complex.  It would also place the club closer to its historic home of New Jersey.  Most of the club's heyday was played at the old Giants Stadium, a stone's throw from Red Bull Arena.  With many connections between the Cosmos staff and the MetroStars/Red Bulls franchise, this move would make a lot of sense should a forced NASL-USL merger scenario come to pass.
Miami FC on the other hand would likely have to join up with David Beckham's bid.  Miami FC has created a good brand, a strong roster and comes with a built in temporary home at FIU Stadium that could be used while Beckham's Overtown stadium is built. Riccardo Silva's deep pockets could help a Beckham group that has needed wealthy partners for some time.   An MLS Miami team backed by Silva would certainly have the financial resources to go along with Beckham's connections to help lure top European stars such as Zlatan Ibrahimovic into taking their talents to South Beach.
Alternatively, the Cosmos and Miami FC could look to start a new league, perhaps formed out of a professional division of the National Premier Soccer League.  This would allow them to continue on fighting for a different model for American club soccer, though without the other NASL teams that fight is even less likely to be successful.
Would the USSF Be Doing the Right Thing for Soccer in the USA?
While forcing a merger between NASL and USL to bring about a new second and third division would be the best move for USSF's Soccer United Marketing business partner MLS, it is unlikely that it would be the best thing for soccer in America or for the long-term future of the national team.  More strong, independent teams with academies aspiring to top level status seems likely to lead to more talent development for the national player pool.  If MLS is capped out at 32 teams, that means only 30 markets in North America will have top level soccer.  Only 27 markets in the US, due to two clubs in New York and Los Angeles, as well as three Canadian teams in the league.
There are 53 markets in the US with over a million residents.  In this scenario, 26 of them will never get to experience a soccer club to call their own competing at the highest level in the country.  It means less incentive for owners in those markets to invest in developing talent, which translates to reduced potential for our national team.   While USSF can mitigate that to some extent by making sure MLS fairly compensates D2 and D3 clubs for talent, the potential is still diminished.
Soccer may be the beautiful game on the field, but the off the field business behind the game at the highest levels has proven to be rife with corruption and cronyism.  In that context, the right thing to do stands little chance against the incentive for the owners of MLS to divide up a few billion dollars in increasingly scarce franchise fees amongst themselves.  MLS is gearing up to charge $200M for franchises in the near future, as it expands from 24 accepted teams to 28.  Should it go from there to 32 franchises, who knows what they will charge for a berth… half a billion?  That is a lot of money at stake to MLS owners who have a great deal of influence on the national federation, and they likely have no desire to see an upstart challenger like NASL continue.  Sadly, the precedent in the global business of soccer is that money wins out over what is best for the game.