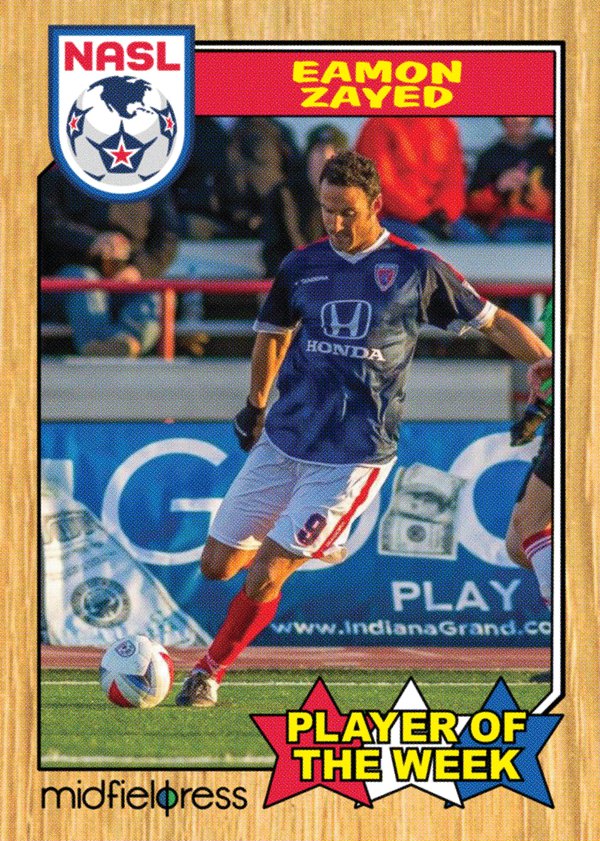 First Class: NASL Best XI, Week 8
I've been fantastically wrong in my weekly predictions, and it's been wonderful. This season's NASL is perhaps the most competitive yet and certainly the most interesting (infuriating). There have been superb individual performances every week from nearly every team regardless of outcome. So, as we move towards the conclusion of the Spring, we see more and more strong performances from teams pressing for the Spring title as well as those certainly out of it.
This week sees me deploy the ever popular and widely recognized 4-1-3-2, which could easily be seen as a 4-2-2-2.
Brian Shriver being pushed out wide saddens me, and I think the Carolina Railhawks are poorer for it–if only we had a record of performances to show this was the case across a couple of teams over a course of a couple of seasons… FC Edmonton certainly benefited from it, and for me, it was leftback Adam Eckersley who stood out. Across the pitch, Minnesota United's Stefano Pinho scored a Play of the Week contender, but it was the two assists by rightback Kevin Venegas that kept his team in contention (however fleeting) against Indy Eleven. Indy, however, put forth the two best performances by strikers in the league with Eamon Zayed and Justin Braun each notching a goal and an assist.
(Photos Mike Pendleton, @phat7deuce)
Goalkeeping I give the nod to Romuald Peiser notching yet another cleansheet against Florida. In central defense, there didn't seem to be any truly impressive performances but rather journeyman efforts accomplishing the task at hand, thus I give you Ft. Lauderdale Strikers' Dalton and New York Cosmos' Carlos Mendes. Jonny Steele finally put in a performance to take note of even though Ottawa Fury's three points simply mean its clear of the bottom two teams in the league. Yet, somehow, I value them. Two more defensive midfielders I rather like and put in good shifts this weekend were Rayo OKC's Derek Boateng and Ft. Lauderdale Strikers' Fernandes. These three central midfield stalwarts are joined by dangerman Juan Arango, who made short work of Tampa Bay Rowdies with two assists this weekend (even if the Rowdies suffered from painfully poor officiating).