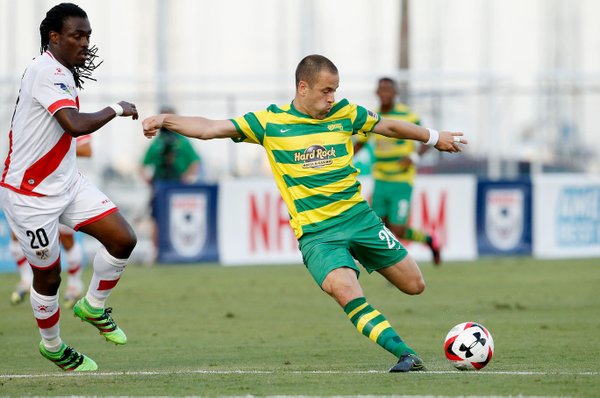 First Class: NASL Best XI, Week 7
It might be a bit late. I usually try to get out our Best XI ahead of the league's official Team of the Week, but I thought this week to lie in wait. I've got to say that with only a couple of agreements, my Best XI doesn't quite match up with the league's.
Perhaps to just be contrary, I find myself rolling out a back five and again finding it difficult to select strikers. But I feel more comfortable with this 5-3-2.
I diverged from the league's choice of Jon Busch at goalkeeper and picked Rayo OKC's Daniel Fernandes. This was a tough call as I found myself loving Busch's performance but I just couldn't ignore how good Fernandes was. Plus, he shouldn't suffer for an own goal costing a cleansheet. Minnesota United's fullbacks have always been dangerous but this season they are playing more defense first.
Yet that didn't stop rightback Kevin Venegas from not only winning Play of the Week but putting his name in the hat for Goal of the Year. The dancing and the shot makes him the Midfield Press Player of the Week as well.
His opposite side partner Justin Davis put in a solid shift defensively as well so the fullbacks are spoken for. In between the two, I felt compelled to give credit to the centerbacks that won tackles and made clearances: FC Edmonton's Pape Diakite is having a stellar season, Neill Collins has shored up the Tampa Bay Rowdies defense, and Gale Agbossoumonde is slowly and deliberately blooming for Ft. Lauderdale Strikers.
Moving into the midfield, central midfielder Dustin Corea was an engine of attack for Edmonton and is quietly revving up for the Fall. Although I've not been overly impressed with him this Spring, central midfielder Alex Perez felt more of the dynamo for the Carolina Railhawks last week than Nazmi Albadawi.
But it's difficult to find the energy to quibble when both labored to draw against Miami FC, a team that once again had no one on it worth mentioning. But worth mentioning is the newest Tampa Bay Rowdies signing, central midfielder Joe Cole. Although the Rowdies attack is still anemic, Cole was clearly the commander in the midfield and well-spring for the few chances Tampa Bay had.
Finally, there's my transition to the forwards. Stefano Pinho had his first start with Minnesota United and scored his first goal. Last season's Golden Boot winner impressed, though it seems he's only going to be able to find time out on the left wing. Technically, that makes Pinho a midfielder but for balance sake, I'm slotting him in just behind New York Cosmos striker Jairo Arrieta, the only true striker this last week that produced.