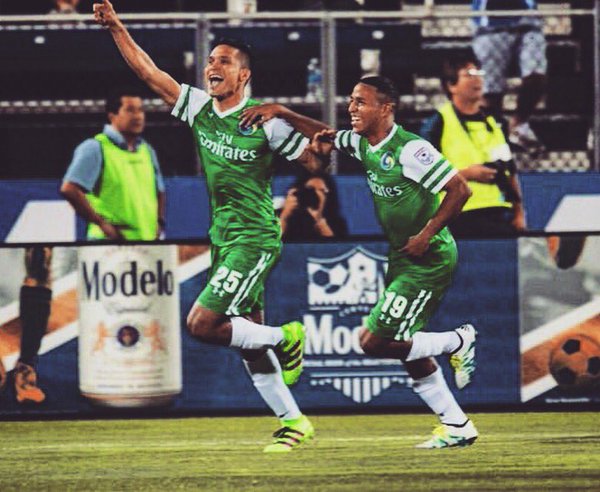 First Class: NASL Best XI, Week 6
The two things learned this week: Miami FC is playing worse than David Beckham's Miami team and Carolina has come back down to Earth. Regarding the latter, the Ft. Lauderdale Strikers apparently decided they had had enough of being the worst team in Florida. Arriving in Cary, North Carolina, the Strikers owned the Carolina Railhawks in the biggest upset of the year thus far. Regarding the former, Miami FC is the new worst team in Florida and in the NASL. While the Strikers were superior to the Railhawks, the Cosmos utterly murdered Miami.
So the New York Cosmos dominate Week 6's Best XI which lines up as a 4-2-3-1.
This week's best goalkeeper has to be Daniel Fernandes of Rayo OKC. The Jacksonville Armada aren't the most impressive in attack, but Fernandes commanded and kept a true clean sheet. In front of Fernandes, I'll have to award spots to the oddly offensively productive defenders. Greg Janicki scored his first-ever goal for Indy Eleven and did a good job against a sharper FC Edmonton attack. Typically a rightback, Hunter Freeman has been slotted in as a centerback these last two matches and has done quite well (Freeman had almost a hundred touches against Miami). Conversely, Nana Attakora is usually a centerback but has been moved out to rightback of late and has paid off as well (an assist and a goal against Carolina). Over at leftback, new signing Moses Hernandez for Rayo OKC proved to be very effective.
In the center of the pitch, the Cosmos get all the credit. Although, Rayo OKC's Derek Boateng and Indy Eleven's Nicki Paterson put in good shifts, the central midfield spots this week have to go to playmaker Juan Arango and defensive mid Michael Lahoud. Miami is a team easily pushed around, but the Cosmos midfielders made them look like toddlers among men. Perhaps the most impressive player of the week was central attacking midfielder Ramon Nunez, who notched two assists to secure three points for Ft. Lauderdale.
Photos by Mike Pendleton @phat7deuce
On the wings is where I believe I'll get the most stick for my choices. Although Paulo Junior was the spazziest player for the Ottawa Fury Saturday, Carl Haworth was the best. He worked hard in defense and was a steady, dangerous presence in attack. On the other side of the pitch, Sainey Nyassi harried Indy all night and provided a brilliant piece of service. That service was to striker Jake Keegan who finished quite well and had been making dangerous runs all night.