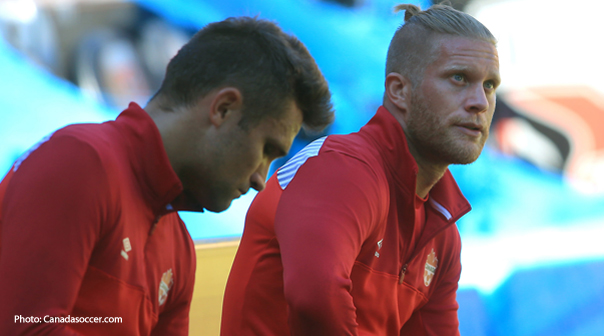 De Jong's Future Unclear Beyond Spring Season
Ottawa Fury and Canadian Men's National Team left back/winger Marcel De Jong still doesn't know what lies ahead of him when his Fury contract runs out in June.  De Jong is only signed on with Ottawa for the Spring Season as he looks to stay fit and competitive ahead of the European transfer window, however if his wife and daughter have any say Marcel may just stay in Ottawa a bit longer.
After scoring Ottawa's late equalizer on Saturday, De Jong was asked what his plans were for when his Fury contract expires, "I don't know, I like it here of course.  My family just came over here and they really like it too.  My contract is until the end of June, but nothing is for sure, so we will see what happens."
De Jong said he has no negotiations going on, but elaborated saying "When I signed here it was just for four months, but obviously things change.  Like I said, I like it here so who knows what happens."  De Jong was accompanied by his young daughter for the press conference, and when asked about Ottawa she said enthusiastically "I like it".
Ottawa Fury gaffer Paul Dalglish seems much less optimistic about De Jong's future in the capital, and today's performance may not have helped.  "I don't think we can afford him, to be honest" Dalglish responded when asked if there was plans to extend De Jong contract beyond June.  With two goals after coming on as a half time sub on Saturday, the Canadian will likely have impressed scouts watching from abroad.
Signing De Jong was a right place right time signing for Fury, as Dalglish explained.  "He's an international level player in the prime of his career, the only reason we got him was because he wanted to sign a short term contract and be available for the international transfer window.  We'd love to keep him but I think it's going to be very difficult"
Although Dalglish may not feel too confident in the clubs ability to retain the Canadian international, De Jong's family may be enough to convince the Canadian to stay in Ottawa over a potentially more lucrative deal abroad.  Until then De Jong has several more games with Fury to help them push into a playoff position and hopefully a Voyageurs Cup semi-final.