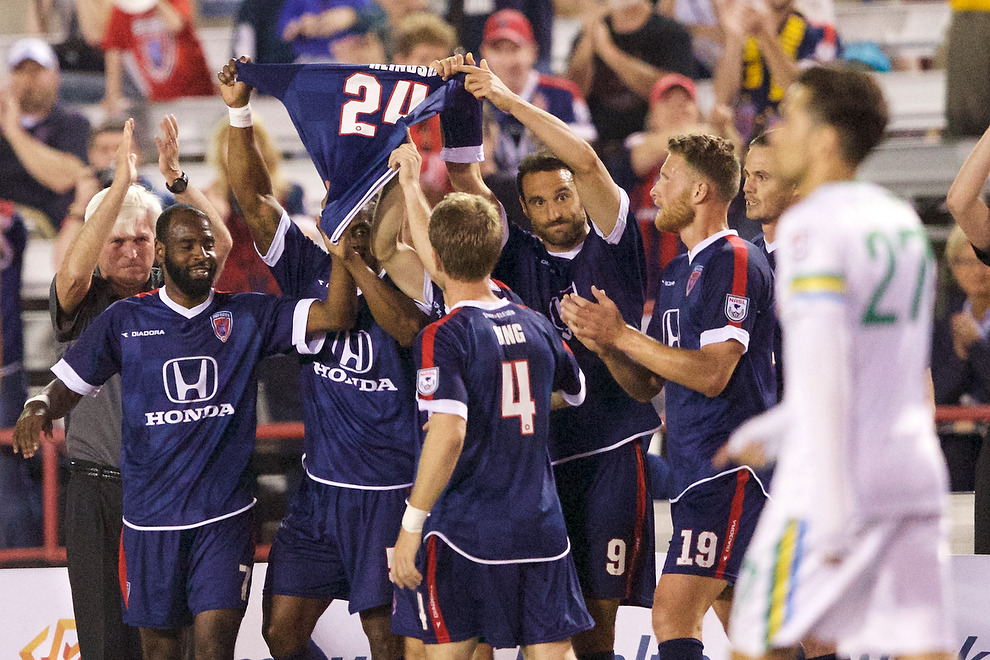 Indy Eleven: Bring on Edmonton
INDIANAPOLIS:
The past weekend sought to be another 3 points to Lady Victory as the Eleven rallied to beat Rayo OKC in Oklahoma City last weekend. Now the Eleven will host their 3rd home game of the season against Canadian side FC Edmonton. Coming into this match we have to keep in mind the point totals and the overall look of the table before we evaluate how the Eleven will match up against FC Edmonton. The Eleven currently set in 3rd place of the NASL Spring Season Table trailing Minnesota United and the New York Cosmos by 1 point and a few goals on GD. Currently Tampa Bay sits behind the Eleven with same amount of points but are ahead on GD. Essentially, a win this weekend would seal a spot in the top 4 for another week and could even bring the Eleven up to 2nd place if Minnesota and New York drop points. As for FC Edmonton, they sit in 8th place of the table in a 4 way tie between Rayo, Jacksonville, and Ottawa. A win for either club would catastrophic for the table. And a loss for Indy could keep Edmonton's Spring Season Campaign alive.
THIS IS A MUST WIN MATCH
Key things to consider:
Expect Gorka to play in his first home game this weekend.
A win for Indy would open up a 3 win streak that has never been accomplished in the Club's young history.
Can John Busch get his first home clean sheet of the year versus Edmonton?
These are just a details to look into coming into this weekend.
Contributor's Prediction: 
Hankinson is looking to bring Silverware to Indianapolis. Tim knows in order to do so we need as many points as possible to fight to the top of the table. Although this weekend may seem to be a sweep for the top 4 on paper with Carolina facing Fort Lauderdale, Minnesota playing Ottawa, and New York facing Miami there should be an upset for the Eleven to capitalize upon. By beating Edmonton it will put Indy Eleven closer to the driver's seat to win the Spring Season Title. However a loss could very well end the Eleven's hopes of winning the Spring Season this year. We have many pros coming into this match with the great performances of Vukovic, Zayed, and stellar defense. It's time to capitalize, It's time to win. My prediction is 2-1 with the Eleven scoring 2 and conceding once early on in the match. Below are highlights from last weekend.