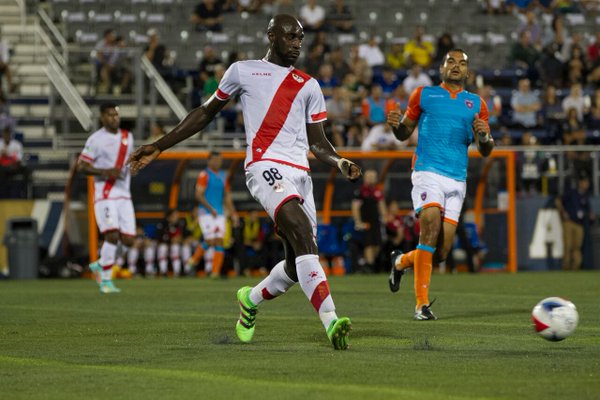 NASL Spring 2016: Week 5 Predictions
Saturday, April 30th
Ottawa Fury v Miami FC 
2:00 pm EST 
ESPN3 
TD Place Stadium, Ottawa, Canada
The Ottawa Fury are a poor team. Not an untalented team, not rudderless, and not without potential, but a poor team nonetheless because it is in the midst of a complete overhaul and rebuild. As such, the Fury have been simply not good enough to overcome even the weakest of opposition. Ottawa has managed just one goal over four matches and surrendered seven for a point. This week will be the midpoint for the Spring portion of the season. Ottawa have played over three hundred and sixty competitive minutes in a 4-3-3 formation. The team has lack any creativity, provides little to no service to any of forwards, and routinely fields strikers with suspect finishing. There needs to be a shake up by first-year manager Paul Dalglish.
And playing against the woeful Miami FC at home might just be the best time to do so. Miami is a mess of a team. Go to the league website and take a look at the Avg. Position statistic in the Match Center of each Miami FC match. You'll encounter nonsensical formations overly weighted to the right side with attacking players routinely on top of each other. The team plays like a top rec league side; it's embarrassing and Miami supporters deserve better. The mess that is the Miami attack will face the mess that is the Ottawa defense so expect a sloppy match.
What the first four matches have taught us is that Miami will give up a penalty to lose or drop points and it has failed to keep a single cleansheet thus far (as have Ottawa). Given this match will be in Ottawa and Miami's near chronic will to collapse, I foresee a draw.
Ft. Lauderdale Strikers v Tampa Bay Rowdies 
7:00 pm EST 
ONE World Sports 
Lockhart Stadium, Ft. Lauderdale, Florida
The only team playing more poorly than Miami and Ottawa are the Ft. Lauderdale Strikers. However, the Strikers, unlike Ottawa which is rebuilding or Miami which is an expansion team, have no excuse. Coach Z (manager Caio Zanardi) bullied his way from the front office into the manager's seat assembling the team he wanted from the get-go.
That team has failed to impress via every rubric you could imagine. Ft. Lauderdale is a bizarrely slow team with poor decision making skills (two straight matches with a player being sent off) that rivals Miami for the most confusing and ineffectual positioning. But here's the catch, at home against an arch in-state rival, the Strikers will probably bring their best. But will that be good enough against the Tampa Bay Rowdies? It's fifty/fifty since the Rowdies are consistently inconsistent. Target man Tom Heinemann is proving to be an utter bust, Freddy Adu can't crack the starting eighteen, and those ahead of him manage to roam the midfield without ever really being able to get the ball into the final third. There are problems with the Rowdies. Still, there are moments when the team comes together and we get glimpses of what Tampa Bay could be if it would just flip the switch. 
Given the Rowdies take more shots and more accurate shots, I'm going to give them the win here. The Strikers are a sinking ship for the Spring.
The Midfield Press Player of the Week, Rayo OKC's Pecka (photos Mike Pendleton)
Rayo OKC v Indy Eleven 
8:00 pm EST 
beIN SPORTS 
Miller Stadium, Yukon, Oklahoma
After a bye week that saw its position on the table remain unchanged, Indy Eleven travel to Oklahoma looking to pick up three points to set them firmly in the top caste of the league. While the team will be fresh, I don't know just how likely it will be for them to overcome Rayo OKC. To put it simply, Rayo has more and better talent than Indy. That said, Indy have been impressing under new manager Tim Hankinson with a stingy defense that's only allowed two goals in three matches. However, the Rayo attack has been revving up with five goals in its last two matches. Indy will have to shutdown leftback/left midfielder Michel, through whom all of the Rayo's attack is funnelled, while at the same time making sure that lightening that is winger Billy Forbes doesn't strike while veteran forwards like Robbie Findley (rob this week of a Play of the Week nomination), Ryan Johnson, and international star Georgio Samaras bide their time.
I can see Indy weathering the storm for most of the match but, ultimately, Rayo OKC is going to win this one.
Sunday, May 1st
New York Cosmos v Carolina Railhawks 
6:00 pm EST 
ONE World Sports 
James M. Shuart Stadium, Hempstead, New York
This is the game of the week, the match that truly matters. It's not that the Cosmos have been playing poorly, it's that competition has improved, at least what it has faced. I've already said how Indy Eleven is a starkly better team than it has ever been and it proved this when it snatched not another draw but a win two weeks ago facing the Cosmos. Last weekend, the Cosmos looked hesitant and tepid as Minnesota United, a man down for more than forty minutes, kept pressing and attacking until striker Christian Ramirez found the net for the win. New York will steel themselves and be a damn tough opponent this week.
Having said that, Carolina Railhawks look pristine this season. It has dominated the Spring scoring nine goals over four matches and maintaining a perfect 4-0-0 record. James Marcelin, a central midfielder who has been filling in at centerback, and Connor Tobin have maintain the defense while the attacking trio of Austin Da Luz, Nazmi Albadawi, and Tiyi Shipalane are firing on all cylinders. Striker Brian Shriver has been making good run, providing service to his fellow attackers, and just missing the net. If he should finally have all the pieces fall into place, then Carolina will be a juggernaut in attack, and it feels like it's coming.
It's not often that the New York Cosmos lose, and it's even rarer for the Cosmos to lose two in a row, which is where it sits now. So to believe the Cosmos will lost three in a row with this match on it home turf…well, that's faith. I have faith that Carolina will do so, picking up three points and remaining the only unbeaten professional soccer team in the US or Canada.
Wednesday, May 4th
Jacksonville Armada v FC Edmonton 
6:30 pm EST 
beIN SPORTS 
Community First Park, Jacksonville, Florida
Jacksonville failed to kill off Ft. Lauderdale last weekend. Doing so would have given the team necessary momentum as it faces FC Edmonton coming off its first win in the first midweek match of the season. The Armada are a good team but haven't been able to get themselves into dangerous positions and have lacked the requisite finesse when finishing. Matt Fondy, who lit up the third division USL with goals, has been brought down to earth and is finding things more difficult a league up in the pyramid. However, he has shown quality and is really only some luck away from breaking through. Unfortunately, the same is true of Edmonton's attack. Jake Keegan showed well last weekend notching his first goal in the league after being one of the goal leaders in Ireland. Winger Dustin Corea showed that he is perhaps better suited for the right side for Edmonton and could be the spark to ignite Keegan. Similarly, Jacksonville needs to cross more and get more crosses in to the dangerman Fondy, this job falls on the shoulders of Alhassane Keita, Pascal Millien, and Juniro Sandoval. The Armada attacking midfield trio have been underperforming and costing the team.
If Edmonton can break down the Armada's central midfielders Kevan George and Richie Ryan, then its attack could edge out Jacksonville. But that's a tall order for the rather slight Eddies, so I think we'll see a draw.