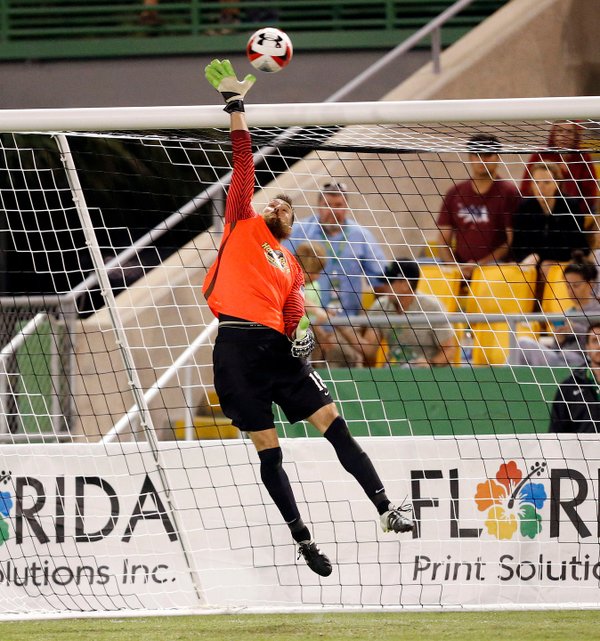 First Class: NASL Best XI, Week 3
We're seeing all the NASL teams beginning to find their feet. Week 3 saw a some pretty fabulous plays, not just goals but some impressive saves. Carolina Railhawks maintain their spot at the top of the table whereas the Canadian teams continue to languish at the bottom with more of Florida in between. It's an odd geography.
There are some tough choices this week for the Best XI. Tampa Bay Rowdies goalkeeper Matt Pickens had a stellar match in a win, while Romauld Peiser of Ottawa Fury had his own quality saves only getting beat by a wonder-strike by Carolina's Tiyi Shipalane.
On the right side of the field, Minnesota United's Danny Cruz played passionately as a defensive winger for the most part on Saturday, Junior Sandoval of Jacksonville Armada netted a Goal of the Week contender while menacing Miami FC for the entirety of the match, and Dylan Mares for Indy Eleven played extremely well out right for a typical central midfielder.
But decisions must be made. This week's formation goes narrow as a 4-1-2-1-2 or, if you prefer, a long, compact 4-3-1-2.
Although Peiser was the sole reason Carolina didn't thrash Ottawa 7-0, I have to give the Best XI 'keeper job to Matt Pickens. Keeping a cleansheet while making acrobatic saves and marshaling the entire defense gives Pickens the edge. Peiser wouldn't have had to make any of the saves he did if he'd gotten his defense in line. Carolina's Conor Tobin and Minnesota United's Damion Lowe were the top centerbacks of the weekend. Lowe scored a bullet of a header but also snuffed out any attacks Ft. Lauderdale attempted. Similarly, Tobin quietly bossed and quashed the Ottawa attack. Fullbacks Ben Sweat with the Rowdies and Bryan Burke with Jacksonville showed well, though are still missing that attacking element that really made them both stand out last season.
Jeb Brovsky made it a point to own the entire Ft. Lauderdale Strikers. The defensive midfielder when in hard to win the ball and while he got more than a bit chippy a few times, the Strikers were no match for his intensity. The Rowdies Michael Nanchoff is becoming an interesting central midfielder (he's traditionally been a winger), quickly becoming the crux of Tampa Bay's transition from the back to attack. The heart for Indy Eleven has frequently been central midfielder Brad Ring. Against the Cosmos, Ring not only held his own against the attacking talent of Juan Arango, Jairo Arrieta, and Niko Kranjcar but managed to neuter his mirror self Adam Moffat while building the foundation for the first ever win in the fixture between the teams.
But the jewel of Indy's come from behind win over the Cosmos was the brace by striker Eamon Zayed netted in the last five minutes of play. Denying New York points is an accomplishment and especially given that every other match between these two sides ended in a draw. Partnering with Zayed up top in the Best XI this week is Minnesota striker Christian Ramirez. This might seem a bit surprising given his goal scored and the own goal he created required more than a little bit of luck. However, Ramirez was making superb runs all night as well as keying up his own shadow strike partner Ben Speas. Along these same lines, I have to include central attacking midfielder Nazmi Albadawi in the Best XI as he notched his third assist of the season. It's not as sexy as goals but Albadawi was looking to unleash his fellow attackers all night and has become a major factor in Carolina's success.