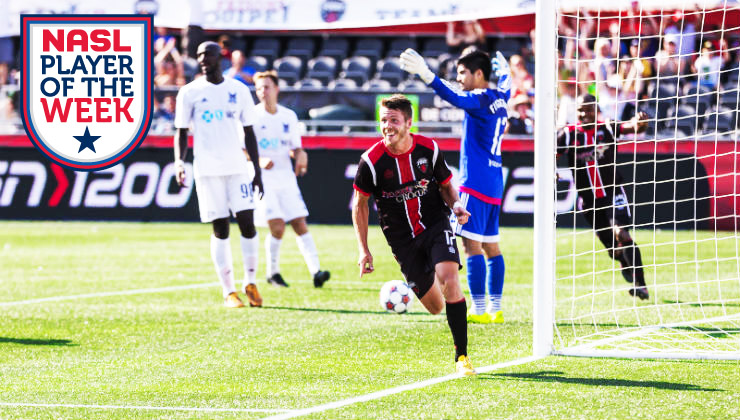 Carl Haworth: Fury Through And Through
In the midst of all the turnover seen in Ottawa during the off-season, there has been one player who has remained not only a constant part of the Fury roster for the last three years in the NASL, but has also  been a part of the Fury family since the club played in the PDL; Carl Haworth.
Haworth signed with Ottawa Fury in 2013 when the club were playing in the PDL, just a year after he helped Forest City London win the 2012 PDL Championship.  After impressing with Ottawa in 2013, Haworth was not only named the Bytown Boys Supporters Club Player Of The Year, but he was also given an opportunity to stay with the club as they rebranded and formed as an NASL club.
Having followed Carl's career for the last several years there is one thing that was abundantly clear to me as I watched over Ottawa Fury practice; Haworth is fit and ready to impress in 2016.  At 26 years old, the 5'7 forward looks as though he has spent the entire off season in the gym, and looks ready to use his speed and skill to sneak behind NASL defenses and create/score goals.
"I feel good now.  I have a good week of training behind me."  Haworth said ahead of Ottawa's trip to Carolina.  "I was getting close to it for the last game but just not quite 100%, but now I'm feeling good and getting the confidence back in the knee."
It just feels like this is the group that is capable of doing something. – Haworth
The turnover in the offseason wasn't easy on anyone, especially for someone who has been with the club since their pre-NASL days.   "It was tough" Haworth said reflecting on the offseason turnover.  "It sort of felt like it was starting over, like being an expansion team again.  As soon as we got in and got preseason with everyone, we got a long really well and gelled right away,  that feeling went away pretty quick.   It just feels like this is the group that is capable of doing something.  Everyone is pretty excited.  That new team feeling went away pretty quickly.
Under Marc Dos Santos, Haworth was usually pushed out wide as a winger, often playing along the touchlines.  With Dalglish implementing a new system for the club, Haworth feels this may be his time to shine.  "Growing up I always played centrally, it's something that comes naturally.  For the wingers to be tucked in more [under Dalglish] and playing closer to goal, it definitely benefits me. I can make those runs in behind and have a little less of a defensive role, so I can save that energy for going forward.  Definitely looking forward to playing in this system."
Haworth has made nearly 50 appearances for Ottawa Fury in the NASL, scoring four goals, including Ottawa's first ever goal at Lansdowne Park.  In a league where turnover is extremely high, where players are cut and let go mid-season, it's difficult to find a player like Haworth who will play for the crest over his heart, give 100% in training and on match day, and show the loyalty and dedication to a club that he has.  Haworth is slowly but surely etching his name in the Ottawa Fury history books and retaining his status as a player that is respected and appreciated by the loyal Fury fan base.