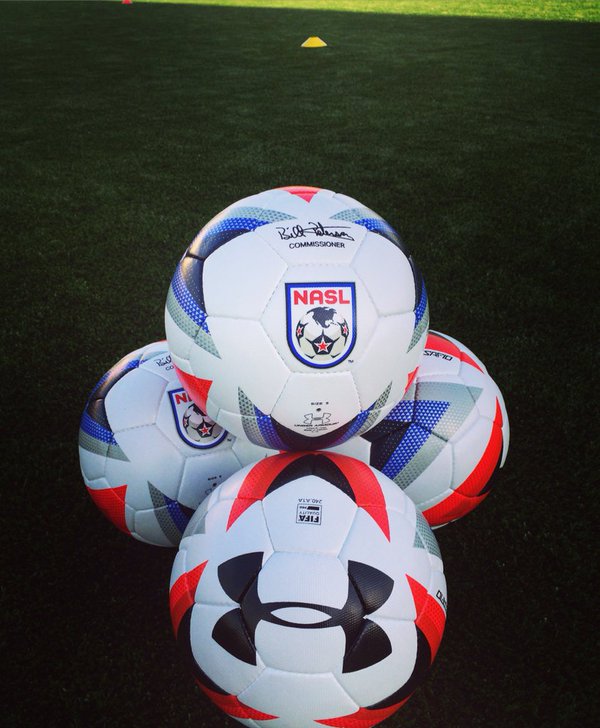 NASL Spring 2016: Week 2 Predictions
One tenth of the season is gone. What can be determined from such a small sample size? Only slightly more than what was predicted ahead of the opening of the season. Matches to watch this weekend will be the managerial debut of Tony Meola with Jacksonville Armada and Carolina traveling to face Rayo OKC. It's so early in the season that we'll see drastic reshuffling in the standings and that's part of the fun. We, of course, embrace speculation, so here are predictions for week two.
Saturday, April 9th, 2016
Indy Eleven v Ottawa Fury
7:30 pm EST
beIN Sports
Michael Carroll Stadium
Indianapolis, Indiana
Indy Eleven go into their home opener having earned a point on the road while Ottawa continues its road trip after being soundly trounced by New York Cosmos. You'd think Fury players would have a fire in their belly looking to prove that last week was a fluke, but I doubt. Watching the Fury play last Sunday was trying. It was sad to see that last year's impeccable defense rotted away and in its place was a mess of ill-defined individuals with zero chemistry. So my doubts about Ottawa sit squarely in the realm of believing it will have solved its team cohesion problem by Saturday. If Dalglish insists on starting the same team, there is no way the Fury will pick up points. Yet, if the manager changes the line-up (as he should), whatever modicum of familiarity there has been built up will simply dissolve. Choices, eesh.
Indy, on the other hand, will be before one of the most enthusiastic home crowds in the league. While last week against Tampa Bay wasn't a beautiful display, Indy had more about them than many gave credit. I still worry about the team's ability to actually attack opponents in an organized and concerted manner, but Ottawa is the team right now most likely to leak goals. A prime example of my concern is how Justin Braun is being deployed. Justin Braun is not a winger, he has to be played in a duel striker set up to be effective. Hankinson has committed to a style of play that forces Braun out of his most effective position. What other choices are there though on the right wing? A few actually who are all more adept at the position and providing service than Braun. Make no mistake, Braun is a quality player, but he's a striker.
Quite honestly, this match is leaning towards being an epically dull draw, but I resist. Indy is a better team than Ottawa and will prove it Saturday by picking up three points.
Miami FC v Tampa Bay Rowdies
8:00 pm EST
ESPN3
FIU Stadium
Miami, Florida
Miami FC go into its second week still not having to leave southern Florida. Hosting its second in-state rival, Miami needs to do three things: first, draw more in its home opener than the paltry crowd the came to see Ft. Lauderdale play them; second, learn to take its time in attack to finish proper rather that shoot wildly; third, and perhaps most importantly, win. I see the first being well accomplished, the second partially done, and the third missed by two points. Ariel Martinez had loads of energy last Saturday but was less than savvy when shooting or passing. I suspect that Miami would do better with a patient body up front next to Dario Cvitanich (such as Pablo Campos) with Jaime Chavez taking up Martinez's role while winger Dane Richards and central midfielder Wilson Palacios start over Calvin Rezende and Adailton.
Still, I don't see Miami beating the Rowdies. The reason is simple: centerbacks Neill Collins and Tam Mkandawire are better than Miami's attack (watch, I just jinxed myself). However, I don't think Tampa Bay's attack will be able to get itself out of the middle third of the pitch. The Rowdies are an all midfield team and, often, an underwhelming one. Nesta's defense will gladly absorb Campbell's midfield pressure and stifle the attack.
The second battle for Florida will, like the first, end in a draw.
Rayo OKC v Carolina Railhawks
8:00 pm EST
One World Sports
Miller Stadium
Yukon, Oklahoma
The most competitive and exciting match last weekend was between Carolina and Minnesota, Railhawks versus Loons. This weekend will see Carolina take on another kind of bird, the Scissortails, as it travels to face Rayo OKC. This match as all the makings for game of the week. Colin Clarke's team were savvy, fit, and in form first thing last week, so I can't imagine them being anything else this weekend. Contrast that with Marcina's squad that while adept looked a bit disjointed as though they were still trying to figure out just what kind of soccer they were going to play. I'm confident Marcina will have worked the kinks out by the time Carolina comes to town.
The two keys for Rayo will be to get high profile striker Georgios Samaras fit to start so that the attack actually shows some purpose and for leftback Michel to have a good game. Last week, Michel was off but Rayo still insisted on funneling nearly everything through him. The MLS journeyman is up to the task but there needs to be more balance on the pitch for the expansion side. I doubt that the Railhawks won't see this and exploit it. The attacking midfield trio of Austin Da Luz, Nazmi Albadawi, and Tiyi Shipalane will be a true test for Rayo's backline. Expect a real battle in the center of the pitch between James Marcelin and Derek Boateng as each go all in to win balls and command their side.
I think we're in for a replay of last week with Carolina once again coming out on top.
Sunday, April 10, 2016
FC Edmonton v Minnesota United
4:00 pm EST
ESPN3
Clarke Field
Edmonton, Alberta, Canada
The drama of the first meeting of the season between Minnesota United and FC Edmonton, which supporters have dubbed The Flyover Cup, will be the return of star winger Lance Laing to his old team. Last week, Laing came in after Bernardo Anor had to sub out due to an aerial head collision. More than a few supporters of Minnesota were wondering just why exactly one of the marquee signings of the off-season (the other being last season's Golden Boot winner Stefano Pinho) wasn't in the starting line-up in the first place. With Laing starting, the Loons' will be in a starkly better position to take the game to Edmonton.
Unlike Carolina's attacking trio, last week Minnesota's (Ben Speas, Danny Cruz, and Bernardo Anor) were vastly underwhelming (although Anor wasn't able to show himself well due to injury, and Cruz put in some impressive defensive work for a winger). Simple fact is, the three all play the same position and being out together just leads to a mess. If Stefano starts next to or just tucked behind fellow striker Christian Ramirez and Laing is out left, then the attack will be less clogged Minnesota allowing it to pick apart the defense of Edmonton. A defense, mind you, that will be missing its heart and captain, centerback Albert Watson, who will be sitting out due to his red card from last week. Another twist in the plot will be the fact that Edmonton's attack (strikers Tomi Ameobi, Daryl Fordyce, and Jake Keegan as well as wingers Pablo Cruz and Sainey Nyassi) is shockingly faster and quicker than the core of Minnesota's defense.
Point is, things could get messy in this match and end up being an offensive storm for both sides. However, I'm going to give the three points to the current Flyover Cup holders, Minnesota United.
Midfield Press's Player of the Week (Photo Mike Pendleton @phat7deuce)
New York Cosmos v Jacksonville Armada
6:00 pm EST
One World Sports
James Shuart Stadium
Hempstead, New York
The Cosmos breezed by Ottawa last Sunday. It wasn't shocking just how easily New York beat the Fury, but it was surprising just how casual it was. This Sunday as it hosts Jacksonville, a team entirely rebuilt and hungry, there were certainly be a greater sense of urgency. The Armada have dissolved and reassembled a squad that is vastly better than the short, sloppy, and excessively midfielder based team of 2015. There's now a genuinely promising defense (leftback Bryan Burke, centerbacks Mechack Jerome and Tyler Ruthven, and rightback Shawn Nicklaw) that is mutable formation-wise, tall, strong, and proven. This is going to go a long, long way towards improving the life of 'keeper Miguel Gallardo. In attack, instead of being all a bunch of wingers looking to cross or pass the ball into the back of the net, there's true striker Matt Fondy, who netted 22 goals last year for one of the best USL teams. Buttressing him will be the speed, service, and muscle of midfielders Pascal Millien, Richie Ryan, and Pekka Lagerbloom and when Fondy is closed up by the Cosmos there will still be the danger of strike partner Alhassane Keita. 
Fact is, I like this Jacksonville team, and I think it'll turn some heads this year. However, going up against the best team in the league for the past two season is going to be difficult to say the least. New York are casual winners, and I suspect they'll square off against Jacksonville a tad bit overconfident allowing the Armada to steal a point on the road.