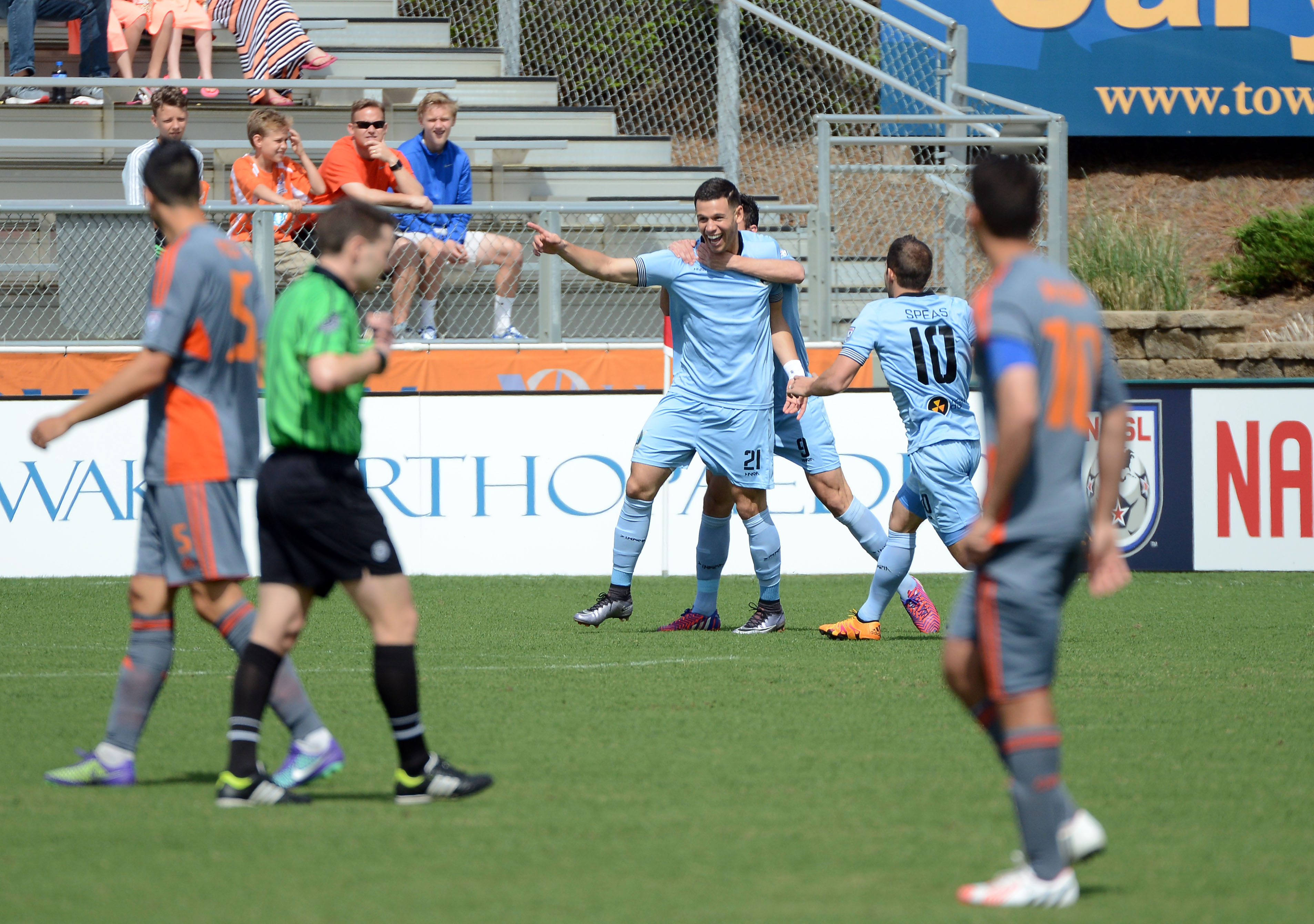 First Class: NASL Best XI, Week One
With the first week of the NASL season now in the books we can all begin grousing and quibbling in earnest. To further this inclination, I present to you Week One's Un-Official Team of the Week.
The matches sandwiched between the season opener between Minnesota United and Carolina Railhawks and Sunday's replay of last season's final between New York Cosmos and Ottawa Fury were forgettable to say the least. Three draws over which the only goals scored were penalty kicks from soft fouls. Yet, there was some hard-nosed play and rather impressive performances from every side.
In Yukon, Oklahoma, Rayo OKC went up a man in the thirtieth minute but was still kept out of the back of the next by the heroic defending of FC Edmonton goalkeeper Matt Van Oekel and centerback Pape Diakite. The match also saw Rayo OKC's field marshal Derek Boateng bring an impressive level of physicality to the league as the central midfielder won balls and funneled his team's efforts. Similarly, James Marcelin commanded play with the Carolina making it possible for wingers Austin Da Luz and Tiyi Shipalane to peel apart Minnesota's defense. 
It was only a soaring individual effort by striker Christian Ramirez that allowed Minnesota to save face. Ramirez scored what is already going to be a Goal of the Year candidate.
In Florida, things felt a bit slow and heavy. The poorly attending opening fixture between Ft. Lauderdale and Miami FC was a bore with fullback Jonathon Borrajo doing his best. Likewise up the peninsula where Indy Eleven's new look defense was able to snuff out nearly all of the efforts of the Tampa Bay Rowdies thanks to leftback Nemanja Vukovic and centerback Greg Janicki. Defense was a problem on the Hofstra University campus for the visiting Ottawa Fury. Venezuela's all-time leading scorer, Juan Arango's debut with the New York Cosmos was a first half brace that effectively muted the Fury.
So there it is, a 4-2-3-1 Best XI. There are some that might say striker Jairo Arrieta or 'keeper Jimmy Maurer with the Cosmos should be in the mix and the same could be said of central midfielder Luis Felipe Fernandes with the Strikers or Rowdies forward Junior Burgos. I'd gladly have them be a part of the starting eighteen, but for this last weekend, these were the players who performed the best for their team. A feature new to this season will be the stats offered on the league website from Opta. Finally, we'll get to debate not just our gut feelings but tangible data. It's a big step forward.