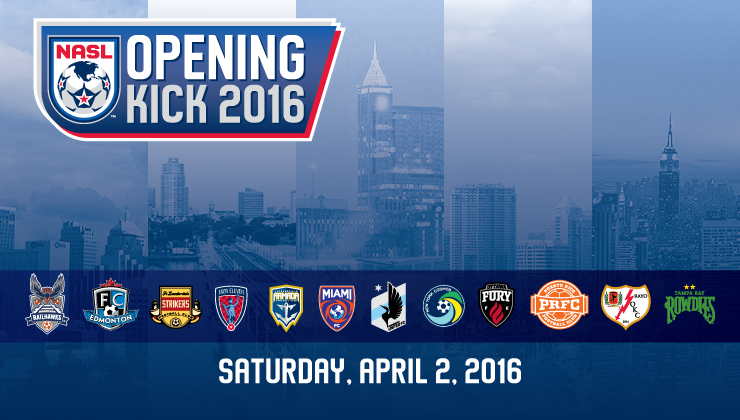 Looking Forward: NASL Spring Rankings, Part II
In Part II of the 2016 Pre-Season coverage, our own Daniel Casey takes a look at the upper echelons of the NASL, and how they rank.
The Top
1. New York Cosmos
The New York Cosmos are a better team than yours. Do you know why I can say that and have it stand as fact? Because since the team entered the NASL (Fall of 2013), it is the winningest team in the league: 9-4-1 in 2013 to win the Fall and eventually the Championship, 11-9-7 in 2014 which was good enough to make the four team playoffs, and 15-11-4 in 2015 winning the Spring and the Championship for the second time. At 35-24-12 over two and half years, the New York Cosmos have four trophies. The Cosmos closest rival, Minnesota United, only have one more win over the same time but fewer trophies. Simple fact is, Giovanni Savarese's team wins and is always near the top. Expect nothing to change in 2016. Although left winger Leo Fernandes, the battery for much of 2015, is gone and Raul retired taking his star-power with him, New York has done an admirable job of replacing them. Striker Jairo Arrieta, formerly of DC United and Columbus Crew, joins veteran attacking midfielder Juan Arango to continue the Cosmos tradition of mature, deadly attack. Buttress these signings with a slew of others (Yasmani Duk, Michael Lahoud, and  Gabriel Farfán) who will find themselves exact fits within Savarese's stratagems and you can't ignore the fact that New York Cosmos are again poised to lead the league.
2. Tampa Bay Rowdies
Stuart Campbell will be at the helm for his first full season as Tampa Bay's manager. There are more than a few expectations, especially among supporters who saw their team winnow away to insignificance after a relatively strong Spring in 2015. Since winning the Championship in 2012, Tampa Bay have been a non-factor in league standings despite profoundly impressive individual performances and organizational growth. Campbell has assembled what could arguably be the deepest and best all-around midfield in the NASL with speed and technical skill (there is, however, a stark lack of physicality). This midfield will make or break the Rowdies. If it does not gel, then target forwards Tom Heinemann and Danny Mwanga will be left looking foolish and/or bored. It will be up to Freddy Adu and Georgi Hristov to make a conscious effort to not just be creative but unselfish; it will be up to wide players like Michael Nanchoff, Eric Avila, and Kalif Alhassan to not just be pacey but provide pin-point service. Should this all happen, the attack of the Rowdies will certainly overcome most defenses.
3. Minnesota United
During the off-season, Minnesota landed itself a new stadium deal. Ahead of the organization's move into MLS, Minnesota are hoping to have a strong final season in the NASL. However, it may be a more difficult road for the team than it has been in the past. Although no longer the manager, Manny Lagos is still guiding the team in his position as technical director yet his presence will be less felt this season. Standing squarely in the spotlight will be long time assistant coach now manager, Carl Craig. There will likely be very little disruption with the move of Lagos to a more executive position and Craig taking the helm on the pitch. Players know their roles, but every season it seems, Minnesota has one or two bad apples causing the team to stutter. Last season, it was Jonny Steele, and a few seasons ago, it was Etienne Barbara. I doubt new star left winger Lance Laing, last season's Golden Boot winner Stefano, or the new attacking midfield trio of Danny Cruz, Ben Speas, and Bernardo Anor will be problems. I do, however, worry just how long it will take this team to get on the same page. Preseason friendlies convey very little and thank god, because in its first preseason tournament, Minnesota was soundly thrashed accumulating more red cards than goals. Concerns persist about the team's defense, which lacks any depth at centerback or fullback. If the attack takes its time to meld and the defense suffers any sort of injury or lack of form, then Minnesota will find itself in a hole. However, look for the Loons to get sorted and maintain its place as one of the league's premier teams.
The Middling
4. Indy Eleven
The crowds in Indianapolis have been amazing since the team debuted in 2014. Unfortunately, the results have not mirrored supporter enthusiasm. This year, however, that looks to change. The major factor in this will be the return to the league of manager Tim Hankinson, who last managed the San Antonio Scorpions. Hankinson has kept assistant coach turned interim manager Tim Regan on as his assistant assuring a continuity that is vital during times of change. Formerly, Indy Eleven rarely signed players of notable quality, but Hankinson has changed that. Pulling from the Best XI ranks of the NASL, Hankinson has signed former Ottawa centerback Colin Falvey and San Antonio workhorse leftback Stephen DeRoux. He looked to the jewel of the USL, Sacramento Republic, to sign former Defender of the Year centerback/leftback Nemanja Vuković and striker Justin Braun. A need for veteran talent lead to the signings of former Chicago Fire players Lovel Palmer and goalkeeper Jon Busch. Finally, in order to bolster a traditionally anemic attack, Hankinson picked up two international forwards: Libyan-Irish striker Eamon Zayed, who has a proven track record of scoring, and Jamaican Dino Williams. Gaps have been filled and Hankinson has the tactical knowledge to get the best out of the players on the relatively small grounds of Michael Carroll Stadium. Although Indy Eleven have never placed higher than fifth in the Spring (or Fall or Combined standings), this year will be different. Unlike previous seasons, Indy look dangerous.
5. Jacksonville Armada
New managers is the theme of 2016 for the NASL. Perhaps the manager with the most to prove and who most of us are looking forward to seeing is Tony Meola with the Jacksonville Armada. The ex-star goalkeeper has a lot to fix in Jacksonville but has already made moves that have substantially improved the Armada. More than any other team in the league, Jacksonville is flooded with attacking players. The team has seven strikers plus Pascal Millien, a purely attack-minded midfielder. Of those seven, there are two that will be the first choice pairing to receive Millien's support: Matt Fondy and Alhassane Keita. Fondy scored 21 goals last season with the USL's Louisville City, and he'll be getting service from a familiar face, fullback Bryan Burke. Burke was the USL's Defender of the Year last season with Louisville, not so much for his defending (which was more than adequate) but for his 10 assists from the leftside. Attacking fullbacks do well in the NASL, and the relationship already existent between Fondy and Burke can only improve the Armada. Strength has been added to the midfield as well in the form of Pekka Lagerbloom and Richie Ryan, two tenacious and skilled central players. A team that was woefully short, weak, and sloppy last season is now tall, strong, and with technique, which can only translate into better results on the pitch. Jacksonville still don't have that spark player yet that can set them apart from the middle of the pack, but it's coming and should be an exciting season.