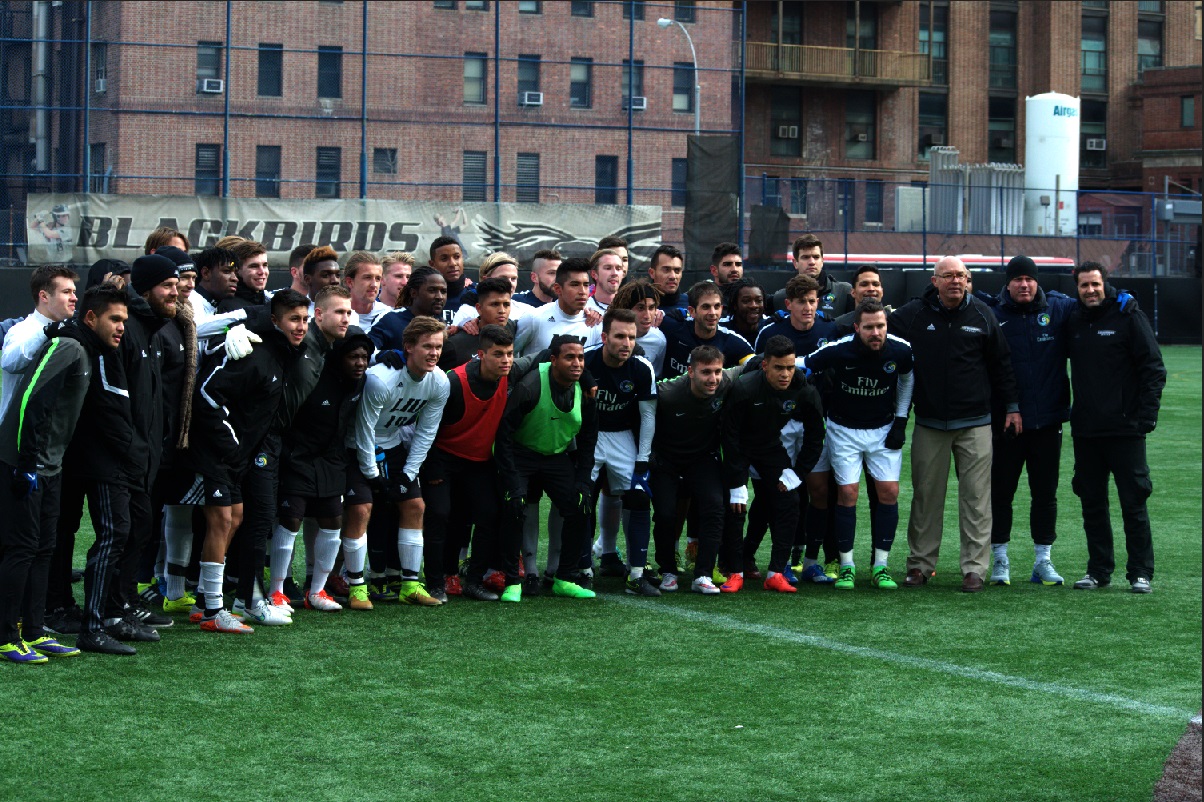 New York Cosmos beat Long Island University 2-0 in preseason tune-up
The New York Cosmos took to the pitch in Brooklyn on Friday, taking on the LIU Brooklyn Blackbirds and prevailing 2-0. The tune-up was the first chance Cosmos fans had to see their team kick a ball in the new year and the first opportunity to observe the new players to join the club since the end of last season.
One of the first things we noticed were the new Under Armour balls being discussed around the league. Of course, between the recent Empire of Soccer report and photos from the Chicago NASL event, these are all but a done deal.
A starting XI comprised mostly of starting players from last season started the first half for the Cosmos. A few new players were tossed into the mix: Juan Arango, Michael Lahoud.
Despite having the bulk of possession and keeping LIU's chances limited, the Cosmos were unable to get on the scoreboard, the closest chance coming from an open Roversio header that sailed over the cross bar.
Observations on this squad:
Good to see Roversio healthy and looking very fit. Carlos Mendes also looked strong and both Hunter Freeman and Ayoze looked agressive throughout the match. Lahoud took the spot vacated by Marcos Senna and really seemed to pair up well with Danny Szetela. Ruben Bover looked great. He worked well on the left side to create some chances and I feel he's always dependable. Juan Arango didn't make much of an impact, but it's hard to make a judgement after a half of soccer.
A different XI took the pitch in the second half where we got our first look at Jairo Arrieta,Yohandry Orozco, Eric Calvillo, Alexis Velela, and Niko Kranjčar.
Early in the second half, Andres Flores fought his way past two defenders into the right side of the box and centered a ball into the path of Arrieta who slammed it in for the opening goal.
Visit ThisIsCosmosCountry.com to read the full article.