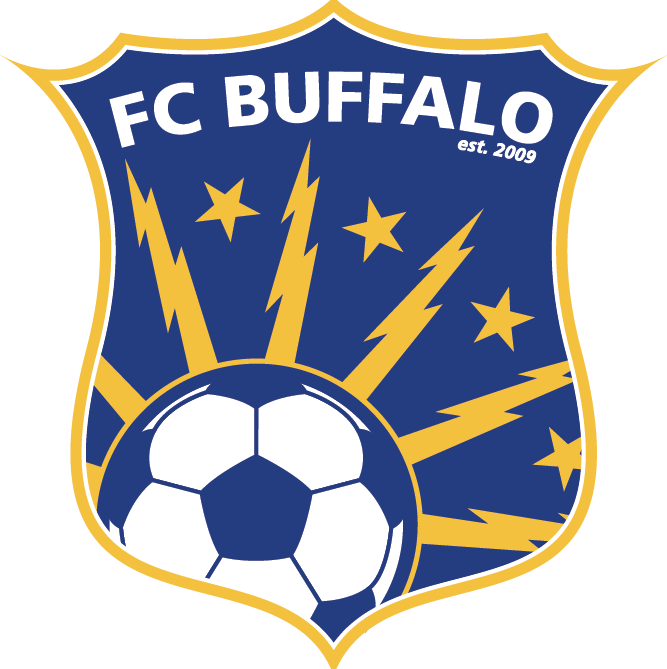 FC Buffalo Looking To Move Up To The Pros
XI Questions With… FC Buffalo
Buffalo, New York is best known nationally for the NFL's Bills, the NHL's Sabres, its ability to cope with snowfalls that would paralyze the rest of the country and, dearest to my heart, popularizing chicken wings smothered in hot sauce.  It may be the biggest city in Western New York, but its neighbor an hour to the east, Rochester, is better known for its soccer legacy.  That is something Nicholas Mendola and his partners in FC Buffalo are looking to make their mark on.
FC Buffalo plays in the Great Lakes East Conference of the NPSL's Midwest Region.  Their local rivals include AFC Cleveland and the Erie Commodores.  It is the latest and most successful in a line of three NPSL clubs serving the Buffalo market since 2006, following on the heels of Queen City FC and Buffalo City FC.  FC Buffalo has been able to build on the momentum in the local soccer market, and now has its sights set on greater investment to take the club to new heights in the professional upper divisions.
Midfield Press was able to connect with Mendola, FC Buffalo's co-owner and general manager, for eleven questions to help us learn more about the club and its future ambitions on the US club soccer scene.
1. How and why was the team founded?

Honestly, the process had been started by two clubs we watched fold in our market. It needed to keep going, because there was something there. We saw that it might just need a little more of a push, and in 2009 we bought the rights to operate a club here.
2. What venue does the team currently play in?

Robert E. Rich All-HIgh Stadium. It's a gorgeous older venue with covered seating that once served as Wrigley Field in the Barry Levinson/Robert Redford movie "The Natural".

3. What does attendance look like a typical match?

We're consistently over 1000 and usually encroaching more on 1500.
4. What was your best attended match and the circumstances around it (including the attendance numbers)?
We had more than 3800 fans at All-High for a 2011 match against the Bedlington Terriers of England's Northern Football League. One of our corporate partners, Bob Rich, flew the club over to play for the "Lord Bedlington Cup", and it was one of the most memorable experiences of our lives. The Rich family has given us unbelievable support, and we're incredibly grateful for it.
5. What does the supporter culture look like?
We have fans from all walks of life, from diehard, loud supporters, to families, to regular old sports fans. We love that variety, but our flag flies the highest when flown by The Situation Room, a drum-banging, singing group of supporters who makes our jobs worth doing. They meet at Mes Que, one of the country's only strictly-soccer pubs, before and after the game.
6. What is the long term vision for the team?
Rise as high as possible. In the short term, it's continuing to keep our corporate partners happy, finding our own place and moving into a full-professional league. In the very long-term, we want to be one of the most successful clubs in the Western hemisphere. If you don't aim for it, it can't come true. Club World Cup 2036, he we come.
7. What does the team's current investor profile look like?
We're quite literally in the process of deciding our best course of action for infusing new investors into the club. Check back with us this Spring.
8. Have you spoken with potential monied investors about moving the team up to USL or NASL?

Yes.
9. If you had sufficient investment to move up, would you have a preference between USL or NASL?
Yes. [Note: There was no comment on which!]
10. Would the current venue hold up if you moved to USL/NASL or would you need to find a new home? If so, are there existing stadiums you could use in your area or would the investors need to build a new one?
This is a very tricky question. All-High has enormous potential and we're in love with it, but it's connected to a school and therefore subject to laws that currently stop us from selling alcohol at games. So, the reason we'd need a new home to move forward is that, and we'd almost certainly build new and small, and add seats as growth requires.
11. What else should the readers of Midfield Press know about your team?
We aim to do this the right way, and we'd love to welcome you aboard. All of our home games are online, and we're here for supporters new and old.
A big thank you to Nicholas for taking the time to answer our questions, and look for more "XI Questions With…" NPSL and PDL teams in the future.
[youtube https://www.youtube.com/watch?v=ENXTjoO-WNk&w=560&h=315]
More on FC Buffalo: