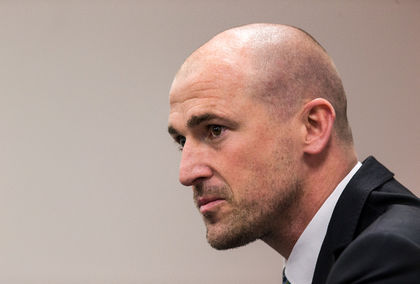 Dalglish Unleashed Part 3: Tactics
Welcome to the final part of the interview series Dalglish Unleashed.  In Part 1 we looked back on Dalglish's beginnings and his road into coaching.   In Part 2 we examined some of the departures seen this off-season and how the club has worked to replace them with young, athletic players that Dalglish hopes will excite fans.   In the final part of the series we will take a lot at the tactics that Dalglish hopes to deploy as Fury manager, and the type of football he hopes to bring to Ottawa Fury fans this summer.
Dalglish Unleashed Part 3: Tactics
In the final part of my interview with Paul Dalglish, we reflected upon the tactics that former Fury coach Marc Dos Santos used, and how Dalglish's approach will differ.   When I first entered Paul's office, I introduced myself as a writer for Midfield Press, in which Dalglish quickly replied "Midfield Press? Then you'll enjoy the style of football we will play this year." It was at that moment that I was happy I had included a few tactical questions to ask the new Fury gaffer, and couldn't wait to ask what style of football he wants his team to play.
Dalglish and I discussed Dos Santos' tactical changes during his time at Fury, with Paul saying although it was always called a 4-3-3 under Dos Santos, that's now how it ended up looking during open play. "I think Marc, when he first came in, tried to play offensive  and wasn't getting the results that he wanted to get. So that was why he kind of transitioned into a defensive formation in 4-1-4-1. It was almost like defensive wingers counter attacking and it wasn't really 4-3-3" Dalglish said. "But it worked" he continued, "It was the right choice because it proved Marc last year massively out preformed his budget. If you look at what he achieved compared to the Cosmos, Jacksonville, Minnesota and Tampa, it was pretty cool, he did a great job; but that's not my style"
Changes in Style
While Dalglish admits that Dos Santos made the right move in playing a more defensive game in order to achieve results, Dalglish insists that his approach will be geared more towards pleasing the fans. "Results are important, but for me, people pay money to come and watch you play; to be entertained. I've always made a promise to myself that any team I stand on the sideline of, and am accountable for, I want to see a style of football that replicates what I would want to see if I was a fan." That is of course not to say that Dalglish doesn't want Fury to achieve winning results, as he hopes his attacking style of football will help achieve such results. "For me, my style is a little bit different [than Dos Santos]. It's much more aggressive in terms of our attacking approach to the game, in terms of the way we want to press teams. We want to dominate with or without the ball" Dalglish said.
As discussed in Part 2, Dalglish believes that the players he has brought in are very athletic, fitting the profile he hopes will play an attractive attacking style of football.  "If you look at the players, they are all great players profiles that allow us to do that. If you look at Obasi and his ability to go up and down [the wing].  All these players that we are bringing in are all really good athletes and will allow us to press high and allow us to play that dominant style. That's that way we are going to play."
One important player that may allow Fury to play an attacking style of football is Canadian international Kyle Porter. With a small roster this year (20-21 players), Dalglish hopes that the like of Porter will be able to be utilized in multiple positions and fill multiple gaps. "We know he can play as an attacking player" Dalglish said about Porter, "We know he can play on the wings or play as a forward, he has done it and proved it. We're gonna have a look at him in preseason to see if he can play as an outside back, wing back, the way we want to play. Because we are small in terms of numbers, we've got to make sure the players within our squad are adaptable and can play more than one position, and that was one of the most important things about bringing him (Porter) in; because it allows us to improve the quality rather than the quantity. We can play him in a few different spots and still be able to compete. I think he has all the physical and technical attributes to be a really good wing back."
Dalglish's Tactics
Dalglish hopes to take a different approach to Dos Santos' when he fields his team at Lansdowne Park this spring.  While Dalglish described Dos Santos' tactics as being 4-3-3 but morphing into 4-1-4-1, he himself says his 4-3-3 may end up looking more like a 4-3-2-1 line up. "The wingers will play narrow to created a central overload, and leave the wings for the full backs" Dalglish said.   This differs quiet a lot from Dos Santos, as the wingers often ran the ball into the corners with support from the full-backs, and Dalglish hopes to have his outside forwards supporting the strikers more in the center.  "The actual three (in the midfield) will end up wider at times than the two playing in front of them. We will be playing more of a 4-3-2-1 rather than a 4-3-3."  This type of lineup will hopefully create more pressure through the middle, relying less on the wings to move the ball forward. "The other thing is, Richie Ryan just played in front of the back four, didn't really join in the attacks. We will play with a flat three rather than a holding midfielder. So it will be basically more of a 4-3-2-1." Dalglish said about the midfield.
There is no doubt that Peiser will be the starting keeper for this season, and with the captaincy position vacant, the Frenchman is likely leading contender to be wear the captains armband.  Following the departure of Colin Falvey, Rafael Alves will likely be partnered with fellow Brazilian Fernando Timbo in the central defense, although Mason Trafford has a lot of experience playing center back for Fury. Rich Balchan will be leading favourite to start at right-back, with Bailey also being able to play as right full back.  Trafford, Obasi, Porter and Poltronieri will all be able to fill the left back position.
As mentioned in Part 2, Dalglish hopes that Jonny Steele can help replace Richie Ryan in the midfield, and he will likely be joined by Canadian Men's National Team captain Julian De Guzman and new signing James Bailey.  On paper these would be the three likely to start in the midfield, although Mauro Eustaquio has shown a lot growth in the past two years, and Dalglish also has Rozenboom at his disposal.  This midfield will differ from last year in the sense that the central midfielder won't be sitting lower on the pitch, and rather than having an attacking midfielder playing through the middle, the left and right midfielders will be pushed out wide, leaving the attacking through the middle for the three forwards.
Under Dos Santos Fury played with a lone striker, while the wingers often played out wide working the balls down the touch-line. Dalglish will likely be bringing in at least one more forward before the season starts, however if Fury played today, Dennis Chin would likely be the starting central striker. Paulo Jr will hopefully have more of a chance to shine in 2016, playing a more central attacking role than he played last year, while Haworth can likely play in any of the three forward positions. Bruna was brought in as an attacking midfielder, but will compete with the likes of Poltronieri and Porter for a spot playing in one of the two spots behind the central striker.
On paper this team looks to play attacking football that will focus on moving the ball through the middle.  There is a lot of youth and agility in the likes of Bruna, Bailey, Timbo and Obasi.  Alves, Rozenboom and Porter all provide a lot of height, while Paulo Jr, Chin and Balchan all provide a lot of speed.  Steele and De Guzman add a lot of experience and quality through the middle while Romuald Peiser will provide a lot of guidance and leadership from the back.   Although the club has seen a lot of turn over this off-season, it seems as though Dalglish is confident that he can field a team that can not only play attractive attacking style football, but also compete for a position in the 2016 NASL Championship.