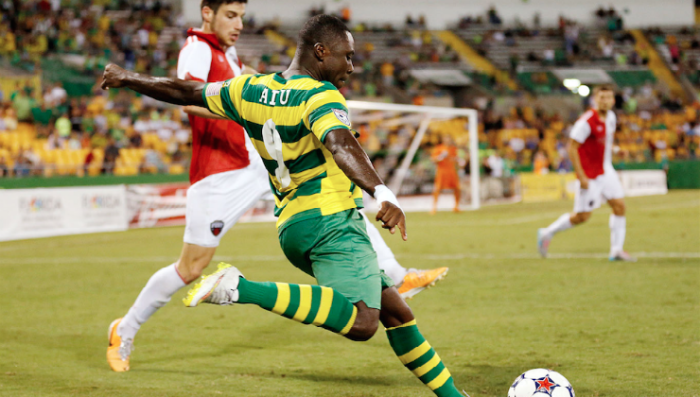 Recap: Shorthanded Rowdies Come Back for Dramatic Draw
Tampa Bay Rowdies 1 – Ottawa Fury 1
Location: Al Lang Stadium, St. Petersburg, FL
Cautions:
TBR –17' Juan Guerra
TBR – 21' Freddy Adu
TBR – 65' Darnell King
TBR – 77' Darnell King (Second Yellow – Red Card)
TBR – 84' Justin Chavez
Formation:
OTT – 4-3-3
TBR – 4-4-2
Substitutions:
TBR – 66' F Jeff Michaud for Long Tan
TBR – 75' Brian Shriver for Georgi Hristov
TBR – 78' Verneri Valimaa for Marcelo Saragosa
OTT – 69' Paulo Jr for Andrew Wiedeman
OTT – 75' Carl Haworth for Tom Heinemann
OTT – 83' Brandon Poltronieri for Julian de Guzman
Goals:
42′ – Tom Heinemann– Unassisted (OTT)
88' – Brian Shriver – Assisted by Freddy Adu (TBR)
Highlights:


Major Themes
– The Freddy Adu Show – The guy that everyone wrote off because of an injury not only showed up, but absolutely changed the game with his performance on the field. It's trendy to joke about his rollercoaster career, but he was clearly the best player on both squads by a large margin
– Referee Daniel Radford – Once again, the whistle happy ref was giving out more cards than a dealer at a poker table, but only to one team.
– Tommy Heinemann – The man has an absolute knack for not just being in the right place at the right time for goals, but making things happen. His precision spin shot through traffic caught GK Matt Pickens completely flatfooted
In Form:
– (M) Freddy Adu – On the rewatch, Freddy seemed electric with every touch. At the count there were impressive moves in 00:45, 1:52, 34:45, 53:00 (an absolute ankle breaker), 57:16, 61:35, 87:52 (assist and goal) and 91;52. Tampa Bay has rarely seen that kind of talent outside of Luke Mulholland, and even then maybe not as polished. After the substitution of Shriver for Hristov, he moved to his more natural position in the middle, and it paid dividends.
– (F) Tommy Heinemann – The guy just plays. Yes, his resemblance to Ron Pearlman in "Quest for Fire" is absolutely uncanny (go Google it!), but the only appearances you should be concerned with is when he's on the pitch, and scoring. On a team that doesn't boast a lot of stars but a lot of talent, he stands out as one of the best.
GK Matt Pickens – Despite giving up a goal to Heinemann, Pickens had some acrobatic saves when his defense seemed to break down. He appears to be the player that was promised last year, but injury held back. Now that he's healthy again, he's been able to log some seriously good defensive efforts.
– Rowdies Head Coach Stuart Campbell – When most teams go down to 10 men, the first reaction is to bunker down and defend. Campbell instead chose to pressure and push forward on the attack like his season depended upon it – because it did. That kind of aggressiveness not only saved the game, but put the Rowdies in a great position to be successful. It was a very savvy move from a young coach.
Liabilities:
– (F) Georgi Hristov – As a fan favorite, it's frustrating to watch Georgi play this awfully. He's clearly lost a step or two from the years before, but now it's followed by indecision in shooting situations, a complete lack of effort at times, and really poor passing and turnovers. He is now more a liability in the front, than he is a benefit. It pains the fans to say this, but it's time to look towards Corey Hertzog and Brian Shriver for that role in the traditional 4-4-2.
– Referee Daniel Radford – The temptation to channel your inner Clint Dempsey and tear up his book is completely understandable. It's one thing to call a bad game because of mistakes, but it's another to call EVERYTHING, albeit inconsistently. The Rowdies played a chippy game for sure, but by the stat sheet you would have thought it was an alleyway mugging.
– (M) Darnell King – Since moving into the middle Darnell has had to make more use of his speed than ever before, and it has definitely paid off in midfield coverage. However he has a knack for getting low and coming in from behind, and bad referees automatically give out fouls with just the lightest of contact in those situations. Unfortunately, Darnell's second yellow was a mixture of aggressive play, and a more aggressive mouth, as he talked himself off the pitch, and his team into a bad position.
You Won't See On The Highlights
– (M) Juan Guerra picked up his 5th yellow of the fall season, and will be out for the Rowdies road game in Atlanta. Couple that with Darnell King's red card, and a possible re-injury to Marcello Saragosa, and the midfield is going to be very thin next weekend.  The good news is that Richard Menijvar will return from international duty.
– Ottawa is a turf team. They are fast, precise and like to move around in space. Grass definitely slows them down, and you can see how uncomfortable they are without the artificial surface. Many of their passes were underpowered and you can tell that the players expected the ball to travel much more than it did. While they adjusted, there's a clear advantage to Al Lang stadium's larger, slower field.
Lessons Learned
– The Rowdies are best at home. While it wasn't a win, the 10 man comeback sure felt like one to the 5,000 plus that showed up to the game.   However this squad has a tendency to both play up to, and down to their competition. Against a lesser team, Tampa Bay has a tendency to get lazy and give up foolish goals.
– Minnesota loves the Rowdies. By denying the Fury 3 points, the Loons move only 2 points away from overtaking Ottawa for both the fall, and the overall table. Homefield advantage for them could be crucial (when not playing an offsides Ft. Lauderdale team) in the playoffs.