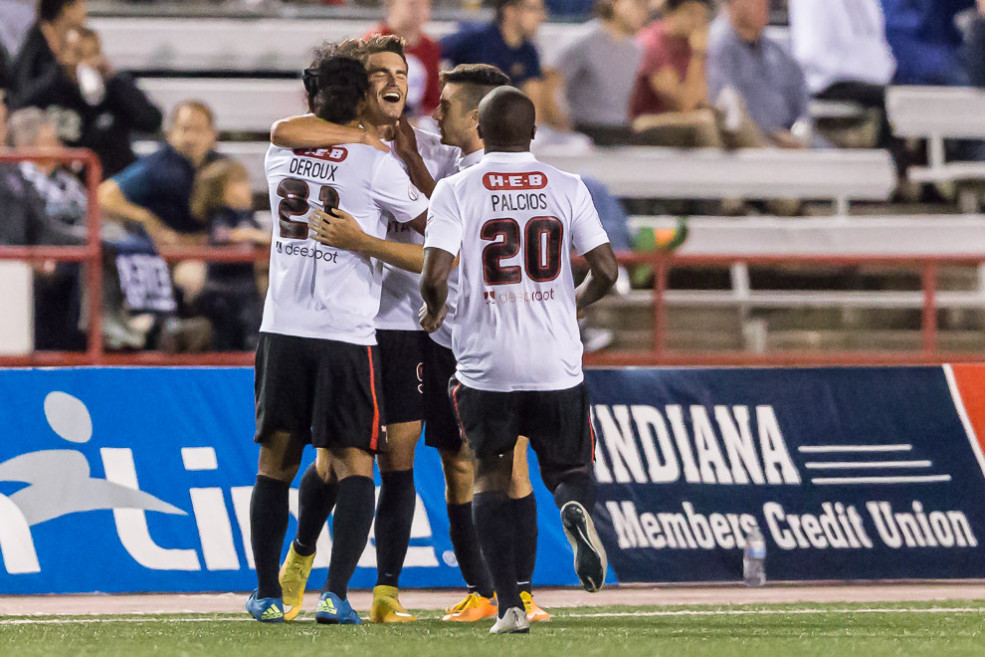 Recap: Scorpions hold on to edge out Indy
Indy Eleven 1 – 2 San Antonio Scorpions
Location: Carroll Stadium, Indianapolis, IN
Attendance: 10,090
Cautions:
25′-Adrian Cann (SAS)
56′-Sergio Peña (IND)
72′-Cory Miller (IND)
90′-Daniel Fernandes (SAS)
Substitutions: 
IND
14′-Don Smart (right winger) for Dane Richards (right winger)
63′-Dylan Mares (rightback) for Dragan Stojkov (rightback)
81′-Wojciech Wojcik (forward) for Victor Pineda (center midfielder)
SAS
68′-Eric Hassli (forward) for Omar Cummings (forward)
77′-Billy Forbes (right winger) for Guiseppe Gentile (right winger)
89′-Brad Rusin (centerback) for Marvin Chavez (center midfield)
Goals:
SAS – Giuseppe Gentile (assist Marvin Chavez) 19'
IND – Dylan Mares (assist Marvin Ceballos) 69'
SAS – Kristopher Tyrpak (assist Marvin Chavez) 79'
Highlights:
[youtube http://www.youtube.com/watch?v=B62UKXkeh9I&w=560&h=315]
Major Themes: 
San Antonio are more dangerous and effective when they don't play with five in the back. In fact, these last two matches have shown that a forward three seems the best tactic to deploy. Unfortunately, this revelation comes just before season's end with San Antonio well out of the playoff picture.
The result keeps both San Antonio and Indy in the bottom third of the league and given each team's upcoming opponents it's unlikely either will climb out of the cellar. San Antonio faces the unenviable task of facing Ottawa, Ft. Lauderdale, and Minnesota on the road while closing out its home season against the New York Cosmos. Indy's endgame isn't much better, but at least it'll host Minnesota and Ft. Lauderdale before travelling to Carolina to wrap up its season. Point is, barring miracles and fuzzy math, each of these teams need to start rebuilding for next season.
In Form:
With two assists this night, Marvin Chavez continues to be on fire for San Antonio thanks to the freedom he's been given with the five defender backline was surrendered.
Newest Scorpion, Kris Tyrpak scored his second goal in his second appearance.
Indy Eleven winger Don Smart  made several great crosses and showed good vision down field, but those on the receiving end failed to perform.
Liabilities:
Weirdly, Omar Cummings has become an albatross around the neck of the San Antonio Scorpions. His non-presence in front of goal is one of the biggest surprises of the NASL season.
Lessons Learned:
A lack of quickness in front of goal plagues Indy Eleven. The plethora of quasi-forwards the team rolls out never seem to be able to take the shot when they need to, always taking one more step or hesitating just that instant too long.