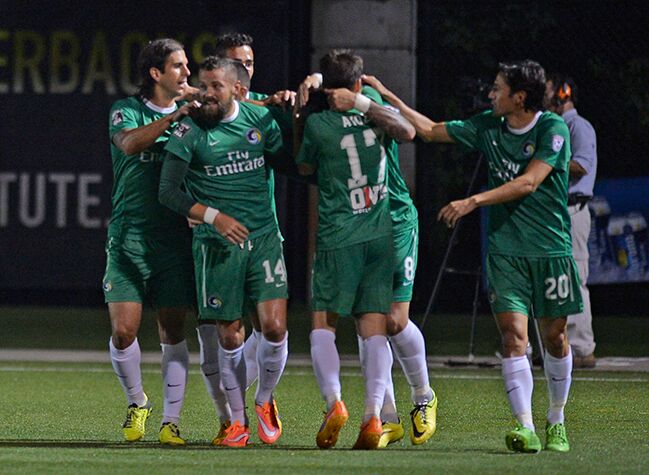 Recap: Cosmos march on Atlanta; take no prisoners
Atlanta Silverbacks 0-3 New York Cosmos
Goals:
29' – Sebastian Guenzatti (Assist: Gaston Cellerino)
54' – Gaston Cellerino
88' – Leo Fernandes (Assist: Hagop Chirishian)
Major Themes:
After a three-game unbeaten streak, the Silverbacks now find themselves in a three-game winless streak after getting shut out at home for the second time this year and experiencing their worst loss this season. After earning a result at Shuart Stadium with a 4-5-1 formation and starting XI three days ago, the Silverbacks looked eager to press against the Cosmos with a 3-5-2 formation, their best offensive weapons in the starting lineup, home field advantage, and a Cosmos roster missing some key names. A defense stretched thin, a dominated midfield, and an inefficient forward line showed up for the Silverbacks. Added to poor passing and the finishing woes that plagued the Cosmos last time, Atlanta posted an underwhelming performance.
The Silverbacks are now three points out of the final playoff spot while the other clubs competing for that spot have one or two games in hand on them.
The Cosmos finally got the statement game they sought for weeks, ending a four-game winless streak, marking the first time in seven games they scored more than a goal in a game, and posting their second win in seven games. The Cosmos roster was missing names, although some like Raul, with an ankle injury, and Andres Flores, away on international duty, did not come as a real surprise. The omission of Marcos Senna, however, was unexpected. The only other change of note was Gaston Cellerino starting as the sole starter. The performance, however, was undeniable. Goals from Sebastian Guenzatti, Cellerino, and Leo Fernandes and a shut-out from Jimmy Maurer all combined for the most dominant scoreline they've posted since spring.
The Cosmos move into second place, just one point behind Ottawa and one point ahead of Minnesota in the combined table. However, both of those clubs have a game in hand on New York.
Highlights:
[youtube http://www.youtube.com/watch?v=S6BFbuC60Qk&w=560&h=315]
In Form:
Jimmy Maurer (NYC) – While the back line did a good job of limiting opportunities on Jimmy Maurer, he came up huge on several occasions including spectacular back-to-back stops on Paulo Mendes and Rauwshan McKenzie to preserve the shut-out for the Cosmos, their fifth of the fall.
Gaston Cellerino (NYC) – One of the newer Cosmos, Cellerino brought a physical edge to the team that they did not possess before. He headed on the assist for the opening goal by Sebastian Guenzatti before muscling his way through to score the second goal off a rebound after Steward Ceus saved his initial shot.
Liabilities:
Simon Mensing (ATL) – After his missed clearance last week resulted in an own goal, Mensing did not have a strong follow-up. He repeatedly gifted possession back to the Cosmos, even on unchallenged passes , making it difficult for the Silverbacks to create their own chances.
Run BMC (ATL) – The heart of the Silverbacks attack, Junior Burgos, Pedro Mendes, and Jaime Chavez (or Run BMC as the local broadcast team calls them) were unable to generate many serious chances for the home team, with Pedro Mendes eventually getting subbed out.