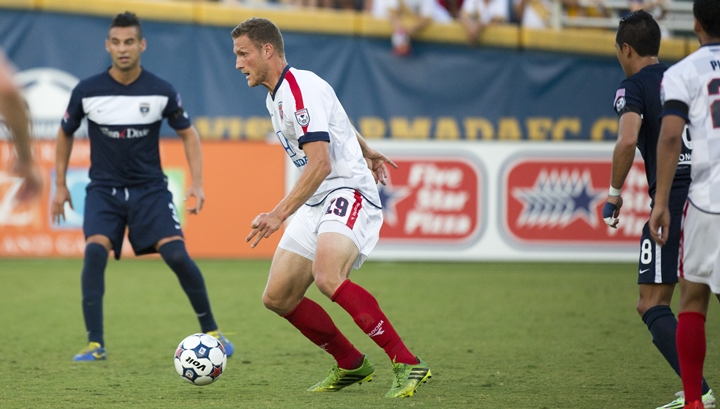 Preview: Indy and Jacksonville Look to Jump Up the Table
Jacksonville Armada vs Indy Eleven
Major Themes:
– Indy and Jacksonville come into the game separated by just one point in the Fall Table, although the Armada do have a game in hand. In the combined table, they are both tied on the bottom, so this is a match between the league's worst teams.
– Both teams come into the match having the Rowdies as their previous opponent. The Armada got the better of their in-state rivals last Saturday, winning 2-0. Indy played the Rowdies on Wednesday, leaving Al Lang with a 1-1 draw.
In Their Last Game:
[youtube http://www.youtube.com/watch?v=iSu7jKKvlE4&w=560&h=315]
— Indy defeated Jacksonville 3-0 in the 3rd game of a 5 game scoreless streak for the Armada.
Keep An Eye On:
– Pascal Millien (JAX) – Millien has been a bright spot for Armada fans this season. Always giving everything he has on the field, Pascal leads the team in assists (3) and with five goals, is second only to Alhassane Keita, who has six. Pascal will be a handful for Indy.
– Lucas Scaglia (JAX) – Scaglia is the Armada's honey badger. He does what he does, no matter the consequences. He leads the team in yellow cards, with ten, and has tacked an additional two red cards on to that. He is a hard fouler, but he gets the job done and knows where to be and when to be there.
– Erick Norales (IND) – Norales is a defender, but also sits as one of the club's leading scorers. Depending on the Armada team that shows up, his work will be cut out for him on the defensive end, but he will most likely get a chance at the goal as well.
– Indy conceding in the second half: Out of 26 games played this season, Indy has conceded a goal in the last half hour of 20 of them. The Armada attack is relentless, though generally ineffective, so the ingredients are there for a late Jacksonville goal.
You won't notice:
– A host of Indy Eleven players: Indy accumulated a boatload of injuries in the second half of September, the most notable being a fractured leg for midfielder Daniel Cuevas just nine days after signing with the team. Other players who will miss the Jacksonville match include MF Kleberson, GK Kristian Nicht, MF Brad Ring, and FW Charlie Rugg.