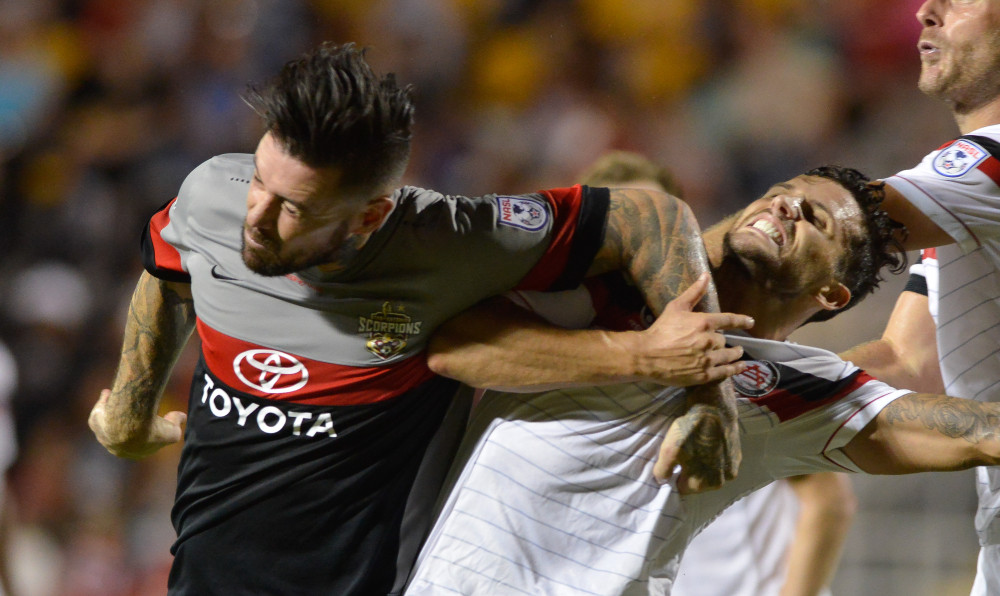 Recap: Honors even between San Antonio and Atlanta
San Antonio Scorpions 3 – 3 Atlanta Silverbacks
Location: Toyota Field, San Antonio, TX
Attendance: 7759
Cautions:
70′-Junior Burgos (ATL)
79′-Simon Mensing (ATL)
84′-Steward Ceus (ATL)
Substitutions: 
SAS
57′-Omar Cummings (forward) for Giuseppe Gentile (forward)
57′-Josue Soto (central midfield) for Marvin Chavez (right midfield)
73′-Joseph Nane (central midfield) for Zourab Tsiskaridze (centerback)
ATL
60′-Michal Mravec (central midfield) for Jonathan Okafor (central midfield)
72′-Jaime Chavez (forward) for Pedro Mendes (forward)
87′-Paulo Mendes (right midfield) for Abdul Bangura (centerback)
Goals:
8′-Jamie Chavez (ATL)
23′-Rauwshan McKenzie (ATL)
41′-Nana Attakora (SAS)
58′-Jamie Chavez (ATL)
80′-Marvin Chavez (SAS)
90′- Cesar Elizondo (SAS)
Highlights:
[youtube http://www.youtube.com/watch?v=uZAFvdeUPHg&w=560&h=315]
Major Themes: 
With Tampa Bay Rowdies and Ft. Lauderdale Strikers each losing, Atlanta Silverbacks would have gained significant ground in its climb towards the final playoff spot. Unfortunately, late in the match San Antonio Scorpions clawed back with two suspect goals leaving the Silverbacks to feel that it may have loss a real opportunity to dictate its fate. A stunning strike (that looked suspiciously offside but we'll never know because not a single camera in Toyota Field was pointed in a useful angle) by Marvin Chavez breathed life into a desperate San Antonio. Ten minutes later, a header from Nana Attakora would arch over Atlanta 'keeper Ceus, hit the post, and careen just over the goal line. The ball would dribble out to be headed again into goal by Cesar Elizondo allowing San Antonio to steal a point from the match.
In Form:
Atlanta's Junior Burgos notched two assists while Jamie Chavez picked up a brace. Chavez now has seven goals and seven assists in under 1500 minutes. Only Tomi Ameobi has done better (seven goals in under 1000 minutes). Between the two of them, Burgos and Chavez have scored scored three goals and provided five assists in September. The Silverback attack is revved up going into the push for the playoffs.
Liabilities:
If Atlanta had been able to hold on for the win, it would have been only 2 points out of the final playoff spot. Sloppy and skittish play to close out the match may have cost the team its best chance to take advantage of the results around them. Atlanta needs to stop making unforced errors.
Omar Cummings came on in the fifty-seventh minute and gain failed to find the back of the net. It's been seven weeks since Cummings scored a goal.
San Antonio Scorpions manager Alen Marcina has somehow still not been fired. The hubris of Marcina could be seen in the formation he rolled out, a bizarre 5-2-3 that pushed central midfielder and former New York Cosmos starter Joseph Nane into a centerback role. The impotence of Cummings can only be matched by the named starters this night at forward; Eric Hassli has more red and yellow cards than goals or starts, and Giuseppe Gentile has never scored a goal in NASL. These are the decisions Marcina makes with impunity. San Antonio deserves better.
Lessons Learned:
When a match doesn't matter, San Antonio can play clean. Shockingly, not a single card was issued to the Scorpions