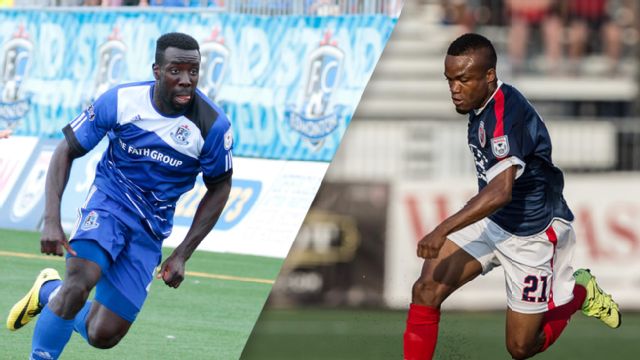 Preview: FC Edmonton seek crucial points against Indy Eleven
Indy Eleven – FC Edmonton

Major Themes:
The stakes are high. Edmonton sits only three points back of the final playoff position (though with an extra game played). But after Indy, Edmonton will go Cosmos-Fury-Cosmos in consecutive games before facing anything like an easy out. If Edmonton will make the postseason, it needs to get the points it can against teams like Indy. If it's going to succeed in the postseason, it will need to prove itself during that tough stretch to come.
Jekylls and Hydes. Edmonton and Indy have been two teams whose form has been flummoxing this fall. The Eleven went from utterly outplayed by Minnesota to crushing win against Jacksonville to thorough defeat at San Antonio in its last three. Edmonton has been similarly back and forth over five games with big losses and big wins, but has notably spent its last three games keeping the scorelines unusually low and tight. Who is going to show up Saturday night?
Key injuries. Edmonton spent its game against the Rowdies without striker Tomi Ameobi and midfielder Richie Ryan. Though they pulled out the win, they will be all the worse for missing them again, especially with a sputtering offense. For Indy, the team leader in goals and assists Dylan Mares continues to be out with injury. Though the club is lucky to have Dane Richards in tow for the home stretch, that may not be enough.
In The Last Game:
The two clubs have traded lopsided wins in their previous two matches. Saturday is the rubber match to decide the season series.
Keep An Eye On:
Zach Steinberger (IND) – Steinberger has become crucial to Indy's success. The rookie scored twice in the club's game against Jacksonville and is emerging from behind the lackluster performances of players like Charlie Rugg and Wojcik Wojciech to find consistent starting minutes. Expect Steinberger, a midfielder, to play high and complement Dane Richards in the attack.
Daryl Fordyce (FCE) – Tinkering with the formation and the lineup has been a constant with Edmonton this year and especially recently, with poor performances, injuries, and international duty forcing coach Colin Miller's hand. In Tomi Ameobi's absence, Fordyce was pushed out of his normal midfield role into a higher, more attacking position. After the win against Tampa Bay, it will be interesting to see if Fordyce returns to this role or retreats back to the midfield.
You Probably Won't See:
A high scoring match. With the exception of Indy's 3-0 win against Jacksonville (and the Armada have a habit of giving up scores like that), neither team has scored more than a single goal in four games. Edmonton's strong offense in the spring has given way to better defense at the expense of goals in the fall. Indy just doesn't see enough meaningful possession to be a consistent threat on goal. Expect to see more long balls than you'd care to, when the ball isn't being stifled in the middle third of the field.