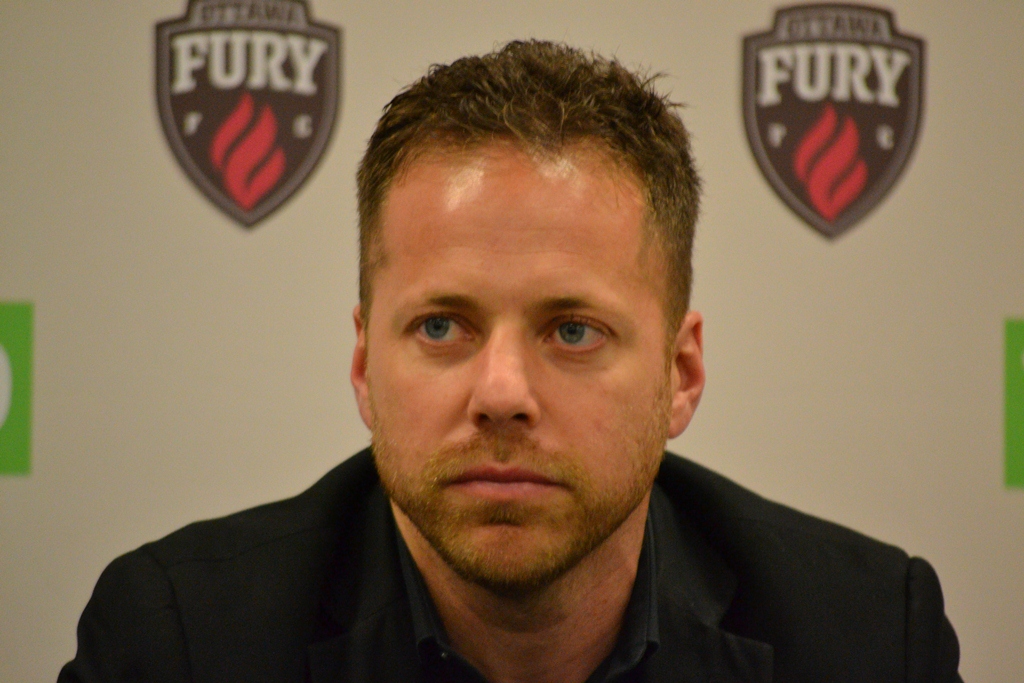 Opinion: Thoughts on Dos Santos' Departure
For anyone who has been following the Ottawa Fury for the past two years, it came as no surprise when the club announced that head coach Marc Dos Santos has been given permission to speak to an unnamed MLS club and will be leaving Ottawa at the end of the season.  The Montreal native's coaching philosophy and mentality have given the club a strong base on which to build for the future, something that has obviously been noticed by people in higher levels of football.
However, what did come as a shock to many supporters was the timing of the announcement. I mean Fury are sitting atop the Fall Season standings and sit second seed for the NASL Championship.  Dos Santos said he wasn't comfortable with the timing of the announcement but does see some positives in the decision.  Fury players had already heard through the grapevine that their gaffer would be moving on at the end of the year, and the club found it necessary to address the topic before it became a distraction down the road.
Dos Santos has been vital in bringing in such players as Ryan Richter, Rafael Alves, Mauro Eustaquio and Sinisa Ubiparipovic.  The respect he has earned and the connections he has made through years of experience have allowed him to make Ottawa a destination for NASL players looking to further develop their game and, in the future, find success.  Rarely has a player had anything negative to say about Marc, and continuously they have praised him for his coaching style and winning mentality.
Dos Santos' is adored by both his squad and the fans, and his departure is no doubt a blow to the club as they head into an important playoff race; however, the squad Dos Santos has put together is strong both physically and mentally, and are not the type of people to let this announcement affect their playing performances.  Dos Santos has requested not to be asked about this MLS destination, but rumours have suggested that an assistant job at Sporting Kansas is the most likely option.  The move for Dos Santos would likely be to get his feet wet with MLS before taking a role in a head coach position, and knowing what he has done in Ottawa, it would ideally be with an MLS expansion side (LAFC?).
Simply put, Dos Santos is Ottawa Fury.   Yes, there are a large number of incredible people who run the club and ensure its success; but the mentality of the squad, the philosophy and style of play, and most importantly the foundation of their success is Marc Dos Santos, and what will be extremely important for the club going forward is keeping that mentality intact, and in my opinion the best man for the job is assistant coach Martin Nash.
Nash, a former Canadian soccer star, has been Dos Santos' number two since the beginning, and understands more than anyone else the way the club works, their style of play and the current squad's chemistry moving into a new year.   The decision for who will be head coach is likely months away, but there is no doubt that Nash will be a front runner and appears to be ready to make the jump from assistant to head coach position.
Dos Santos' departure will certainly be a sad day for Ottawa Fury fans. However, the foundation he has laid for the club cannot be denied, and although the news stings this week, Dos Santos will certainly be one of the most important figures in Ottawa Fury history and will be fondly remembered as the man who famously signed Julian De Guzman and kick-started Mauro Eustaquio's career.
Some have suggested Fury may struggle to keep their strong form now that there is uncertainty in the locker room, but anyone who knows Dos Santos and the ship he runs knows that this club is focused on one thing and one thing only: making the NASL Championship.  Until then, we will all just have to patiently wait to see where Dos Santos goes, who replaces him and how Fury move forward heading into 2016.