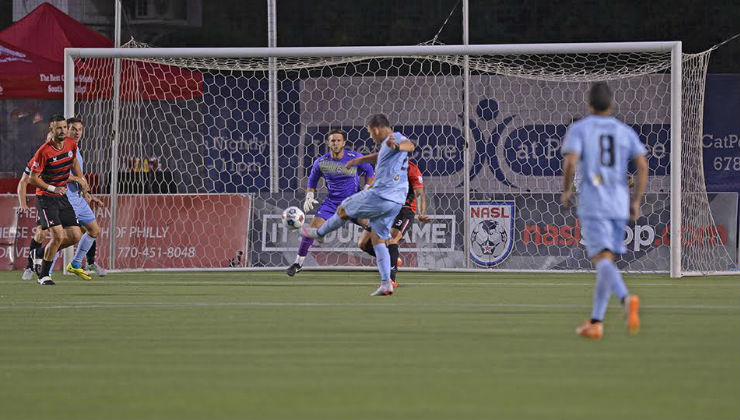 Recap: Early red card guides Minnesota win in Atlanta
Atlanta Silverbacks 1 – 2 Minnesota United
Goals:
9' – Pedro Mendes (ATL)
28' – Christian Ramirez (MNU)
83' – J.C. Banks (MNU)
Major Themes:
Atlanta wasted no time nailing its own coffin tightly shut by earning a red card in the 4th minute. Rauwshan McKenzie was sent to the showers for bringing a streaking Pablo Campos down on a deliberate goal scoring opportunity once he'd beaten all but the goalkeeper. By the book, the foul was called correctly, but the cost was so very high for what was a relatively benign professional foul. Atlanta struggled to do much but occasionally counter for 85 minutes.
That bunker-and-counter desperation paid off very early as Atlanta scored on a delicate chip from Pedro Mendes in the 9th minute. Junior Burgos won the ball behind the midfield line and played a beautifully weighted through ball that beat everyone and found Mendes with only Brent Kallman to beat. Goalkeeper Sammy N'Djock came off his line to defend, and Mendes answered the call. The fault is Minnesota's for some poor marking after right back Kevin Venegas had pushed high into the attack. But that isn't anything new tactically from Minnesota, and the problems have yet to be shored up.
United nearly suffered a replay of the game two weeks ago in Edmonton when it went up a man early in the game only to grind out a draw. It took until the 83rd minutes to finally net the winner, and it took late sub J.C. Banks to do it. Minnesota will savor the win but leave wishing it could have netted one or two more opportunities to boost its goal differential, by which it currently lags behind Ottawa Fury FC in the race for the Fall Season title.
In Form:
Christian Ramirez (MNU) – It would be easy to say the striker has been off his game seeing that he hasn't found the net in several games, and Ramirez would be the first to admit there have been chances he should have finished (he said as much on Twitter this weekend). But that would be to overlook some of the forward's play when he isn't scoring, including delivering clutch passes such as the one that set up Pablo Campos' game winner this weekend against Carolina. Ramirez has great awareness of the play unfolding around him, and can be the one to set the table as well as the one to clean it up.
Pedro Mendes (ATL) – It is difficult to suss a clear picture of a player's form when his team spends the entire game down a man. But Pedro Mendes did his part to give Atlanta a chance and made some good runs in an attempt to open up the game when he could. His goal was a great finish after a physical race to the ball and he gave Atlanta a few chances to make it two goals before making way for Shaka Bangura late on. Mendes will hope this is the start of a resurgence: the forward, once a catalyst for the Silverback's fall return to prominence, had gone goalless for over a month before Tuesday night.
You Won't See On The Highlights:
More infighting among United players, this time between Sammy N'Djock and Kevin Venegas. Repeatedly throughout the season, especially in the fall, the team has visibly struggled with cohesion and has been as likely to engage in a shoving match with each other as with the other team. Perhaps there is too much a desire to see a traditional sports narrative play itself out, that of the team of best friends who outperform their potential by hard work and camaraderie. Maybe that doesn't matter when infighting has you winning 5 out of 6 games. What would it feel like for Minnesota to hoist the trophy at the end of the year in a locker room of polite, professional congratulations before everyone simply leaves each other for the night?
The night was marred by notable absences. Coach Manny Lagos served a suspension after being dismissed from Saturday's game against Carolina. Rauwshan McKenzie obviously missed most of the game for getting handsy with Pablo Campos. Thiago Calvano missed his very first minute of any United game this year and missed the match due to yellow card accumulation. Juliano Vicentini earned a foolish second yellow in the final play of the game through a rash slide tackle after losing the ball: he will miss Saturday's match against the Cosmos. Silverbacks goalkeeper Steward Ceus rode the bench in favor of C.J. Cochran. And the toughest notable absence of the night was in the stands: only 2302 fans made the Tuesday night trek to Atlanta Silverbacks park.
Lessons Learned:
The wheels on the bus have officially spun off for Atlanta. The Silverbacks were once a favorite dark horse pick for the playoffs after a great open to the fall. But they have now lost three of their last five, including shutout defeats to low hanging fruit like Jacksonville and Carolina. It isn't out of reach yet, not in the unpredictable world of NASL. But fourth place feels like a mountain above them currently.
Minnesota doesn't need to play its best soccer to win. It often doesn't. I can't remember a team that racked up so many points while simultaneously feeling like one big eye roll.