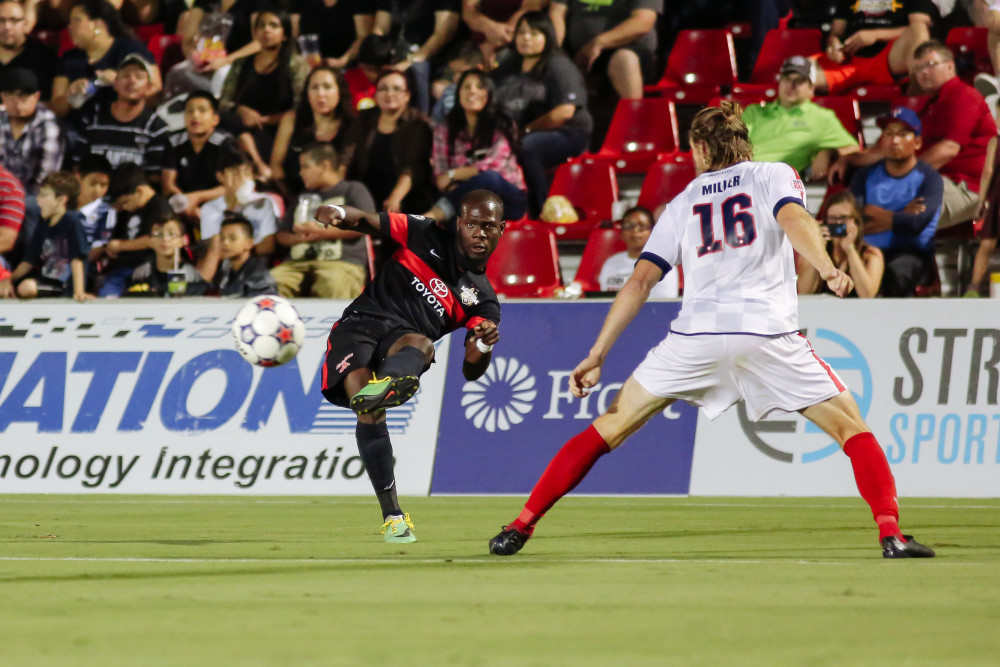 Recap: San Antonio earn a vital three points against Indy
San Antonio Scorpions 2 – 0 Indy Eleven
Location: Toyota Field, San Antonio, TX
Attendance: 7232
Cautions:
17′-Dane Richards (IND)
57′-Omar Cummings (SAS)
78′-Nana Attakora (SAS)
90′-red card, Cesar Elizondo (SAS)
Substitutions: 
SAS
62′-Omar Cummings (forward) for Billy Forbes (right midfield)
74′-Marvin Chavez (right midfield) for Eric Hassli (forward)
83′-Rafael Castillo (central midfield) for Joseph Nane (central midfield)
IND
62′-Cory Miller (centerback) for Marvin Ceballos (central midfield)
74′-Jaime Frias (leftback) for Duke LaCroix (forward)
83′-Don Smart (right midfield) for Wojciech Wojcik (forward)
Goals:
45′-Rafael Castillo (PK)
72′-Rafael Castillo
Highlights:
Major Themes:
With the win, San Antonio has crawled out of the cellar in the standings.  The win delays the inevitable firing of manager Alen Marcina for at least one week. The golden shoelaces that the Scorpions wore to raise awareness for childhood cancer might be the good luck tokens the team needs. Unlike Wednesday against Carolina, San Antonio played nearly the entire match with disciplined intent. It wasn't until left winger Cesar Elizondo kicked out at Indy in stoppage time that the Scorpions had a man sent off. It's now been three straight matches with a straight red card issued to a San Antonio player. Next week the streak will be tested against the Tampa Bay Rowdies. Indy Eleven continue to be consistently inconsistent and utterly inconsequential.
In Form:
Even though San Antonio have put together a wretched season, right midfielder Marvin Chavez and central midfielder Rafael Castillo have been rounding into form. This last week as been a nightmare for the lowly Scorpions but not for lack of trying to prevent it from the two (Chavez has had two goals and Castillo three over this last week). With Billy Forbes shaking off an injury and known to the entire league now as the danger man for San Antonio, a bright spot for the Scorpions is having these two midfielders step up.
Liabilities:
Indy Eleven often look lack lustre and too often the substitutions that the team makes only adds to its lethargy. It's unclear if the issue is the gap in talent or coaching. Regardless, nearly every Indy player plays at least a half completely out of position.
San Antonio forward Omar Cummings has completely disappeared as a threat. The Jamaican hasn't scored since August 8th and managed to completely flub his one real chance Saturday night in the 28th minute.
Lessons Learned:
There are two constants in the NASL: first, Indy Eleven will not win on the road, and second, San Antonio Scorpions will have a man sent off.