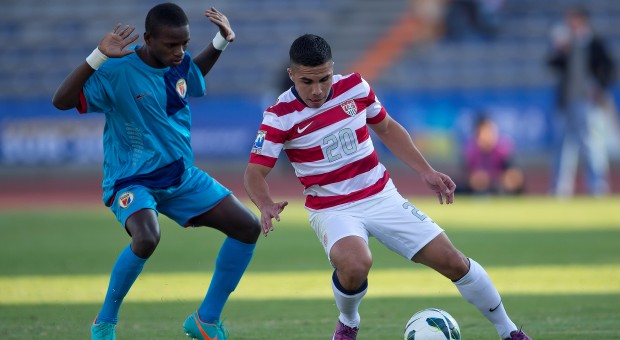 Indy signs former US U-20 Intl Daniel Cuevas
Indy Eleven announced on Thursday that they had signed 22-year old midfielder Daniel Cuevas for the remainder of the Fall season. Cuevas has trained with the team since July and will wear #29. The terms of the deal were not announced.
In 2013, Cuevas helped the US earn a place at the 2013 U-20 World Cup but tore his miniscus in the semi-final of the CONCACAF U-20 Championship. He was able to suite up for the U-20s again for each of the US' group stage games and scored a goal against France (who went on to win the tournament). Current Indy Eleven player Victor Pineda was also on the same U-20 squad with Cuevas.
Cuevas' first professional contract came with Liga MX side Santos Laguna in Mexico. He played with the U-20s for that team before being loaned to Ascenso MX (2nd division) side Lobos BUAP. He last played for Lobos in October 2014.
Highlights show a player capable of using skill and ball control to score down the left wing. Cuevas also seems to have some skill taking predatory shots from close. Indy Eleven Interim Head Coach and Director of Soccer Operations Tim Regan told the club's official website, "Daniel showed a lot of talent and promise during his time in U.S. Soccer's youth national teams system, and he's proved while training with us over the last couple of months that the talent is still there. He's a guy that can play either on the left or centrally and has the ability to be a real difference maker for us around the goal."