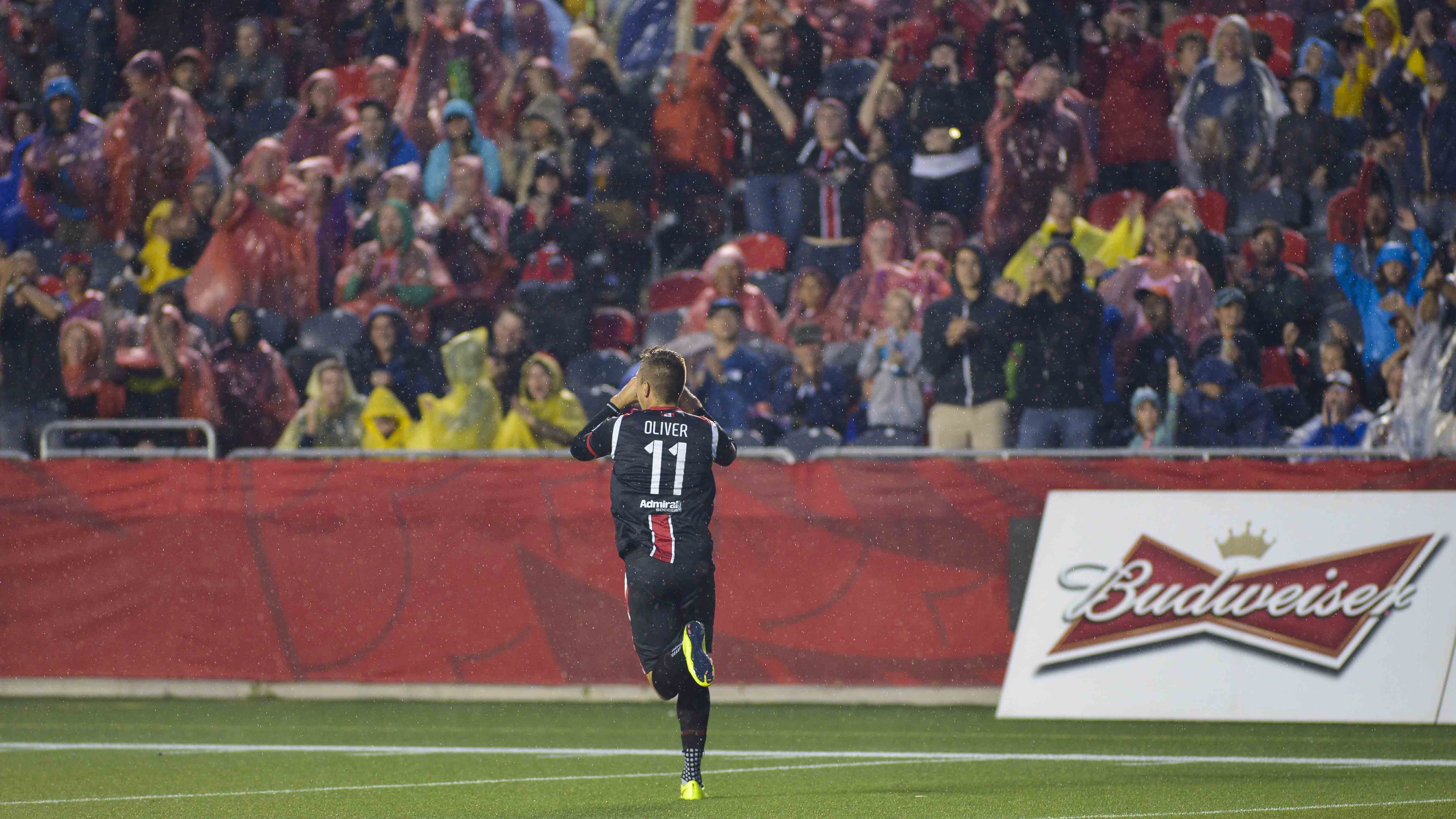 NASL Fall Season Power Rankings – Week 10
The race for The Championship feels tighter after this week. Just when a top four seemed to be ready to break from the pack, cellar dwellers like Carolina and Indy raged against the dying of the light. Edmonton clung to relevance with a scrappy late equalizer. Tampa Bay woke up and leapt into the fourth spot ahead of an inactive Ft. Lauderdale (who still has a game in hand). New York let Ottawa make up a little ground, and Minnesota showed us nothing is ever assured in NASL. All but two teams are within five points of the playoffs. Get nervous. It's the NASL Fall Season Power Rankings – Week 10.
1. Ottawa Fury
The Fury won't look a gift scorpion in the mouth. After two straight draws against Championship-caliber competition, Ottawa needed to put a full three points on the board. San Antonio obliged by going down to ten men early in the game and losing attacking catalyst Billy Forbes to injury. The carpet could not have been rolled out more smoothly for Ottawa. In fact, despite the win, it may be a concern that Ottawa was only able to scratch a single goal against a 10-man, Forbes-less, last place team like San Antonio. Even worse is that the Scorpions were able to apply some late pressure to make things interesting. Ottawa is undefeated since it's streak-busting loss to Minnesota, but it hasn't felt like the same team, either.
2. New York Cosmos
New York did not look good against Tampa Bay. The damage could have been worse if Tampa could have put away some of its additional chances and had Jimmy Maurer not been in top form. But we forecasted that there might be cracks in the armor after New York lost its first game to Jacksonville, and then it went on an eight game unbeaten run that included some important scalps. We'll chalk it up to a tough game on the road against a team celebrating its 40th anniversary, with much of that time spent hating the Cosmos. Ottawa is only four points outside of the Combined Table lead, though. There isn't much room to slip. One final thought: the introduction of Walter Restrepo at halftime reminded me of how crucial he is to this team's success.
3. Minnesota United FC
Despite a result that could have been better, at least Ottawa got their win. In a bizarro version of the game played the prior day in San Antonio, Minnesota also went up a man early but in a frozen rainstorm rather than a blistering heatwave. United also was unable to extend a 1-0 lead despite numerous chances, but for the Loons it proved costly as 10-man Edmonton pulled a stoppage time free kick goal that delivered them the point. This marks the eighth time this year Minnesota has given up points on a goal after the 70th minute. With even just half of those opportunities back, United would be atop the Combined Table. A fix is desperately needed: Minnesota can make the postseason by being "pretty good," but in the playoffs you only get a single chance to close the deal at the end of a game or you won't be back to try again.
4. Ft. Lauderdale Strikers
A week out of the crossfire of NASL, just enough time to work out some of the foot cramps earned from scoring all those goals against Indy last week. Since then, Stefano Pinho has earned Play of the Week, Player of the Week, and Player of the Month honors and is leading a bold resurgence that includes Marlon Freitas and PC as a driving attacking force. The Strikers will have their playoff credentials tested in this week's most intriguing matchup away against Ottawa.
5. Tampa Bay Rowdies
Is the one year plan on track again? Tampa Bay have gone L-D-W in its time under coach Stuart Campbell (the first game he was only the interim coach, though), and the Rowdies' draw and win have come against the two best teams in the league. Reports suggest players like the coach and are responding to him. Darwin Espinal has emerged with a pair of goals in the last two games, and the club has winnable games against Edmonton, San Antonio, Jacksonville, and Indy before facing any real trouble. If the Cosmos win is a sign of things to come, the playoff race could be a very exciting one. Ft. Lauderdale, however, don't seem ready to go anywhere just yet.
6. Atlanta Silverbacks
After an opening to the fall that saw this once moribund club climb into the postseason conversation, Atlanta has been the picture of mediocrity over the last month. It's been over thirty days and counting since the club scored more than one goal. Ironically, the mediocre form has coincided with a switch to a 3-4-3 formation that has actually featured some pretty sound defense but a lack of cohesion in the offense, where we might have otherwise expected a slew of goalfests. Atlanta faithful will hope that a simple tweak of formation and tactics is all it takes to return to scoring and winning consistently. All of Atlanta's crucial players – Pedro Mendes, Junior Burgos, Jaime Chavez, Shaka Bangura, Kosuke Kimura – are healthy. That might make the difference down the stretch.
7. FC Edmonton
Hats off to Edmonton for what we'll call "pluck," as in "the plucky team were lucky to pluck the draw from the clutches of defeat." It was a game rife with caveats, the primary one being the miserable weather that made passes impossible to weight for either team and had the ball skipping unpredictably off the wet turf. But the conditions were the same for both teams, and Minnesota's man advantage should have been enough to overcome any other factors. What team is Edmonton, then? The 3-0 vanquishers of Carolina, 2-0 losers to Ft. Lauderdale, or undisciplined-with-a-big-heart 1-1 equalizers against Minnesota. As we've made the case elsewhere, these results probably say a lot more about the teams Edmonton played than they do about the Eddies themselves.
8. Carolina Railhawks
Ok, Railhawks, we're still listening. Atlanta is still a good team, and win against them is important as the season winds down. Nazmi Albadawi looked unstoppable in this game (don't tell C.J. Cochran, who made an important early save against the midfielder), and fans will be thrilled that Tiyi Shipalane's injury two weeks ago was much ado about nothing. If this club has all its key players, it still has the ability to make a run. Without a Nacho Novo or Shipalane, however, they are toast.
9. Indy Eleven
A good recovery win that puts a plug in the drain temporarily. Believe it or not – you may not – Indy is only five points out of the playoff spots, though its league-worst goal differential doesn't do it any favors. It only takes a couple wins like this to turn it all around, and Indy has among the easiest remaining schedules in the league. But at this point, we know what Indy really is. Aside from Dane Richards, the team lacks a consistent scoring threat – whatever happened to WojWoj – and its defense gets exposed behind a midfield that cannot control the game. Indy might play spoiler, but it is pretending at contending. At least Dylan Mares is back.
10. Jacksonville Armada
While other teams have been sharpening their postseason resumes, Jacksonville continues to polish its participation trophy. Armada visiting Eleven posed the impossible Zen question: if a bad team that refuses to win at home hosts a bad team that refuses to win on the road, what happens? The answer is that Indy devastated Jacksonville 3-0. But that's what happens when a team that only has a few strong players is missing all of them. Jemal Johnson is out with an injury. Alhassane Keita is out with an injury. Pascal Millien is missing once more on international duty. Beyond those players, Armada lacks the talent to put up a fight, and it lacks the depth to move on without them. The rough scorelines may yet continue: trips to New York and Ft. Lauderdale await.
11. San Antonio Scorpions
There are worse fates than losing 1-0 to a good Ottawa team. San Antonio has suffered those fates this season, and probably should have suffered another one after going to ten men early and losing defender Zourab Tsiskaridze (red card) and midfielder Billy Forbes (injury). The Scorpions are now three games without allowing more than one goal, which is an impressive accomplishment compared to the waterfall of allowed goals in July. But what was once one of the high-flying offenses of the league has only put up two goals in an entire month now. Even though the team is basically playing for pride at this point, the loss of Forbes for any length of time would be painful, and could jeopardize the team's consolation prize: a potential Omar Cummings Golden Boot.
Disagree with our rankings?  Let us know in the comments.