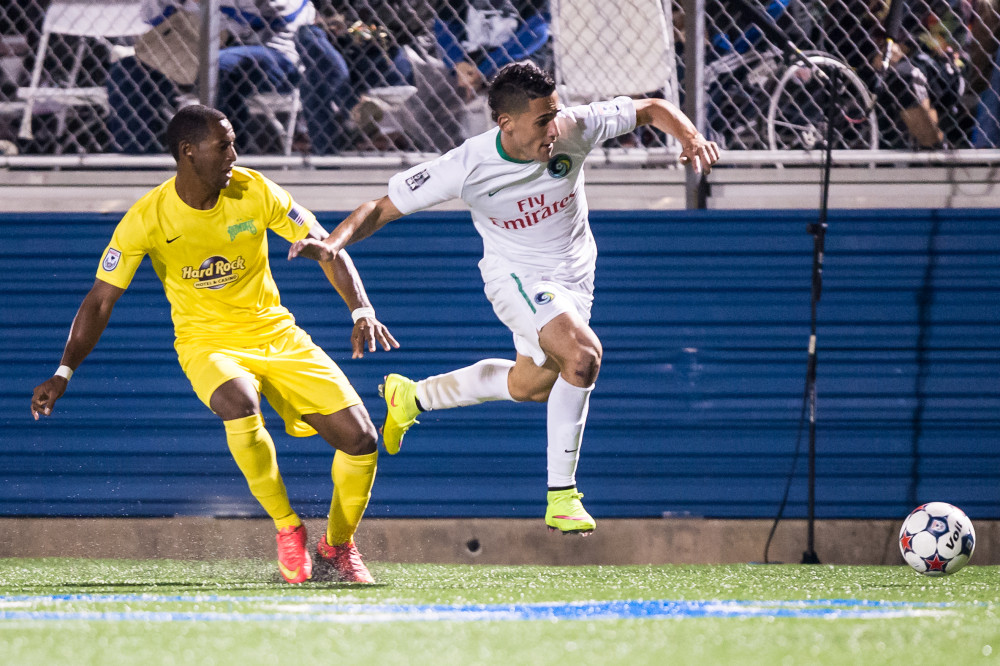 Preview: Rowdies turn 40, Cosmos look to crash the party
Tampa Bay Rowdies – New York Cosmos
Major Themes:
Tampa Bay enter the match with some momentum after coming back from a two-goal deficit to force a 2-2 draw in Ottawa, a draw that snapped a three-game losing streak. Also of concern is the one win they've gotten in their last nine outings, a streak that has cost them the playoff spot they occupied for most of the season.
New York enters the match with strong momentum as they look to extend their eight-game unbeaten streak. With come from behind wins in five of their last six matches, the Cosmos remain dangerous at all stages of a match and can never be counted out. They will look to capitalize on the Rowdies' struggles with a game against Jacksonville on the horizon.
The Cosmos have scored two or more goals in six of their last seven games and have yet to utilize their newest signing, Gaston Cellerino. The Rowdies have not given up less than two goals in their last five straight. This is a match that could be full of goals.
In Their Last Battle:
[youtube http://www.youtube.com/watch?v=Krr6PI-Xcr8&w=560&h=315]
The Cosmos shut-out the Rowdies in their home opener, in front of a sell-out crowd and numerous Cosmos legends like Pele.
Keep An Eye On:
Darwin Espinal (TBR) – A strong sub who can make an impact and change the flow of the game in the later stages, Espinal did just that in their last match against the Fury, receiving a pass and coolly slipping it between Romuald Peiser's legs.
Stefan Antonijevic (TBR) – Another impact player in a variety of ways, not all of them positive. He can be a part of the solution, as he as last week against Ottawa, providing the assist on the Espinal goal…or he can be a part of the problem, giving up penalties, own goals, or having other defensive lapses that cost his club.
Georgi Hristov (TBR) – The current NASL assists leader could play a vital part in a Rowdies counter to exploit those moments where the Cosmos back line exposes itself on the attack.
Maicon Santos (TBR) – The team leader in goals has been keep silent in the last three matches and is due to find the net soon. While the Cosmos have permitted the second least amount of goals this year, the danger always lies in the counter when the fullbacks' advanced positions are exposed. Last week, this led to a Carolina goal, so the chances may be there for Santos.
Lucky Mkosana (NYC) – The former Rowdie returns for the first time since leaving them and does so in pretty good form. Two goals in his last three games is worth noting and he'll certainly see plenty of service throughout the match.
Raul (NYC) – Raul has had several lackluster performances in recent games. However, despite a missed penalty, the last match was not one of them and his form looked strong as he connected for a penalty goal and an assist on the opener. The way he trucked through the midfield in the last fixture between these two sides is also not forgotten.
Adam Moffat (NYC) – Since taking over the lone holding mid position, Moffat has not looked back. His distribution and confidence will come in handy for this match, and his tendency to use physical play will be necessary to contain threats from
Marcos Senna (NYC) – Marcos Senna removed himself from the 18 for the last few matchess, noting that his play had dropped. With his training schedule as he worked to return, the question now is if he starts (unlikely), or if he enters the match as a sub.
Gaston Cellerino/Haji Wright (NYC) – Additional forward options. Haji Wright looked solid as a sub against Indy and Carolina, but poor as a starter against the Strikers. It's unlikely he starts, but his composure in assisting on the game-winner last week may earn him a look. Newest signing Cellerino finally has clearance to play, and one has to wonder if Giovanni Savarese finally deploys him as a sub.
You Won't See:
Andres Flores (NYC) – Receiving a call-up to the Salvadoran national team, the midfielder will miss this match as the squad played and won its' World Cup qualifier against Curacao.
Richard Menjivar (TBR) – Please read the paragraph above.
A boring match – The Rowdies celebrate their fortieth anniversary this evening while hosting an old nemesis. In the modern era, the clubs have played to a scoreless draw exactly once in six encounters and, while the Cosmos have the edge in the record (3-2-1), each club has something at stake. The Cosmos want to extend their lead in the combined standings and overtake Ottawa in the fall. The Rowdies want a win to put their season back on track and, with Ft. Lauderdale sitting out this weekend, a win would put them back in a playoff spot for the time being.