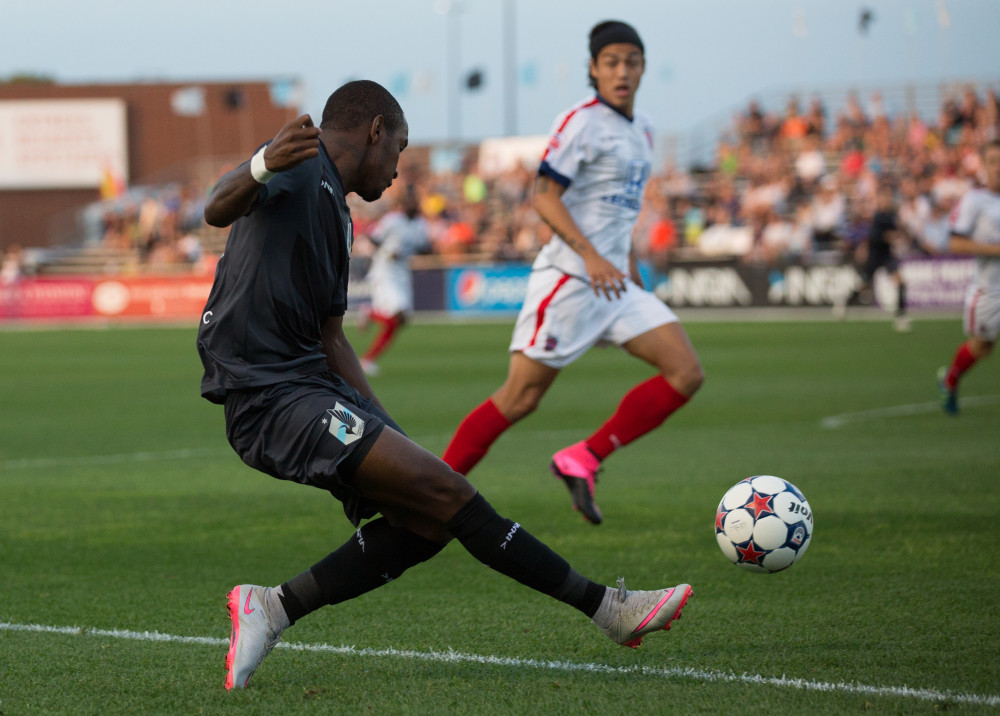 Recap: Entirely adequate MNUFC eventually overcomes Indy
Minnesota United FC 1 – Indy Eleven 0
Location: NSC Stadium, Blaine, MN
Attendance: 7137
Cautions:
17′-Dane Richards (IND)
24′-Geison Moura (MNU)
68′- Aaron Pitchkolan (MNU)
Substitutions: 
MNU-
69′-Kalif Alhassan (left midfield) for Pablo Campos (forward)
Geison (central midfield) for Andrei Gotsmanov (central midfield)
78′-Yago (right midfield) for Daniel Mendes (right midfield)
IND-
66′-Don Smart (right midfield) for Duke LaCroix (forward)
85′-Daniel Keller (central midfield) for Marvin Ceballos (central midfield)
89′-Dragan Stojkov (rightback) for Greg Janicki (centerback)
Goals:
77′-Justin Davis (MNU)
Highlights:
[youtube http://www.youtube.com/watch?v=QnxqIN7HUCs&w=560&h=315]
Major Themes:
-After coming off a vicious drubbing by Ft. Lauderdale, Indianapolis was keen to regain respect. It absolutely did so. With an attacking winger (Dragan Stojkov) forced to play as a defensive rightback due to Marco Franco's red card, Minnesota ought to have destroyed Indy's right side. But that didn't happen. Stojkov was adequate and it took repeated beatings from Justin Davis (arguable the best leftback in the league) to finally put home the game winner. Davis was in good form all match, but it's sad that only one player on Minnesota was able to crack a makeshift Indy backline.
In Form:
-Back after injury, Sammy N'djock (pronounced d-jock for all of you non-Minnesota commentating crews…seriously, learn player names, it's what you get paid for) was a rock in goal for Minnesota stifling the only two serious threats from Indy all night.
-Justin Davis is a fabulously good leftback. He can defend and he can attack, which makes him golden. Were he in MLS, he's have already been moved up to attacking left winger and then striker and then Taylor Twellman would be debating with Alexi Lalas about how Davis "Just isn't scoring the goals we've come to expect from him." Snideness aside, the man is exactly what you want in a fullback, the perfect balance of attack and defense that allows wingers the freedom and cover they need.
-He didn't score, but Dane Richards continues to be the most dangerous player in Indianapolis. With two shots on goal stopped only by superb saves, Richards could have gifted Indy a two-nil lead. Unfortunately, the soccer gods failed to grant him their favor. If only Richards had anyone else on his team to rely on…
Liabilities:
-Hot headed Brazilians. Last week Ft. Lauderdale's Brazilian contingent rocketed it into a seven goal extravaganza. In Minnesota, the Brazilian contingent has at once solidified the backline (Cristiano Dias and Tiago Calvano) as well as honed the attack (Vicentini, Ibson, Yago, Geison, Daniel Mendes, and Pablo Campos). However, in Wednesday's match we saw cracks in the team's unity with Ibson and Calvano almost coming to blows with Yago due to the latter's lack of proper positioning on a set-piece (I suspect). This hasn't been the first time that Minnesota's Brazilians have gotten in their teammate countrymen's faces. There isn't a locker room problem but when intensity goes beyond it's confines to cause a scene on the pitch during a match, things maybe a bit out of hand. Discipline is an issue for manager Manny Lagos.
Lessons Learned:
-Minnesota continues to play down to opponents rather than dominate weaker teams.
-Indy is out of playoff contention. Is it mathematically possible? Yes. Will it happen? Absolutely not.