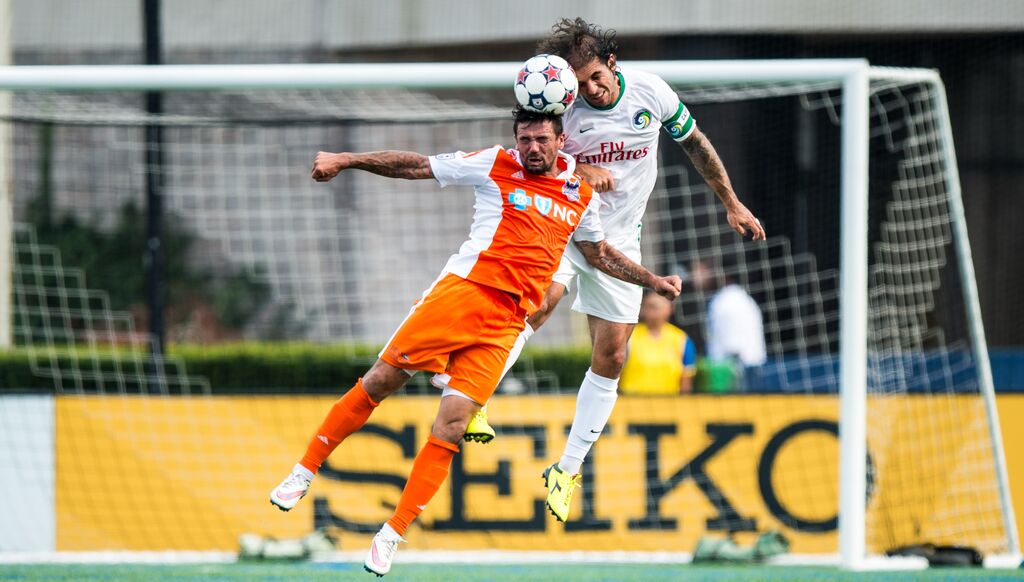 Recap: Cosmos conquer Carolina in third straight comeback
New York Cosmos 3 – 2 Carolina Railhawks
Highlights:
Major Themes:
Cosmos get a result from the Railhawks for third time this season, coming from behind in all three. Despite taking an early lead in the second minute, they lost control by halftime before employing a relentless attack to find a pair of goals in the second half and take the three points.
Carolina is the last team to find a victory in New York (August 2nd, 2014) and, for a while, it looked like they might do it again. Poor defensive play at the start, a stupid foul for a red card, and sloppy defending in the box eliminated the possibility for them to bounce back from their losing streak.
The game became a very chippy affair with rough fouling throughout the match and a red card on Carolina for an off the ball foul. There was little love lost between the two clubs. The Cosmos extend their combined standings lead to seven points, while slashing the Fury hold on the fall to just two points. The Railhawks extend a four-game losing streak and six-game winless streak with 15 goals surrendered in those six games.
In Form:
Cosmos Midfield (NYC) – Not the best performance by Leo Fernandes, but overall he combined well with Andres Flores (1 goal), Sebastian Guenzatti, and Adam Moffat. Excellent pass distribution as well as direct pressure on Akira Fitzgerald came from the unit throughout the match.
Brian Holt (NYC) – For a rookie keeper playing his first NASL match, Holt held up remarkably well despite two goals. Despite being asked to face an offense containing players like Nacho Novo and Tiyi Shipalane, he was up to the task and the sole reason, on a few occasions, that Novo did not find the net.
Tiyi Shipalane (CAR) – Speaking of this guy, he looked remarkably well for someone who "would be out indefinitely" as of a week prior. He looked so well, in fact, that he assisted on both Carolina goals. Outside of taking a swing and miss on Andres Flores, he looked good all match.
Nazmi Albadawi (CAR) – Albadawi finished two great opportunities for the Railhawks and had great positioning throughout the match including the two goal-scoring moments.
Liabilities:
Jimmy Mulligan (NYC) – Mulligan did not have a terrible match, but did have an inconsistent one. To be fair, asking someone who has struggled to find minutes this year to defend Shipalane is a difficult request, but a mistake by Mulligan was what led directly to the first goal.
Blake Wagner (CAR) – On the Carolina side of defending, Blake Wagner looked very unconvincing and slow throughout the game, leading to a 71st minute sub for Kupono Low.
Nacho Novo (CAR) – Novo has been in a slump recently and it really showed in this match. With a rookie keeper in the net and some clear one on one opportunities, Novo failed to convert his chances across the afternoon.
What You Won't See on the Highlights:
Georgios Samaras present at the stadium and taking in the match. This ignited a firestorm around rumors that the Greek striker might be signing a deal with the club. This idea was squashed today by club officials who stated that he was merely rehabilitating with the Cosmos.