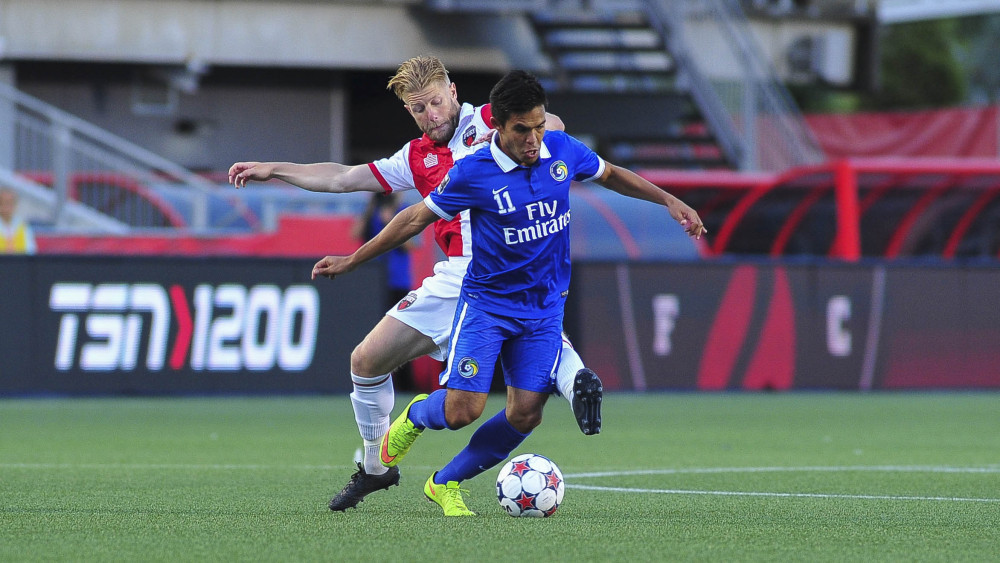 Recap: Fury, Cosmos battle to 0-0 draw
Ottawa Fury FC 0 – 0 New York Cosmos
Highlights:
Major Themes:
The two hottest clubs in the NASL met, and played a rather entertaining 0-0 draw.  The two hottest keepers in the league, Peiser and Maurer, we're both able to record shutouts as they aim for the golden glove award.
Fury were coming off a devastating 2-1 loss to Minnesota United ten days earlier, their first loss since May 2nd.  They controlled much of the second half and looked like the better of the two teams on Wednesday night.
Cosmos were fresh off a big win in Carolina last week and were hoping to gain ground on Fury's Fall Season lead.  They failed to create too many chances through out the match, being shut down by the strong Fury defense.
In Form:
Raul linked up well with both Mkosana and Restrepo to create Cosmos' best scoring opportunities; however, neither shot was able to best Peiser.
Fury central defenders Falvey and Alves played a very strong match, using their size to push opponents off the ball and block shots.
Liabilities:
Neither team has many liabilities just now and apart from not scoring, they will both be somewhat satisfied with their performances. Fury controlled much of the second half however from the Cosmos view it is never easy playing a midweek road game against a top club.
You Won't See On The Highlights:
The Fury crowd was fairly large (over 6000) and very loud.  TD Place is becoming a very difficult place to play and no TV coverage or highlights can capture the atmosphere in Ottawa.
Lessons Learned:
Both clubs are strong, and based on recent performances it looks as though they may meet again later this year in the playoffs.  It seemed like Cosmos were happy to settle for a draw as they hold an advantage in the combined standings, while Fury remain a top the Fall Standings with a decent lead over the Cosmos.