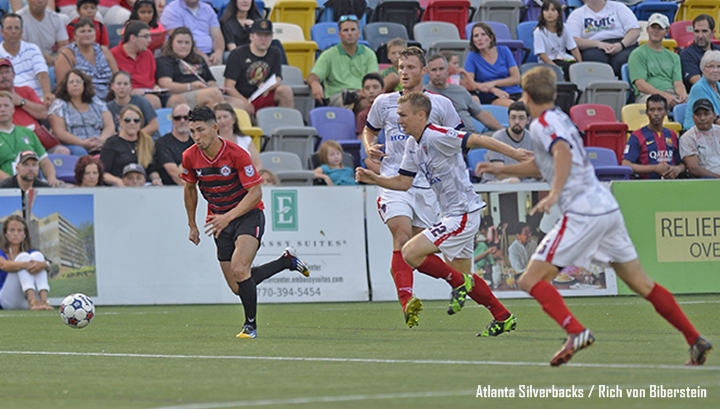 Recap: Silverbacks and Eleven battle to a draw
Atlanta Silverbacks 1-1 Indy Eleven
Goals:
6′ – Dane Richards (IND)
76′ – Janicki (OG)  (ATL)
Highlights:

Major Themes: 
Atlanta have been in great form lately as they have pushed themselves off the bottom of the NASL standings.  The addition of Pedro Mendes has certainly helped their offensive prowess and they are becoming a very difficult team to beat.
Indy Eleven need to start putting a string of wins together if they are going to make a late push for the postseason. Kristian Nicht was confident on twitter a while ago that Indy would still make the playoffs; however they keep dropping points and haven't been at their best in a while.
In Form:
Dane Richards was one of the players to watch from the beginning of the match.   He was able to put Indy ahead 1-0 early on with a penalty kick.
Kristian Nicht seemed to have a strong match, making some important saves despite letting in Richards penalty kick. Nicht had a rough few matches earlier this season, including allowing 8 goals in 2 games vs Ottawa. however he seems to have found his form more recently.
Liabilities:
Norales earned a red card near the beginning of the second half, certainly putting Indy on the back foot for nearly half the match.  Although it appears as though there was not much intention to foul, he certainly brought down the Silverbacks forward and he was the last defender.
Mensing would pick up a second yellow for Atlanta.  However, at this time they were controlling the match.  Although Silverbacks would go down a man with just over ten minutes remaining, it didn't have much of an outcome on the scoreline.
Lessons Learned:
Indy are a hard fighting team who still look determined to prove some wrong.  They play a physical game and are stubborn to play at times, but they also have defensive weaknesses that need to be addressed.
Atlanta Silverbacks have made serious improvements since the Fall Season began, and they will be disappointed not to get a win at home.  Despite droppoing points, the NASL run club is still slowly making their way up the NASL standings, and with a little bit of luck and hard work, they could find themselves battling for post season berth in the final ten games of the season.