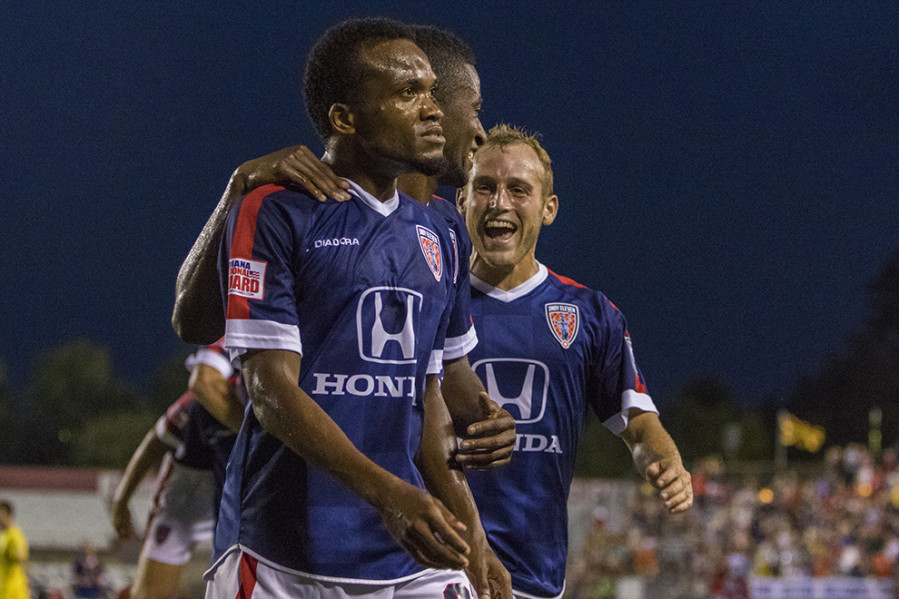 Recap: Indy speed past Rowdies with two goals
Indy Eleven 2 – 0 Tampa Bay Rowdies
Goals:
Dane Richards 60′
Erick Norales 70′
Major Themes
-A major shakeup of the starting 11 doesn't translate to improved performance from Tampa. A few good chances were squandered but they were outplayed for a large portion of the game.
-Indy finally brings it together and puts in a cohesive team effort to snag the win. The team looked threatening through the 60th minute but dominated following that point in the match.
-The Rowdies' slump continues and their fall record now stands at 2-1-5.
In Form:
-Kristian Nicht (IND) – The big man in goal has had a few shaky moments this year but he was a brick wall on Wednesday night. His heroics started with a 16th minute save when Maicon Santon blasted a good shot from 25 yards out. Nicht had another clutch moment in the 56th minute when Brian Shriver took a shot from inside the box.
-Dane Richards (IND) – The Jamaican had a fine night using his speed to burn the Rowdies' back line. His efforts weren't always on target but he managed to put one past Matt Pickens from an awkward angle for Indy's first. He was well on his way to breaking free of the Tampa defense when he was brought down allowing Erick Norales to blast a free kick in for Indy's second.
-Zach Steinberger (IND) – The Houstan Dynamo loanee is young and raw but his talent is undeniable. He ran circles around the Rowdies defense and had a couple of key passes to put men on the break. Steinberger also took a great shot in the 81st forcing Matt Pickens to make a big save.
Liabilities:
-Thomas Rongen (TBR) – It pains me to put Tampa's coach on this list but it's hard not to single out the fact that Rongen made six changes this game and altered the Rowdies' formation from a 4-3-3 to a 4-4-2. The Rowdies looked tactically clueless and suffered for it.
-Tamika Mkandawire (TBR) – Left Dane Richards totally unmarked for Indy's first goal and then brought him down to award Indy the free kick that resulted in the second goal. Mkandawire earned a yellow for his efforts.
You Won't See On The Highlights
-Erick Norales (IND) landing poorly on his ankle in the 81st minute and having to be subbed off. Injury status unclear.
Lessons Learned
-When Indy turn it on, they are fantastic up top. We've said before on this site that it's their cohesiveness as a team that's holding them back rather than a fundamental lack of talent. Last night they proved us right by putting in a great team performance in attack. There are some defensive worries to straighten out but if Nicht maintains his form, these will be slightly less of a concern.
-Woe is the Rowdies. After finishing second in the spring, they're now tenth out of eleven in the fall. Coach Thomas Rongen has some extremely talented puzzle pieces at his disposal in the locker room but he's seemed unable to make sense of them these last 2 months. Unfortunately time is running out for him to figure out where and how everything fits together.