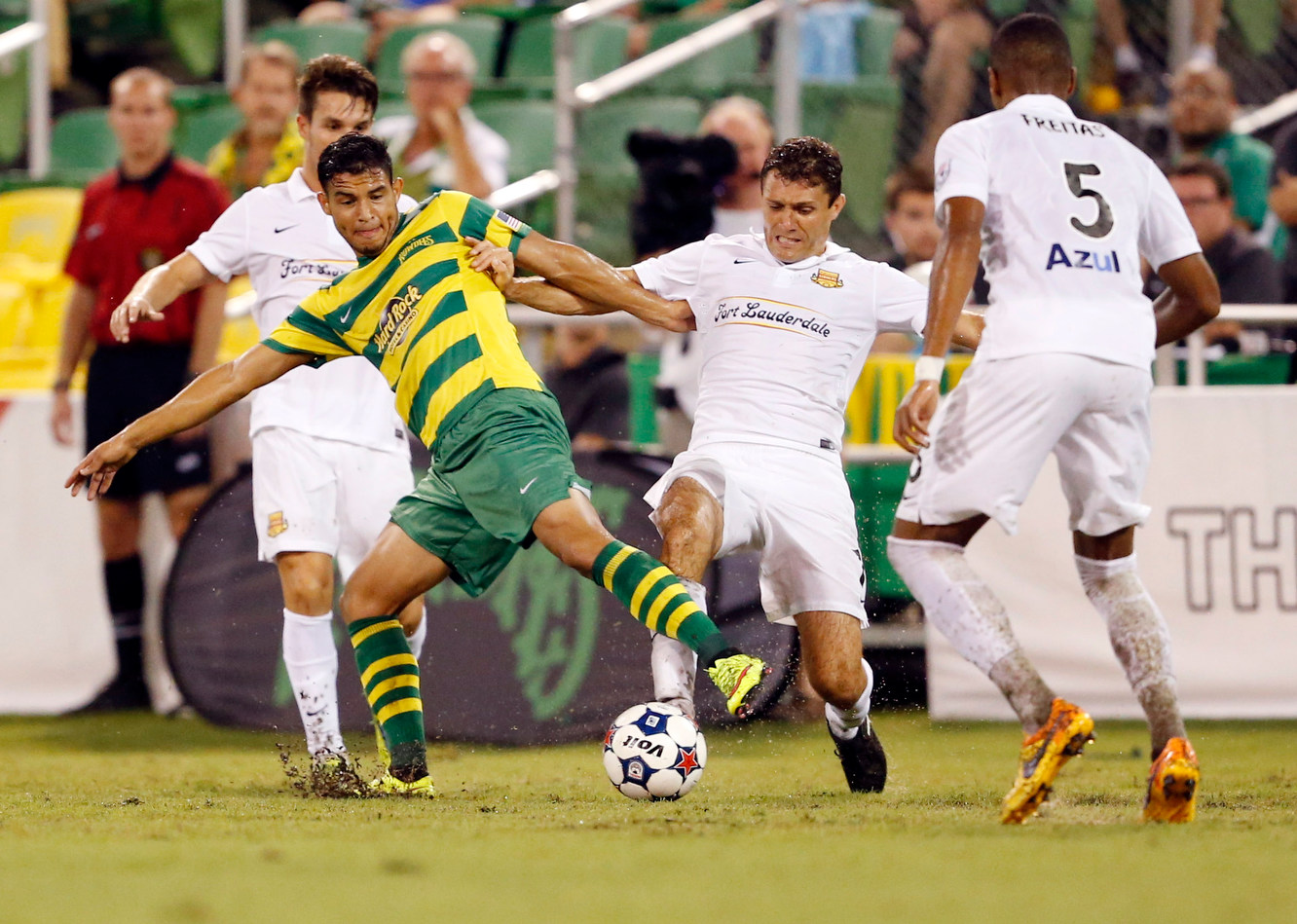 Coastal Cup Preview: Rowdies Plan to Invade the Fort in South Florida
Location: Lockhart Stadium, Ft. Lauderdale
Weather Predictions: 15% Chance of Rain, but it's South Florida, so anything goes
Major Themes:
– Rowdies lead the Coastal Cup standings at 9 points to the Strikers 6 points
– Tampa Bay with a win or a draw will eliminate Jacksonville from the Coastal Cup
– With two previous week meltdowns against Atlanta and New York, the Strikers need to return to form or risk losing any momentum that the new coaching regime has afforded
In the last game:
Keep An Eye On:
– The Rowdies appear to have found their lineup with Santos and Shriver up top, being fed by Georgi Hristov in the #10 spot.
– The Strikers are back at full strength, but they lack depth to do a lot of tinkering to the formation. There will be plenty of tape of what they can do from their game versus Atlanta.
– Yes, Freddy Adu will probably come in as a sub. The same can be said about Omar Salgado. Expect to see both players on the pitch late in the game.
– No matter the outcome, you may want to watch the post game interviews with both coaches. They are the best interviewees in all of soccer.
– The Stands. Tampa supporters group, Ralph's Mob, is expected to show up with good numbers for an away game.
– Marlon Freitas, PC, and James Marcelin are dangerous in the midfield, and will be challenging for the defensive spine of the Rowdies.
– The Strikers will rarely move away from the 4-4-2. With a lack of depth up front, don't expect to see any forwards making a lot of subs. Pinho's mental lapse against Atlanta led to his ejection and seriously hurt the team's aspirations towards a comeback.
– The Strikers on local television. Since the Aug 2nd game vs the Cosmos, every home and away game is being broadcast – a better deal than the one the Rowdies currently have.
– Rumor has it that Ray Hudson may show up at the game just to give Rongen some love.
You won't notice:
– Shawn Chin. Despite being one of the few very good returning players from last year, but has been all but invisible this year.
– The Rowdies bench. With so much depth, there are several key supersubs who you will expect to see, barring injury. Anywhere else they would be starters.
You Probably Won't See:
– A high scoring game. Thomas Rongen desperately wants to play total football, but has found it difficult to get the players to achieve that level of attacking and possession. In contrast, Gunter Kronsteiner will play bunker ball and wait for the counter attack that gave them so much success in their last meeting.
Fun Facts:
– With the rivalry going back into the early outdoor 1970's, the Rowdies and Strikers have had a record of 15 wins to 14 wins, with zero draws.  During the indoor era, the Rowdies lead  with 11 wins to 1.
– In the modern era there are 13 wins for the Rowdies, 7 for the Strikers, and 4 draws.  This is a compelling argument to bring back the old NASL Shootouts.