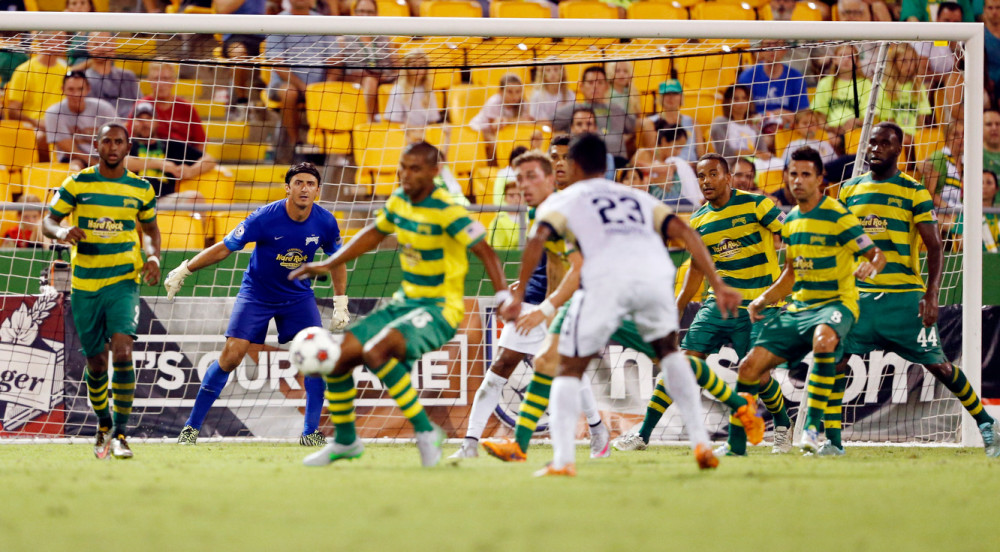 Recap: Rowdies sink Armada, take the lead in Coastal Cup
Tampa Bay Rowdies 3 – Jacksonville Armada 2
Location: Al Lang Stadium, St. Petersburg, FL
Cautions: 37' – Martin Nuñez (TBR), 38' Akeil Barrett (JAX), 61' Juan Guerra (TBR)
Ejections: 79' Lucas Treijo (JAX)
Substitutions:
TBR – (F) Corey Hertzog for (F) Maicon Santos 73', (F) Omar Salgado for (F) Brian Shriver 78', (M) Martin Nuñez for (M) Justin Chavez 87'
JAX – (D) Nicoals Perea for (D) Jordan Gafa 63', (M) Lucas Rodriguez for (M) Joseph Toby 63', (M) Derek Gebhard for (M) Akeil Barrett 82'
Goals:
7′ – Maicon Santos – Assist by Martin Nuñez (TBR)
32' – Maicon Santos – Assist by Georgi Hristov (TBR)
50' – Brian Shriver – Assist by Maicon Santos (TBR)
53' – Alhassane Keita – Penalty Kick (JAX)
67' – Alhassane Keita (JAX)
Highlights:

Major Themes
– Despite all the rain, the field was actually quite quick and did not really factor into the match
– Jacksonville can be both dangerous on the attack, and incredibly vulnerable on defense
– The return of the Rowdies attack
– The porous nature of the Armada defense
– The Rowdies lead the Coastal Cup standings with 9 points, FTL with 6 points, and JAX with 0
In Form:
– Maicon Santos (TBR) – After losing his starting spot and disappearing during several matches, the 31 year old Brazilian returned to form with a brace, with several very real opportunities to net more goals, but were stymied by the aggressive play of Miguel Gallardo
– Brian Shriver (TBR) – Finally playing in his natural striker position, Shriver had several scoring opportunities and was able to net one on a great assist by Maicon Santos. It appears that this should be the starting top of the formation
– Alhassan Keita (JAX) – While his diving is now the subject of frustrated opponents highlights packages, the 32 year old striker is smart enough to always be in position to score, and take advantage of the natural 3-4-3 formation that Jacksonville plays
Liabilities:
– GK Miguel Gallardo (JAX) – The Sweeper / Keeper role paid some dividends against the aggressive attack of the Rowdies, but definitely cost Jacksonville the game.
– Jacksonville's Defense – You have to wonder why Jacksonville continues to leave their defense out to dry, and by pushing their keeper up to play as a fourth defender, is an incredibly risky move that anyone in Minnesota will tell you may not work out
You Won't See On The Highlights
– Despite being in support of an expansion team, Section 904 has impressed in their ability to travel loudly in support of their club. It helps to play in a state that has 3 of the 11 teams in it.
– The Battle of the Counter Attacks. This match was dominated by fast breaks and unexpected lapses in defense for both teams. While not the most technically beautiful play, it nonetheless makes for an exciting match well worth the watch on ESPN3 Replay.
Lessons Learned
-The Rowdies are now 7-1-1 when they score early in the game. Expect to see a much more aggressive tone being set by coach Thomas Rongen for the remainder of the season
– Jacksonville is a very streaky team that can sometimes surprise good teams, and yet fall to lesser ones. Despite being at the bottom of the table, they are definitely a team to watch, even if only for their high entertainment value