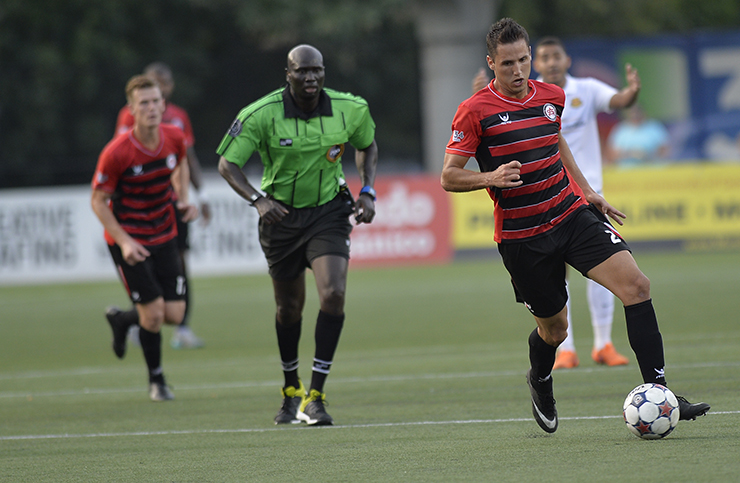 Recap: Strikers melt down in Georgia heat
Atlanta Silverbacks 2 – Ft. Lauderdale Strikers 1
Location: Silverbacks Park, Atlanta, GA
Cautions: 85' – Hosh Hughes (ATL), 90+' – Fabian King (FTL),
Ejections: 84' – Stefano Pinho (FTL), 90+ – Karsten Smith (FTL), 90+ – James Marcelin (FTL)
Substitutions:
ATL – (M) Paulo Mendes for (M) Junior Borgos 90', (F) Matt Horth for (F) Jaime Chavez 90+', (F) Shaka Bangura for (F) Pedro Mendes 89'
FTL – (M) Freitas for (M) Walter Ramirez 65', (F) Nunes for (F) Jose Angulo 69'
Goals:
41′ – Pedro Mendes (ATL)
49' – Walter Ramirez (FTL)
66' – Pedro Mendes (ATL)
Highlights:

Major Themes
– Heat and dehydration led to a few cramps and a few visits from the trainers
– Strikers had several chances but chose to strike from well outside the box rather than challenge Cues (pronounced soos)
– Poor defending and defenders failing to mark up on the outside man, led to Atlanta's scoring opportunities
– Three red cards for Ft. Lauderdale in the dying minutes showed a complete loss of mental discipline.
In Form:
– Pedro Mendes (ATL) – Puts himself in great position to both cleanup loose deflections and find space unmarked for a shot
– Jaime Chavez (ATL) – The Strikers had absolutely no answer for Jaime's ability to break through the defensive ranks, constantly giving up space and opportunities to the Atlanta striker.
Liabilities:
– Discipline – Ft. Lauderdale went into full mental meltdown in the waning minutes of the match, giving up three red cards and not only destroying any chances of a comeback, but seriously hindering the roster for next game versus the Cosmos on the 8th.
You Won't See On The Highlights
– How To Lose Control of the Match And Try and Get It Back By Going Mental At The End – A Novel by referee Baboucarr Jallow – While most of the match was pretty physical, the cards and cautions were quite rare. The levy breached right around the 84th minute. With a 1 goal lead, Atlanta had begun to waste some time by walking slowly to take set pieces. Right after one such incident, Josh Hughes (ATL) went in with a somewhat dangerous tackle on Stefano Pinho (FTL). Pinho himself seemed to escape unscathed but had to take a jump. The video angle wasn't very good but one of his feet seemed to land close to Hughes who was under him. For his trouble, Pinho was sent off while Hughes received a red. The incident occurred right in front of the Strikers bench area inflaming tensions. As the minutes drifted away, the Strikers began to get more impatient and the Silverbacks continued to waste time by calling last minute subs. Fabian Kling (FTL) chose to express his frustrations with some overly physical challenges (including throwing an elbow to the back) followed by a bad slide tackle where he ended up scissoring the shins of an Atlanta player. The decision was an instant red card for Kling. A few minutes later James Marcelin (FTL) essentially showed the same pattern: Physical play followed by a dangerous tackle. For going studs up on one foot, Marcelin also received a straight red.
– The astounded critics – Nobody had predicted Atlanta would be flying quite this high in the Fall season after finishing last in the Spring. Yet here they are. Coach Gary Smith and his men deserve much praise for their performances. They've played disciplined games that while slow paced, are examples of strong defensive play.
Lessons Learned
– As much love as Günter Kronsteiner gets for turning his team around, Atlanta's head coach Gary Smith has quietly produced a surprisingly good team despite having almost no budget or next level superstars.
– Günter Kronsteiner cannot be pleased with both his team's performance, or behavior in this loss. His return was supposed to mark the resurgence of the Strikers and yet things haven't gone as hoped. The team has dropped the last two matches, this one in dramatic fashion. Strikers fans will be asking what the missing piece is and whether the personnel losses in the mid-season are to blame.