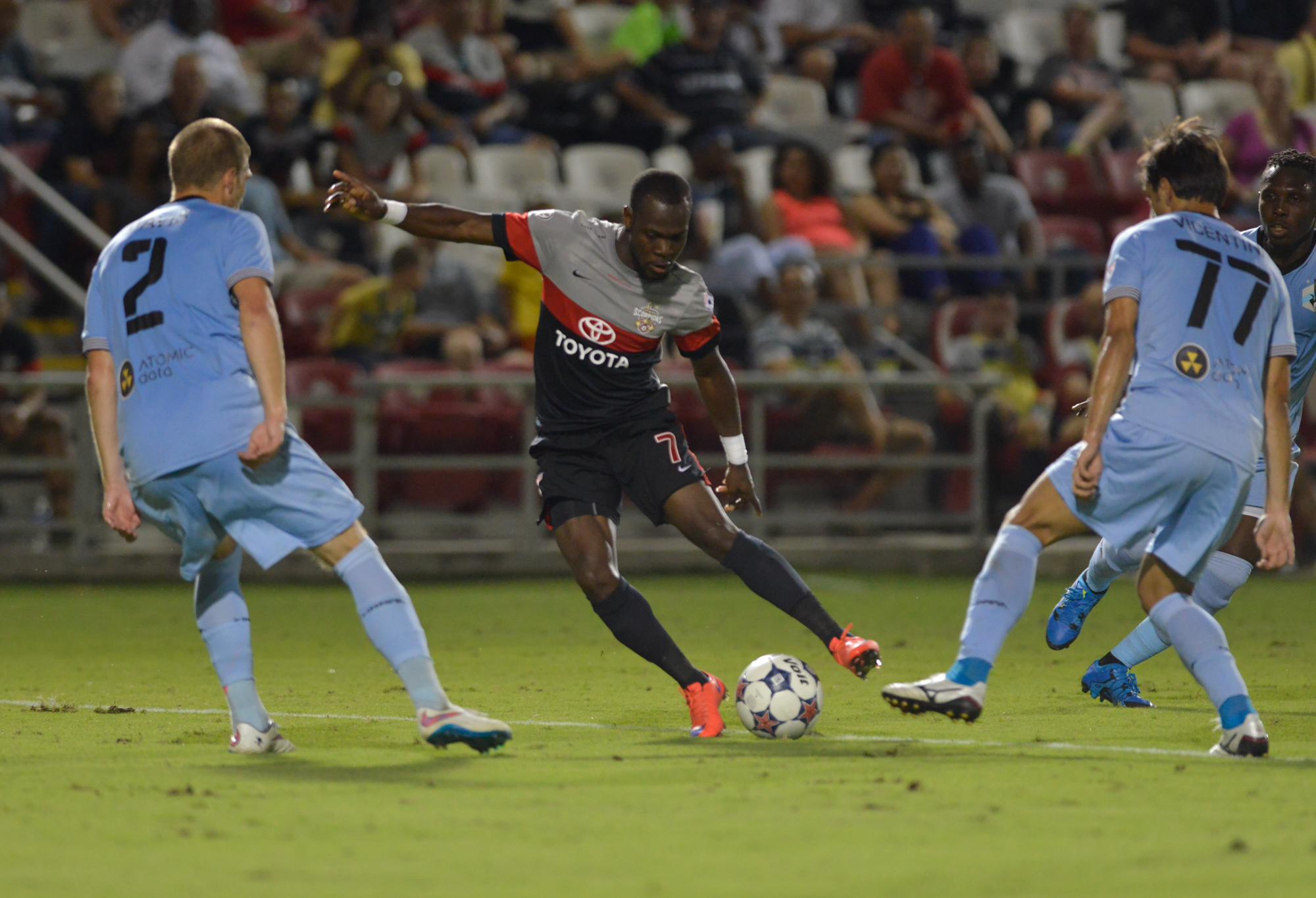 5 Players Who Are Lightning Fast
Every Thursday, Midfield Press presents five new players for your consideration.  This week, we look at players who showcase blistering speed.
Johann Smith, Midfielder, FC Edmonton
You could be forgiven for forgetting that Johann Smith put in five games with the United States' U-20 team and in those five starts scored four goals. These were the days when the Hartford, CT native was making his Premier League debut against Manchester United, and seemed like he could be a "next big thing" for American players. But a combination of injuries and underperformance pushed him around eleven teams in ten years, the latest of which is FC Edmonton. What none of those teams could deny, however, was his speed. The left midfielder overpowers with pace if not technical ability, and was clocked at 10.5 seconds on the 100 meter dash – in high school. That burst has also seen him playing in a left back role, but pushing higher up the field into offensive positions.
Omar Cummings, Forward, San Antonio Scorpions
Omar Cummings never really found his stroke for previous club Houston Dynamo, netting only three times in 37 appearances. Now healthy and in San Antonio, Cummings finds himself in ideal surroundings to produce and has been doing so. Too often in his MLS career the deceptively pacey striker was asked to play a target striker role, contrary to his strengths. With the Scorpions, Cummings benefits from the end-to-end buildup of Billy Forbes, who with his own pace and willingness to run at defenders, either establishes parallel lanes with Cummings or at least draws in a defender on a long run, creating better space for Cummings to produce. It isn't all just choice creation by Forbes or Rafael Castillo, either. Cummings' finishing has been impeccable this year, and his movement off the ball has been a major reason for his resurgence.
Alhassane Keita, Forward, Jacksonville Armada
If you do a search for "Jacksonville Armada" and "fast," your search will return every game recap ever written about the team. Their style is direct and speedy, and the forward triumvirate of Jemal Johnson, Pascal Millien, and Alhassane Keita are each suited for this approach. Keita, a former Zurich man and Guinean international, stretches the field with long runs very wide down the right side, creating space for Millien in the middle or someone like Bochy Hoyos to come up and take advantage of. That work has yielded too little, however; the Armada rank second to last in goals but behind only two teams in shots taken. One wonders if holding more players back on defense, thus sealing that sieve, then using their incredible speed up top to break on the counter might yield some higher percentage shots and have a player like Keita turning his key strength into more goals.
Walter Restrepo, Midfielder, New York Cosmos
A four-year veteran of NASL, Walter Restrepo has made a name for himself bursting down the sideline and being willing to take on defenders in one-on-one situations. The midfielder managed to lead the league in assists in 2012 even though injury cut his season short, and his role must be considered more as a creator than finisher (especially with players like Raul and Lucky Mkosana having fair campaigns this year). But Restrepo has scored twice in the last three games for the Cosmos, which have had a serious problem putting crooked numbers on the scoreboard the last two months, and regularly calling on his speed to score goals rather than create them might be a tactical tweak that pays dividends for New York as the season rolls on.
Shaka Bangura, Forward, Atlanta Silverbacks
Sierra Leonean Shaka Bangura began his club career at Atlanta FC of the NPSL in 2008, and after hitting a new club every year since then, the striker finds himself back in Atlanta as part of the senior Silverbacks squad. The team had a seven game stretch this spring in which it netted zero goals five times. During that run, Atlanta attempted to run a more defense approach and forwards like Bangura suffered as a result. But with the Silverbacks returning to form on offense (six goals over three straight road games) following key midseason signings, the hope is that Bangura's natural pace can come into play as this team comes out of its shell. Teammate Jaime Chavez has already benefited earning three goals during that road trip, and if the team can find a way to work Bangura and Chavez in the same formation once again, the striker may finally be able to excel at what he does: getting behind defenders into aggressive positions quickly.
Have a player you think we overlooked?  Tell us in the comments.