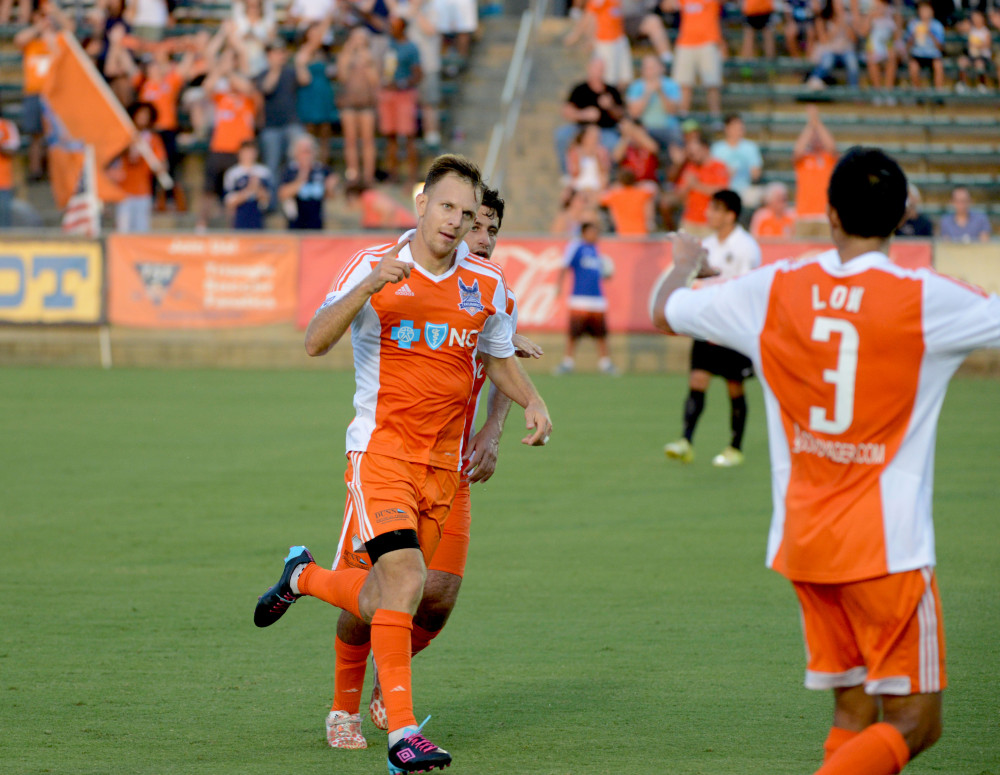 NASL Fall Season Power Rankings – Week 3
Last week we said "if you lose against the worst, you become the worst."  So are the Cosmos the worst team in the Power Rankings this week?  Look, we said a lot of things.  We said NASL results showed reasonable parity, not just randomness.  We said Jacksonville couldn't thrive without stars Pascal Millien and Alhassane Keita.  We said who we thought would win this week, predictions for which we are currently 7 for 25.  At this point, it's on you for still believing us.  It's the NASL Fall Season Power Rankings – Week 3.
1. Carolina Railhawks
The Nacho was a bit spicier Saturday than he had been all season.  Two goals and one beautiful, laser-guided assist was enough to beat San Antonio, who were no slouches either.  Credit the Railies for overcoming the match congestion of the previous week and returning to form on fresh legs.  Even scarier: Carolina pulled off Saturday's win without the aid of star right winger Tiyi Shipalane, who was sidelined with an ankle sprain the previous week.  When he returns, Carolina will be all the stronger for it.
2. New York Cosmos
Our Power Rankings illuminati warned on successive weeks that the Cosmos, while avoiding a loss thus far, were unconvincing.  But while the ice was thin, no one thought it would take as little weight as lowly Jacksonville for the cracks to start showing.  In New York's defense, the Cosmos controlled play throughout the match and were the better team.  But no one told Armada goalkeeper David Sierra, and against a Jacksonville team missing Millien, Keita, and Marcos Flores, a loss is not an acceptable result.  The wound licking can't take long: the Cosmos have a stiff test against Indy Eleven on the road this weekend.
3. Tampa Bay Rowdies

The Spring Season feels like a long time ago now.  The Rowdies ended the greenest season with three wins in its last four and jumped to the top of the combined table after the first game of the fall.  Now the Rowdies are sitting on two goalless losses in a row.  While a 3-0 pasting from San Antonio hurt, this week's loss to Edmonton, who were playing their third game in eight days and missing its stars all while on the road, must sting worse despite the more subtle scoreline.  It's coming game against middling Ft. Lauderdale may provide the chance for a gasp of air.  Of course that could have been said about the Scorpions and the Eddies, too.
4. Minnesota United FC
The Loons dropped to seventh last week when they couldn't get the job done against Ottawa at home despite playing some of their best soccer.  Minnesota played some more of its best soccer against Jacksonville in midweek action, but the Armada had no solutions.  A great week to bounce back, capped by a very capable showing against Mexico's Club León in Saturday's friendly.  With striker Christian Ramirez finding his feet and surprising backup Brent Kallman sealing a leak in central defense, this team could soar up the Power Rankings, especially if the throne is abdicated week after week.
5. Ottawa Fury FC

It was easier to suppress the Furries when they were unbeaten but unimpressive.  But not only has Ottawa extended its unbeaten run to eight games, the team scored as many goals Sunday as it had in its previous eight starts combined.  All games involving Ottawa are trap games for both teams at this point.  Some caveats about the Fury's undeniable streak must be addressed still.  Even on four-goal Sunday Ottawa scored only twice from open play-and this is still the same team that firmly outplayed by United the week prior. Ottawa needs a more dangerous winger in the worst way, but will be satisfied with second place in the Fall Standings until that happens.
6. Indy Eleven

Last week's four-spot had a tough day at the office against an extra furious Ottawa side.  We'll chalk it up to too much poutine on the road.  In Indy's previous four games they had only allowed three goals, so we know this defense can perform better, and its now-snapped unbeaten run came against some of the league's elite teams.  Indy need a player to emerge as a main goal scoring threat.  Seven players are tied for the team league at merely two goals – we admire their willingness to share.  Why not Dane Richards, who welcomes a different New York flavor to town in this week's matchup against the Cosmos.
7.  FC Edmonton
As my grandmother always doted, "someone has to finish seventh."  That unfortunate distinction belongs currently to the Eddies.  Edmonton played three games in eight days, all on the road, and emerged unbeaten with five points.  They haven't lost all fall, and now have pulled three points out of league stalwarts Tampa Bay.  The club also demonstrated greater depth than we had suspected, with squad members like Johann Smith and Sadi Jalali putting in good time.  Add in players like Lance Laing, Tomi Ameobi, and Sainey Nyassi, and the team is poised climb the ranks in a big way.
8. San Antonio Scorpions

Still unsure who the Scorpions are.  They have scored seven goals in their last three games, but what about scoring two goals in their previous five?  They shook the Rowdies' foundation with a 3-0 thumping, but have not looked like the same team in the subsequent two games.  What we do know is that an in-form Billy Forbes is about the most dangerous thing in the league, and if he isn't shut down (as Wes Knight did admirably on Saturday) the team can do anything.  Otherwise, don't buy up any San Antonio stock.  Astrology.com suggests that Scorpios "are dead serious in their mission to learn about others."  Maybe these Scorpios need to learn a little bit about themselves, first.
9. Jacksonville Armada FC

Hard to grade a team that follows up a 4-0 landslide with a win against the league's last unbeaten team.  Most remarkable, Jacksonville accomplished the feat without its best players.  But it took a heroic effort by goalkeeper Sierra and Jacksonville were chasing the whole game.  Armada need to stabilize the ship to start making some real waves, and will have a week to regroup before doing so.  Keita and Millien should be available by then, and they will be needed against the same United side that handed them that 4-0 shipwreck.
10. Fort Lauderdale Strikers

Tying Atlanta at home is hardly impressive, but in a Fall Season that has watched giants topple and minnows rise and fall, three draws is a fine way to open the second set.  PC has been a consistent presence in the midfield, and Pinho could make a run at Golden Boot this year.  But as a team, mediocre is the best thing that can be said.  They lack any other regular scoring threats save Jose Angulo who has made most of his appearances off the bench this year, and rare is the day the defense holds down a shut out.  The next two games will be spent on the road against the league's most formidable foes Tampa Bay and New York.  If the Strikers are able to turn mediocre into something special, don't look for it to happen soon.
11. Atlanta Silverbacks
Atlanta started a four game road trip against Ft. Lauderdale this week and earned a 2-2 draw using a slew of brand new signings.  Not bad to be sitting at the bottom of the rankings.  New signing Junior Burgos even fed fellow newcomer Pedro Mendes for Atlanta's second goal.  What is clear is that Atlanta is willing to invest to bolster its roster and is not taking the season lightly.  What is unclear is how sustainable their current form will be.  They are only a couple weeks removed from being entirely outplayed by Tampa Bay, and its win against Jacksonville…well, it was against Jacksonville.  The road trip will tell us who the team truly is.
Disagree with our rankings?  Let us know in the comments.