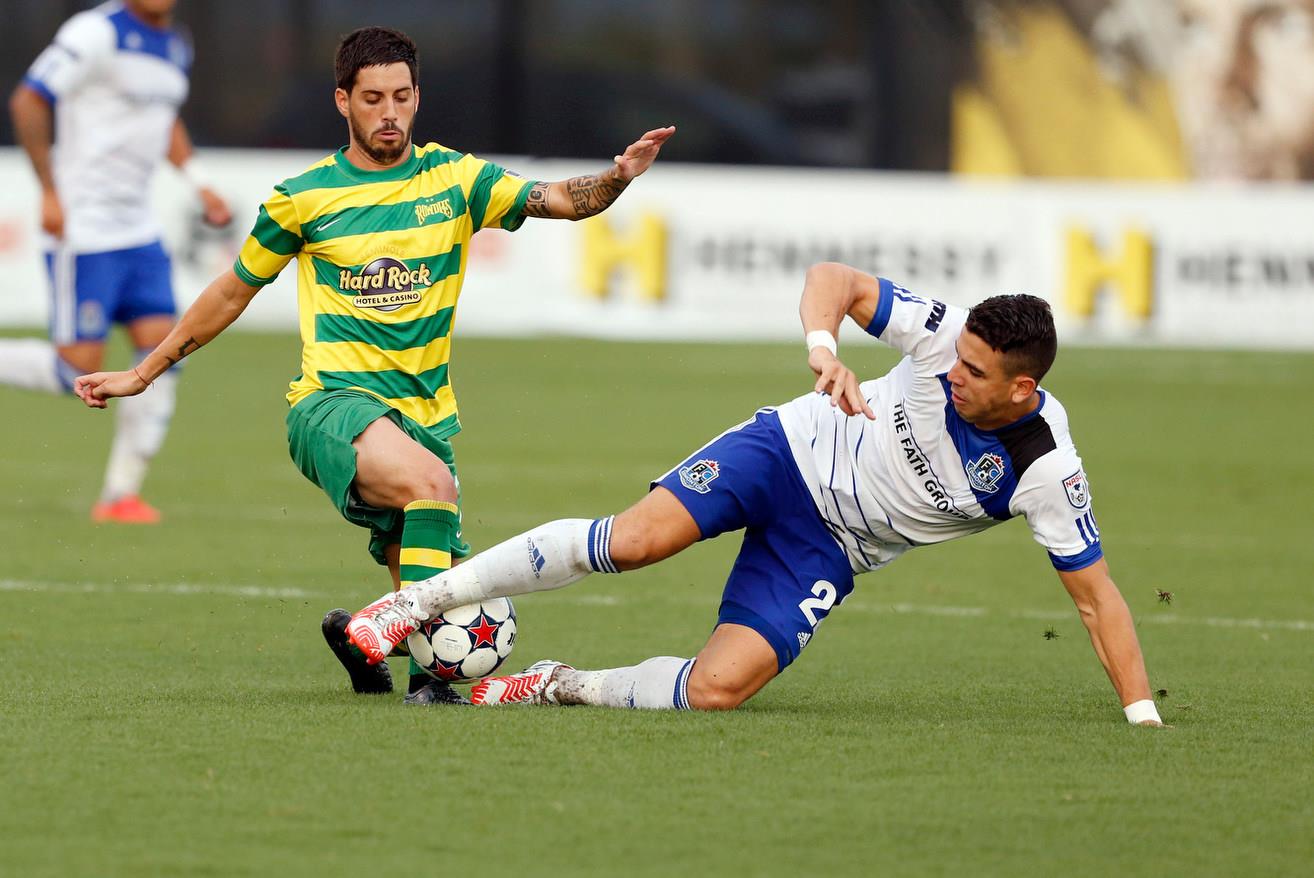 Recap: Rowdies Fall To Visiting Edmonton
Tampa Bay Rowdies 0 – 1 FC Edmonton
Location: Al Lang Stadium, St. Petersburg, FL
Weather:  Hot, humid, sloppy field
Cautions: 73' – Sadi Jalali (EDM), 80' – Rober Hernandez (TBR)
Highlights:

Substitutions:
TBR – (M) Hristov for (M) Shriver 61', (F) Santos for (F) Hertzog 61', (M) Boggs for (M) Nüñez 80'
EDM – (M) Cruz for (M) Nonni 74', (F) Jonke for (F) Jalali 74', (M) Zebie for (M) Freitas 81'
Goals:
56′ – Own Goal – Stefan Antonijevic (TBR) – Credited to Mallan Roberts (EDM)
Major Themes
– Domination of possession by the Rowdies, but a failure to deliver on a multitude of shots.
– Edmonton continues to find ways to win
– Tampa Bay's 4-3-3 formation and attacking style made them vulnerable to counterattack
– Tampa Bay's inability to capitalize on set pieces
In Form:
– Matt Pickens – Despite giving up an own goal on a set piece, Pickens showed his experience and vision by shutting down several one on one attempts
– Matt VanOekel – After giving up a slew of goals in the spring, the former Loon has returned to his stingy ways
Liabilities:
– Rowdies Forwards – the opportunities have come in bunches, but very few have paid off, frustrating everyone. Expect a change in lineup.
– Rowdies formation – at this point, one has to wonder if the 4-3-3 is working, or if it should not be abandoned for the standard 4-4-2
– The absence of Lance Laing – Playing to lesser competition, the Montons can dominate, but against more solid defenses, missing their best player has hurt their ability to score.
You Won't See On The Highlights
– The feeling of frustration. The Rowdies have a potent offense and a system designed to score a lot of goals – but they're just not going in. Watching this team take too many settling touches instead of cracking off a one time shot during scoring opportunities, is maddening for Rowdies fans. Trust Rongen to make a point of correcting this going forward.
Lessons Learned
– The Montons are a better team than anyone not named Kyle Schlinz (Happy Birthday!) is giving them credit for. They continue to find ways to win, even if it's by sheer good luck and perseverance. You have to appreciate a team that never gives up.
– The Rowdies can be lethal, but they play down to their competition. We've seen it against Ottawa, against Carolina, against San Antonio, and now Edmonton. While the rest of the league prefers to bunker down and play a more controlled style of soccer, Coach Thomas Rongen is adamant in bringing a new approach to the league by going all out with both possession and forward movement. Unfortunately that leaves some gaps, but with a little tweaking, this team has the potential to light it up – when they decide to show up.
– The Rowdies coaches need to adopt the highly effective Iron Skillet Method to improve their set pieces.