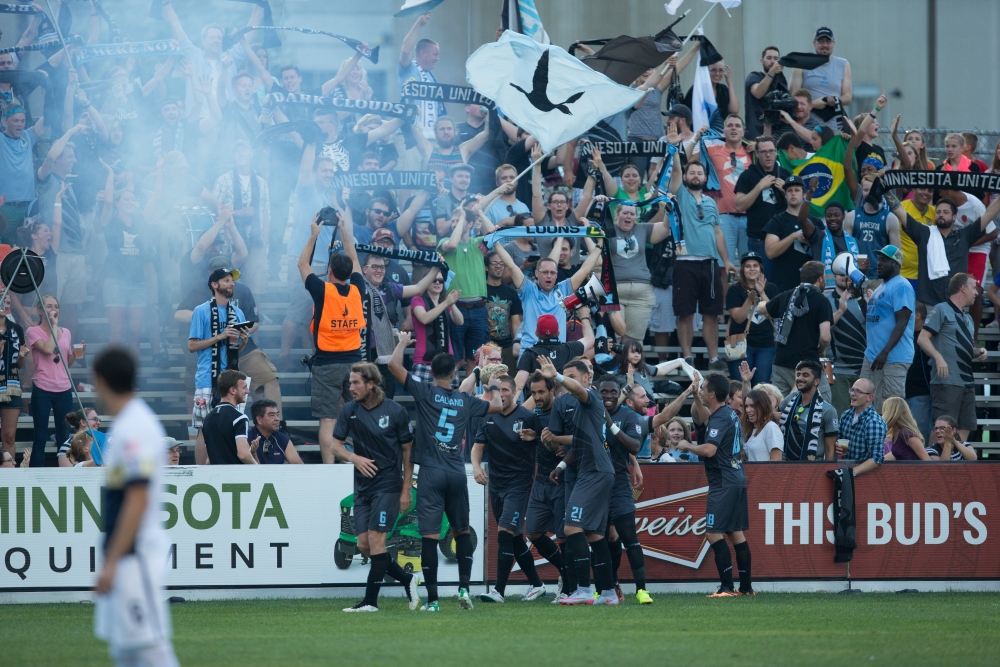 Recap: Minnesota Unites To Down Jacksonville
Minnesota United FC 4 – 0 Jacksonville Armada FC
Goals:
13′ – Juliano Vicentini (MNU)
50′ – Daniel Mendes (MNU)
60′ – Christian Ramirez (MNU)
75′ – Ibson (MNU)
Major Themes
The night turned on a red card to Alhassane Keita right before halftime.  The forward rushed into the box looking to beat Minnesota goalkeeper Sammy N'Djock to the ball and kicked N'Djock in the face in doing so.  At the time Minnesota led 1-0, a lead which has proven dangerous to United all season long.  But with a full 45 minutes against a ten-man Armada with a leaky defense even when at full strength, Minnesota opened up the game and capitalized on their chances.
Jacksonville showed its over-reliance on a few key players.  With Pascal Millien absent for Gold Cup duty, Armada was left to count on star Keita and creative striker Jemal Johnson to control the game and score enough to overshadow its suspect defense.  Having lost Keita to the red card, Jacksonville was punchless for more reasons than simply being down to ten men.  Jacksonville is now goalless in three games, its last score coming when Millien netted two against the Cosmos.  This team needs to find a way to succeed in the absence of its best players.
Minnesota took its chances and was better for it.  Three of Minnesota's four goals came from outside the box on Wednesday, and all four goals came off of clever play in the build up.  One theme for United this year has been its reticence to take risks in the attack; though the team routinely controls possession for much of the game, it ranks among the lower teams in the league in shots.  Too often the team makes a conservative pass, takes an extra shot, or waits for a better position to take that attempt.  On Wednesday they were pulling the trigger.
In Form
Ibson – A well-placed goal and, probably more impressively, a terrific ball to set up the Christian Ramirez goal.  I have said that I see Ibson occasionally taking too many touches or not executing enough aggressive passes.  But from the second half of Saturday through Wednesday night's game, Ibson has been playing quick, proactive soccer and showing off his great vision.
Christian Ramirez – My big question entering the fall was how to get Ramirez on the field.  Ramirez has now earned the start in two consecutive games and scored in each.  He also gave the assist on Mendes' goal and it was his dummy on J.C. Banks' cross that allowed Ibson to net his.  My clear man of the match for having a hand in three goals and taking ambitious, confident shots now that he has his chance to shine.
Daniel Mendes – I was very critical of Ibson and Mendes entering the fall and I stand by it.  But the two have been undeniable of late.  Mendes opened the Fall Season with a goal, had a goal wrongly disallowed on Saturday, then netted again against Jacksonville.  It would be great to continue to see Mendes develop some more creative linkage with Kevin Venegas on the right rather than having Venegas send in so many crosses (Minnesota don't put in many off of headers).  But absent that, Mendes has proven adept at making the run no one sees.
Liabilities
David Sierra – Jacksonville's backup keeper made his second start of the year in this game. It didn't go much better than the first (which also came against Minnesota). He conceded 4 goals and was caught out of possession on several occasions. Jacksonville fans will hope he isn't in net versus Minnesota again.
You Won't See On The Highlights
Bochy Hoyos was replaced at halftime for speedy, attack-minded Akeil Barrett.  The substitution did not appear to be injury-related but rather tactical.  It is a fascinating insight into how Jacksonville works, and possibly also perceptions of Minnesota.  If Jacksonville has a strength it is in their attack.  Down to ten men, a team will often put many players behind the ball and try to weather the storm while hoping for a counter.  Jacksonville not only believed they could stay proactive, they actually used a substitute to bring on a nominal forward for Hoyos' midfield role.  It may not only speak to Jacksonville's style, but also to the knowledge that Minnesota has a habit of conceding in the second half; Armada might have hoped to capitalize even down a man.
Lessons Learned
Armada fans must be rooting against Haiti in the Gold Cup to ensure a quick return of Millien to the lineup.  There is no silver lining to this team without him.
If Minnesota continues to take shots aggressively and spend more time attacking up the center of the pitch, as they did on Wednesday, they could be the team the pundits believed they were to start the year.