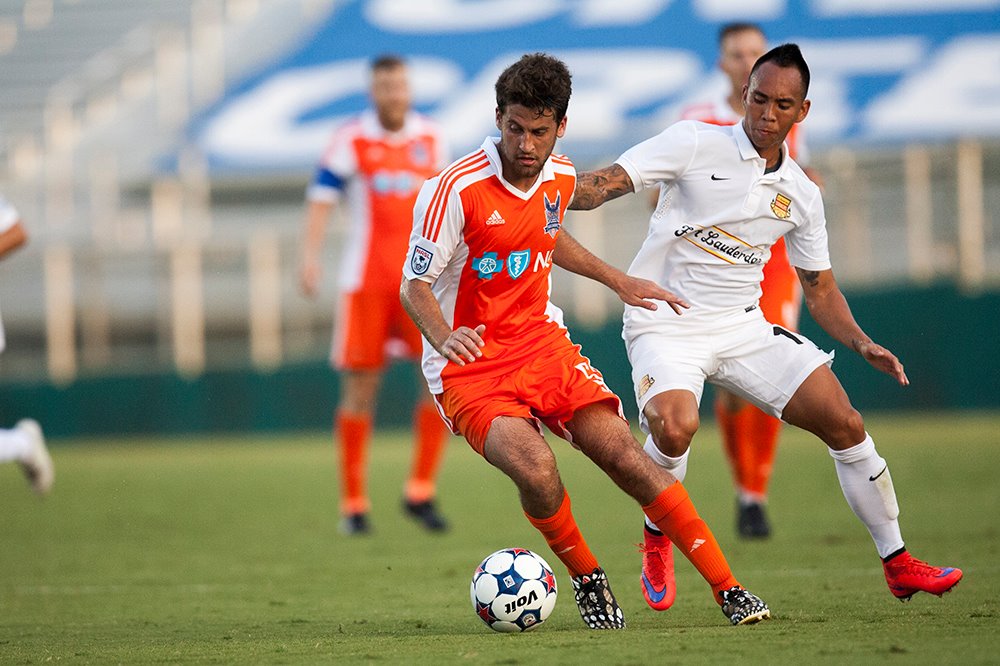 Recap: Unexpected Rest Buoys Road Draw in Cary
Carolina Railhawks 1 – 1 Fort Lauderdale Strikers
Let's get right into the superlatives of a deflating draw for the RailHawks in Cary.
Weirdest Event
A lengthy lightning delay is one of the weirdest things that can happen to a soccer game. You mentally prepare for many things as a soccer player, but a 90-minute lightning delay is not one of them. This isn't baseball where every tenth game gets rained out or delayed in some fashion and everyone is used to it and there wasn't much flow to the game to begin with.
But it's tough to go through 75 minutes of a game you're dominating only to have to take a break. It's one of the best things that can happen to a trailing team and, as Colin Clarke confirmed post-game, one of the worst that can happen to a leading team.
I can't fault the Railies for giving one up so soon after the break. But I can fault them for not scoring a second. They, and Shipalane in particular, looked like one was coming. Alas.
Most Valuable Player
After much internal deliberation, I'm awarding this to Josh Ford over Tiyi Shipalane. Shipalane was dangerous all game but in a drawn match, you almost have to give the nod to a player on the team that wanted the point. And Josh Ford was critical, stopping a couple of fantastic Shipalane shots and tipping a Nazmi Albadawi laser over the bar at the death.
Most Interesting Lineup Decision
Austin da Luz started in place of Wells Thompson at holding midfield and, in the words of Colin Clarke, "It went okay." The Strikers' one legitimate scoring opportunity before the 70th minute was the result of a bad da Luz giveaway up the middle.
Clarke would have put out two forwards had Nacho Novo been 90-minutes fit. However, a muscle twinge kept him from starting and Clarke was forced to play da Luz in a position he'd never played before.
This in itself brings up a whole host of questions, among which are: Do the RailHawks need to poach a backup midfielder or two in the transfer window? They can't be that expensive and I know of one or two MLS teams that have a logjam (I'm looking at you, Portland and DC United) in the midfield.
Most Insightful Post-Game Quote
This was my first experience with Gunter Kronsteiner: He talked for about seven minutes and it was all awesome.
But to keep this review relatively short, I'll pick one of my favorites. For some context, Justin Yarbrough of The Tailgate Show told me before the game that Gunter was not pleased with the team's fitness. Indeed, the Strikers were starting to slow down around the 65th minute as the Railies were quickly winning back possession when they sent bad balls or dribbled into trouble.
So just as the RailHawks were really imposing their will on the game and seemed destined for an insurance goal, lightning flashed. Two hours later, the Strikers had rested, recovered, and found an equalizer.
After the game, Gunter discussed what he thought might have been the culprit of the fitness deficit while revealing a fascinating conflation between youth development and professional team management in this country: "When I heard from the players, they were practicing for three and a half hours each practice. No soccer player is taking this. That's too much. [Former Strikers coach Marcelo Neveleff] was coaching the U-17 national team or whatever. When you work with very young players, of course you teach them much more so you take very long sessions. But this is a professional team, they don't need to do this. It just makes them tired."
Gunter went on to talk about what he thought was the biggest tactical deficiency his team faces going forward: the speed of his back line. In fact, he called them the slowest back line in NASL and that some immediate adjustments were made to shorten the space between the defenders and the goalkeeper.
It paid off: The RailHawks dropped two points they're going to want back when the Fall Title is awarded to a short-handed team whose talent Gunter referred to as "better than last year's."
Most Emotional Moment
As they usually do, the RailHawks meandered over to the Supporters' Section after the final whistle in appreciation. Except for one.
Futty Danso walked over to a huddle of people a couple of sections over, one of which was wearing his jersey. Along with the supporters' sections, Futty Danso's friends and family stuck out the thunderstorm to see him play a soccer game the day after his mother had died (that was what the black armbands were commemorating). It was good to see him enjoy a laugh as we walked by him and his contingent.