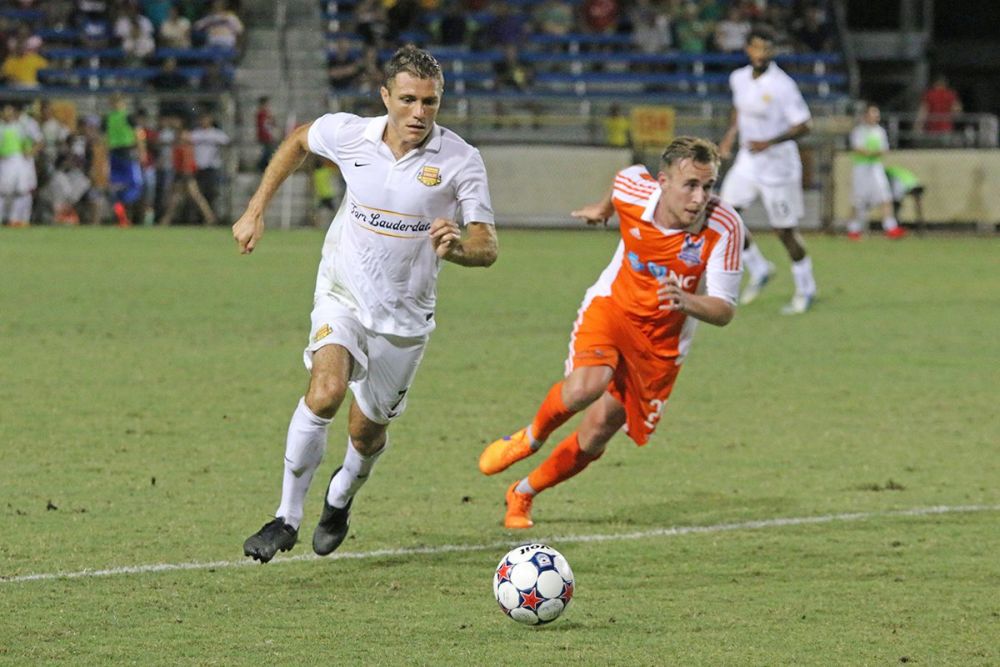 Preview: Strikers Look To Derail Carolina
Will the RailHawks earn their 2nd win in five days? Or will the Strikers continue their late season form from last year with the same coach in tow?
Winning Without Wells
The RailHawks have found success with the 4-1-4-1 over the last few games, largely because the first "4-1" has been consistent and solid. Wells Thompson's suspension throws a wrench in that.
It's possible Colin Clarke slides Neil Hlavaty back from his typical box-to-box role for one game to cover for Thompson like he did against Minnesota on Saturday. It's also possible that Chris Nurse, who showed well as a 2nd-half sub on Saturday, earned himself a spot start. However, Clarke hinted in the post-game Saturday that he might go with a different system altogether such as, and this is speculation on my part, using two strikers like the RailHawks did for a few games in the Spring Season.
Simone Bracalello may not have been the best link-up player the other day, but it's hard to bench a guy who scored one of the best goals of the season a few days ago. It's also hard to bench your best striker and last year's leading scorer in Nacho Novo. So why not play both? The attacking emphasis wouldn't have to change and it would allow the RailHawks to press the Strikers' backline more effectively.
Return of Gunter
Meanwhile, huge changes are afoot in Fort Lauderdale. Since the end of the Spring Season, they've found a newish coach in Gunter Kronsteiner, a newish goalkeepers coach in Ricardo Lopes, a new GM in Caio Zanardi, and a new captain after Leo Moura returned to Brazil.
Such in-season turnover does not often a successful season make, or so one would think. But soccer is littered with examples of a mid-season coaching change kicking a team in the pants and vaulting them into the playoffs or above the relegation line or what have you. And anyway, Kronsteiner obviously has a history here so the transition won't be that jarring.
Of course, these Strikers are already vastly different than the team Gunter willed into last year's Soccer Bowl, so the re-integration will take some time, and it would be folly to expect that process to be complete by tonight. Indeed, he admits that it will take time for everyone to buy in and to get fit (he sees match fitness as one of the team's primary weaknesses in the Spring). However, fans are confident that process will eventually bear fruit, leading to at least a respectable league position if not a playoff berth.
What can we learn from their Spring match?
Honestly, not a lot. Obviously Ft. Lauderdale have undertaken significant changes in coaching and personnel, but even Carolina's game plan should be significantly different than exhibited in May. Their away Spring strategy, which was largely bunker and counter, varies wildly from their home Fall strategy, where they actually manage to incur significant possession.
Unfortunately for the Strikers, this would have been exactly the game to break down the RailHawks with a Moura down the middle. As it stands right now, Tobin and Danso matchup just as well with Ft. Lauderdale's prolific strikers (sorry) as they did in the May shutout.
Prediction
When you talk to players around the NASL, the value of security and stability cannot be overstated. With a new GM and coach coming in, that stability and security has never been more threatened for these Ft. Lauderdale players. What will look like lineup experimentation over the next few weeks will really be the marginalization of players who don't fully buy in to Gunter's system.
Meanwhile, Carolina probably fancy themselves a playoff team after dominating Minnesota on Saturday. They need to win this game if they want to be Fall Title contenders. Yes, there will be 18 games to go after tonight. But the Cosmos and the Rowdies would win this game. I suspect Carolina will, 2-1.
Written by Ian Foster with contributions from Justin Yarbrough of The Tailgate Show.