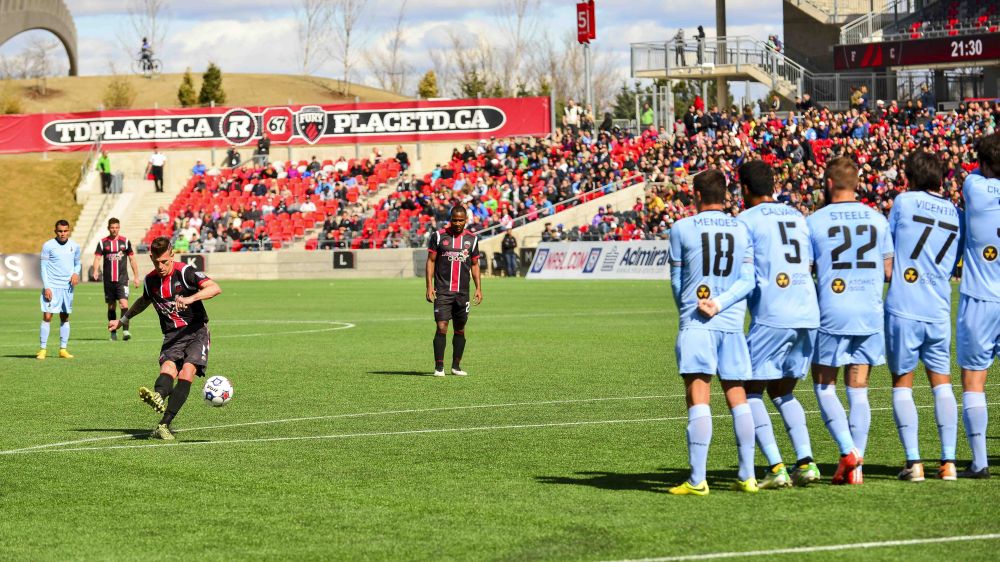 Every MNUFC Goal Allowed Scrutinized
Minnesota ended the Spring Season with a run of three consecutive league games in which the team handed back points with goals allowed in the 75th minute or later.  Much has been said of what ailed the team over the spring, whether it was a lack of fitness, poor connections among new players on the field, luck, injuries, or poor tactical decisions by coach Manny Lagos.  The truth may be a combination of these and other factors.  In order to learn more about the trend of allowing goals late, and of why Minnesota had trouble owning leads in general this spring, what follows is an analysis of every goal scored against Minnesota this spring.  Yes.  Every one.
A key caveat to make here is that the analysis dives into the goals themselves and the buildup play that led to the goals.  Not factored are considerations such as whether an opposing team had been pressing and controlling possession for twenty minutes prior to the goal.  This type of detail, and others, are undoubtedly important, and future analysis will continue to discuss those issues.  What this article determines to seek is whether, given the fact that every team goes through phases of possession and non-possession within a game, there are trends specific to United in the moments of concession that, if tweaked, might result in a team that can better weather those storms.  What was the ultimate answer to the question?  Maybe.

Heinemann earned a long ball on the left side and Tiago Calvano did a reasonably good job of closing him down. Heinemann tried to get around him and was fortunate for the ball to bounce off Calvano, then off his own chest, and fall to his feet. With the pinballing over, Heinemann had only to take a few touches into the box and slot home what would have been a tough save for N'Djock. Brian Kallman needed to put himself between the ball and the player earlier on, and Pitchkolan was covering no one at the top of the box and was slow to get back to the play.
This Goal Brought To You By:
Luck – 34%
Tom Heinemann's Skill – 33%
Brian Kallman's Marking – 20%
Aaron Pitchkolan's Positioning – 10%
Thiago Calvano's Marking – 3%

Tsiskaridze scored the goal of the year, and the goal of his life, on a free kick from 60+ yards. It would be easy to pin this all on goalkeeper Sammy N'Djock for starting the free kick so far forward and putting the sweeper before the keeper. But credit Tsiskaridze for noting N'Djock's position, executing a precise kick that just evaded the goalkeeper's fingertips, and likely for a good job of scouting ahead of the game to understand N'Djock's play style.
This Goal Brought To You By:
Sammy N'Djock's Positioning – 80%
Zourab Tsiskaridze's Skill – 20%

César Elizondo made a great run into the box to bring down a long ball. Both Elizondo and Sammy N'Djock leapt to win the ball: Sammy N'Djock punched the ball out, and his follow through struck Elizondo in the head. The referee pointed straight to the spot and Rafael Castillo converted. The goalkeeper clearly struck the ball first, and the forward puts himself at risk when he challenges the goalkeeper as long as N'Djock makes the play on the ball and not the player. United, and more specifically N'Djock who had enough on his mind already (see above), were very hard done.
This Goal Brought To You By:
Poor Refereeing – 90%
César Elizondo's Run – 5%
Rafael Castillo's Conversion – 5%

Lance Laing scores on an incredible free kick five yards outside the box. Over and around the wall, in the corner out of the reach of goalkeeper Mitch Hildebrandt despite an exuberant dive. Wall was well-positioned, expecting a strike to come from one of two kickers meaning they needed to split the difference in terms of location for a right or left footed kick. Also, Lance Laing is good at playing soccer.
This Goal Brought To You By:
Lance Laing – 100%

Lance Laing again made an impact by using his pace to catch up to a long through ball on the counter. Calvano raced to catch Laing, and nearly succeeded, but Calvano's days of outlegging an opponent are behind him. As Laing raced down the left, Tomi Ameobi chased down the middle with Kevin Venegas, who had pushed high to an attacking position, struggled to track back. Hildebrandt could not cut off Laing's centering pass, and Ameobi slid into the goal along with the ball. This was a goal illustrating the danger of United's preferred tactic of pushing defenders high to supplement the attack, and the relative lack of speed (coupled with some tired legs) for the Loons meant they could not compensate. Mitch Hildebrandt maybe could have intercepted the cross, but he had the entire goal to think about with Ameobi storming in.
This Goal Brought To You By:
Edmonton's Speed – 40%
Minnesota's Tactics – 35%
Minnesota's Lack Of Speed – 20%
Mitch Hildebrandt's Positioning – 5%
After a throw in from the final third, Marco Franco executed a perfect pass to Sergio Peña, who had made a clever run to the end line. Aaron Pitchkolan and, likely, Cristiano Dias kept Peña onside as he made a dangerous cross that was cleared for a corner. On the corner, Dylan Mares delivered to an unmarked Peña who hammered home the header to an unprotected back post. When defensive marking is so poor, it can sometimes be tough to tell who actually missed the mark. Neither Pitchkolan nor Dias seemed to be covering a particular person and were closest to Peña as he scored, so they each may have sinned twice on the sequence.
This Goal Brought To You By:
Minnesota's Poor Marking – 40%
Minnesota Leaving Back Post Unmarked – 20%
Peña's Skill – 20%
Pitchkolan and Dias' Mental Lapses – 20%

Jacksonville knocked about cleverly in the attacking third before getting in the box. Once near the goal, Jemal Johnson danced around United defenders, who made four separate pokes at the ball without achieving a real clearance. Eventually a shot by Johnson was deflected and landed at the feet of a wide open Pascal Millien. Millien's shot took a deflection and found the back of the net. Though Minnesota's defenders should have gotten in a clearance on the encounter, they also did their job by making things crowded enough for Johnson to be unable to take a clean shot. The bounce straight to Millien was unlucky, and it is hard to expect N'Djock to make a save on a deflected ball from inside the box. Where United can be fully faulted, however, is in leaving Millien entirely unmarked. Greg Jordan was closest, but he was playing behind Millien the entire time. Up 2-0 after the 70th minute, there is no reason for Jordan to be playing behind Millien in that moment. Ball watching ruled the day, and so did Millien.
This Goal Brought To You By:
Greg Jordan's Marking – 40%
Jemal Johnson's Skill – 30%
Minnesota's Poor Clearances – 20%
Luck – 10%

It should be noted that it was raining on the night of Minnesota's game against Jacksonville. However, Jemal Johnson's drive from over thirty yards, though it was a screamer, should have been safely nestled in Sammy N'Djock's arms. It was of a height that if N'Djock had positioned himself better, it would have hit his body despite slipping through his gloves. But as N'Djock was slow getting to the ball, it slipped through his hands and over his shoulder, finding the back of the net. The play was one which typically are saved easily, and have commentators scratching their heads over why a player would make a try from that distance. On this night, however, it put Jacksonville back in the match.
This Goal Brought To You By:
N'Djock's Slow Reaction – 40%
N'Djock's Mental Lapse – 40%
Jemal Johnson's Strike – 20%

Andrés Flores sent in a long, speculative ball which Raúl brought down in the box and slotted home. That Raúl had done this once or twice before likely helped him, but also helpful was the space afforded him. Cristiano Dias seemed to have the marking duties, and may have misjudged the ball as defended with his back to goal and fell over backward in his attempt to catch up with the ball. Also worth noting is the lazy press given by striker Pablo Campos on Flores' delivery. Very late in the game with a one goal lead, no one would have expected anything too aggressive, but if Pablo is not defending then he needs to be doing something to at least keep the build up from being comfortable. N'Djock came off his line when it was clear Raúl would have his chance and made the correct play; he just did not have time to collect the ball before the shot was taken.
This Goal Brought To You By:
Dias' Marking – 60%
Campos' Weak Press – 20%
Raúl's Skill – 20%

Another long ball tracked down by another terrific runner. Minnesota, and left back Justin Davis who had the coverage, believed they had Tiyi Shipalane offside about thirty yards out. By the time they knew they were wrong, Shipalane was off to the races, reaching the ball and delivering a perfect cross from the endline. Nacho Novo waited just inside the top of the box and headed home to the left post. The defense never had the time to get organized and their body language after the goal seemed to hint that no one was sure who should have been covering Novo. The offside trap was probably the right play, even if unsuccessful. It is understandable that the defense may not get organized on the quickly unfolding play, the centerbacks were probably right to be guarding the posts, and it would be unreasonable to have expected Venegas to be that far to the middle on the play. A good goal by a good team.
This Goal Brought To You By:
Shipalane's Delivery – 50%
Minnesota's Failed Offside Trap – 30%
Novo's Header – 20%

A bit of pinball wizard and Ft. Lauderdale took an early lead. Several consecutive lofted balls outside the box ended with James Marcelin putting a contested header at the feet of Pinho, who chipped a rushing Hildebrandt for the goal. Marcelin was lucky to put the ball where he did: it bounced off the back of his head and he could only have been trying to keep the play alive. Centerbacks Cristiano Dias and Tiago Calvano were caught ball watching a bit and likely should have either been marking players in their area or guarding the posts (either might have saved the goal). Credit Pinho, though, for the clever chip to put his team ahead.
This Goal Brought To You By:
Minnesota's Poor Marking – 34%
Pinho's Chip – 33%
Luck – 33%

With the Ft. Lauderdale play building up slowly from the keeper, and with a one goal lead after the 75th minute, United should have more than six players in the defensive half when this ball reaches the feet of PC in the center of the field. The Strikers sent waves of players spread very wide and what defensive players United had clustered toward the goal, making the Ft. Lauderdale buildup on the right wing simple. Leo Moura collected a pass from PC and sent an accurate cross in to Jose Angulo. Kevin Venegas mistimed his jump and Angulo scored. A goal that should have been stopped, but an opportunity that never should have happened.
This Goal Brought To You By:
Minnesota's Tactics – 60%
Venegas' Defending – 30%
Moura's Delivery – 10%

At least Minnesota's attacking tactics might be forgiven since the game was tied by this point. Ft. Lauderdale earned the ball with most of United committing to the attack. A single long ball counter to Stefano Pinho left the striker one-on-one with Cristiano Dias, who did his best to disrupt Pinho as he worked his way forward. But it was not enough. Pinho side stepped enough to earn a clear shot, and sent a low bullet through the hands of a diving Mitch Hildebrandt and into the bottom right corner. Hildebrandt likely should have gotten a bigger piece of the ball or even stopped it all together. But when a striker has only a defender and a goalkeeper between him and the net, there is only so much one can expect.
This Goal Brought To You By:
Pinho's Ball Control – 50%
Hildebrandt's Poor Save – 30%
Minnesota Controlling Possession While Pressing – 20%
What, then, does all this reveal?  First of all, a variety of goals were scored in a variety of ways, so it is difficult to say definitively that United is good, bad or mediocre at a specific thing based on this study.  The most common errors were related to poor marking, especially among the centerbacks.  Interestingly, the centerbacks are the same two that played together during United's incredible 2014 season, so it is unclear why there would be any difference in their performances this year.  One possibility is that their performances really are not any worse than last year, but that Minnesota was more successful defending further upfield and the backline was under less pressure to deliver excellent defending moment after moment (this is the opinion of the author).  It may also be that United scored waves of goals last year that might have obscured any defensive issues while keeping opponents' legs tired from chasing the game.  Further analysis would be necessary to vet all of this.  What is clear from the analysis above is that one does not see, say, defender Justin Davis' name nearly as frequently as, say, Cristiano Dias.
One other trend in the analysis above is that Minnesota's defensive work was hard done by no fault of their own regularly enough.  Sammy N'Djock let in at least two obvious goals that should have been saved, Hildebrandt had at least one he should have saved, the Lance Laing free kick stunner was no one's fault, and a poor refereeing decision turned a win into a tie against San Antonio.  If each of these specific goals is taken back, Minnesota would have five points added and would have finished one point behind New York having tied the lowest goals allowed in NASL.  Obviously soccer does not work that way; every other team suffered goalkeeper lapses and incredible displays from their opponents at times.  This is intended more to exonerate the defense from any accusation that they are just utterly poor.  That is not the case.
Rather, goalkeepers, referees, and a brilliant free kick owned four goals and tactics which left defenders tracking back desperately accounted for many more.  If United can get consistent goalkeeping from N'Djock and tactics which allow the team to take more conservative formations (such as utilizing a dedicated defensive midfielder as suggested previously, and holding more players back earlier in games) will mitigate some of these goals and leave United in a good place, should they be able to continue scoring goals at roughly the same rate.