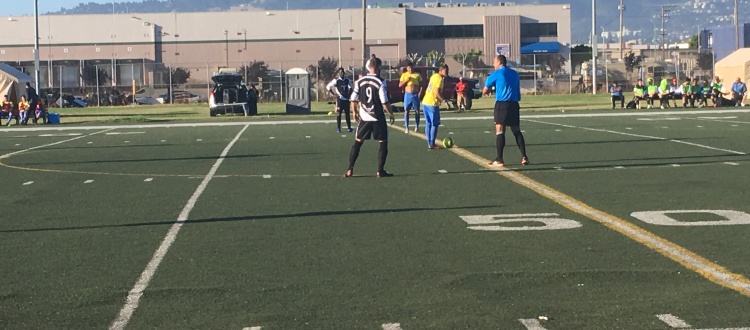 NorCal Game of the Week June 23rd: El Farolito Clinch Golden Gate Conference Title
The 1993 US Open Cup Champions and 9-time San Francisco Soccer Football League Champions, El Farolito, won the NPSL Golden Gate Conference in their inaugural season in the League. Coming into Saturday's match, they needed just a draw on the road against Bay Area rivals, CD Aguiluchos USA, to clinch the Conference title. That is what they got as they picked up the point they needed with a 1-1 draw.
The match was a balanced affair for most of the first half as both sides played a more defensive style, with neither side willing to take too many risks.
El Farolito was the first side to get close to scoring, when in the 38th minute of play Edson Cardona saw his deflected shot saved by Aguiluchos' goalie Kevin Gonzales.
Just before the half, it was Aguiluchos' turn to get close to scoring, but Simon Rawnsley's effort was expertly blocked in the 41st minute of play. Then Grevin Pacheco's long range free kick was blocked, and the teams went into the half 0-0.
As the teams entered into the second half, San Francisco began to take control of the match. The chances started coming in the 60th minute of play when Carlos Montes watched his effort cleared off the line by the Aguiluchos defender, Anthony De Souza, to keep the game scoreless. Then again in the 68th minute, the effort by Camilo Campo came back out of the crossbar. It began to look like the match would end scoreless.
That however was not to be the case as a penalty kick was awarded to the visitors in the 83rd minute. El Farloitos' leading scorer on the season, Edson Cardona, stepped up and coolly buried the penalty to give his side the 1-0 lead.
Aguiluchos pushed hard to level the match, forcing El Farolito keeper Mario Martinez into a huge save off a free kick. Then in the ensuing scramble, the center ref awarded a penalty to the hosts. This penalty was overturned moments later with assistance from the lines ref. Farolito remained in the lead into the 90th minute.
The Aguiluchos did get their goal in the 91st minute when Marco Villa expertly headed home from a cross to level the match at 1-1.
Just a minute later the hosts looked set to grab the winner, but the effort by Simon Rawnsley was miraculously saved by Martinez on the doorstep to preserve the draw allowing El Farolito to clinch the Golden Gate Conference title.