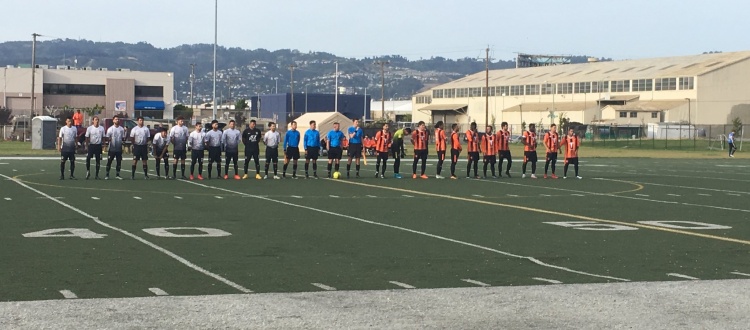 NorCal Game of the Week June 9th: Aguiluchos Get Back on Track with 1-0 Win Over Academica
The Aguiluchos got back on track with a hard fought 1-0 victory over Academica SC at Raimondi Park on Saturday night. The home side had been struggling somewhat as of late, as they had dropped the 3 points in 2 of their last 3 matches. However, with the victory they move to within just 1 point from clinching another trip to the NPSL playoffs.
The Aguiluchos earned an early penalty kick that was converted. They held on to the single goal lead for the remainder of the 90 minutes as Academica struggled to even get shots off against the Aguiluchos for most of the night.
The major call of the game came in the 9th minute of play when Aguiluchos attacker Carlos Aparicio was taken down in the box earning the early penalty for his side. Camille Kamdem stepped up and calmly buried the penalty to give the home side the lone goal of the night.
The only other chance for the home side in the first half came in the 26th minute when Carlos Aparicio saw his long range strike bounce back off the cross bar to keep the score at 1-0.
The visitors from Turlock, California had one first half chance when Aguiluchos keeper Kevin Gonzales came up with a decent save against Academica's Paul Oei to preserve the first half lead for his side.
In the second half, the Aguiluchos continued to dominate the ball. They looked comfortable defensively, but they were unable to turn that dominance into a major goal scoring chance.
They had a good chance in the 61st when Aparicio found himself with the ball on the break away, but he took the shot himself instead of playing in his open teammate on the wing.
Academica had a few more chances to level the match, but many of those efforts were fired well off target as they struggled to test the Aguiluchos' keeper.
While the Aguiluchos looked threatening on the counter attack, they struggled to stay onside as they saw multiple goals called back by the lines ref's flag.
The match was sealed in the 90th minute just before the final whistle when Aguiluchos defender Christian Valdez game up with a huge last ditch tackle at the top of the box to deny Academica's Edwin Rodriguez. The match ended 1-0 in favor of the home side.