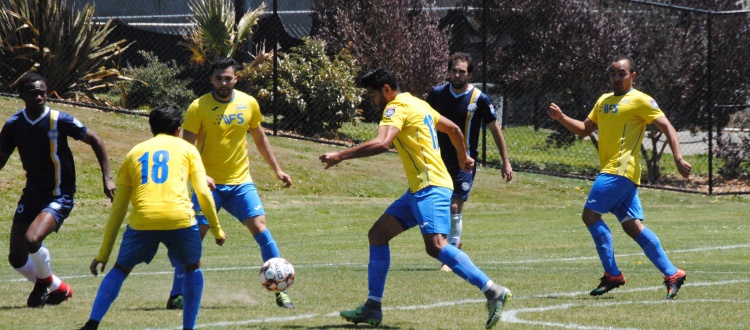 NorCal Game of the Week May 12th: El Farolito Return to Winning Ways Against East Bay
Photo Credit: @theprojectfc
The return of the Stompers to their old home, Boxer stadium, to face new Conference rivals, El Farolito, was a heated affair that resulted in multiple yellow cards, one red card, and one moment that almost led to a fight on the field. In the end, the home-side, El Farolito, won by a score of 2-1 off of an 84th minute game winning goal.
The match was always set to be an intense affair as the previous match between the two clubs in Hayward earlier this year ended controversially, both on and off the field.
In the first half, El Farolito dominated in terms of possession, but the balance of chances was in favor of the Stompers. They had multiple good chances to take the lead in the first half.
The first of those chances came in the 25th minute when the Stompers' attacker, Michael Tieku, was brilliantly put through on goal off of the pass from Naji Karaman, but the Farolito keeper, Jorge Rosales, came off with his first huge save of the match.
Then in the 28th minute, Arturo Gomez of the Stompers saw his header go off of the cross bar. This was just before the best Stompers' sequence in which Gomez forced another huge save out of the Farolito keeper.
In the final moments of the first half, two more chances fell to the Stompers, first to Khalid Arramdani who was brilliantly played through off a pass from his keeper, Luis Castro, but failed to finish. Then moments later, Tieku saw his effort smashed off the cross bar as the half ended 0-0.
The 2nd half began fast for the home side as they applied the pressure right form the whistle. This pressure led to the break through goal in the 55th minute from Luis Omar Hernandez who finished after a scrabble in the box to make it 1-0 to El Farolito.
The next 15 minutes of play resulted in lots of cards and stoppages before the Stompers eventually found an equalizer in the 72nd minute off of a header from Gerado Moya from a beautiful set piece delivery from Augustine McCabe.
As the game continued, there were more hard tackles and pushing and shoving before El Farolito substitute, Carlos Montes, beat his man down the wing and played a perfect ball across goal that Gustavo Ruelas slammed home to return his side into the lead 2-1 in the 84th minute.
As the Stompers fought for one last chance, their captain Zanin Mahic, who was lucky not to see his 2nd yellow card earlier in the half, received his 2nd yellow card, resulting in a red card that sent him off the field. With the Stompers reduced to 10 men, the chance to equalize the match was over as El Farolito took all 3 points with a 2-1 win.