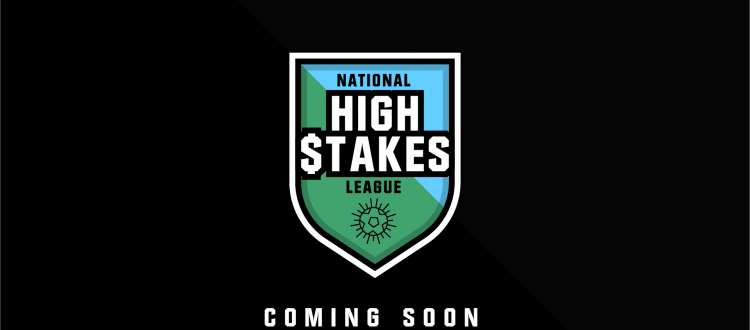 Introducing the National High Stakes League: An Interview With Founder Nick Swinmurn
There isn't much of an incentive for someone to invest in any level of soccer in this country, whether it be professional or amateur. Why should anyone pour their money into the game of soccer in the US if there is little to no chance to see a return on investment? No one knows this better than former PDL Burlingame Dragons owner and former leader of the USL San Francisco bid, Nick Swinmurn.
Last October, he announced in his podcast that he had pulled the SFFC USL bid and ceased operations on the PDL Burlingame Dragons. At that time, he felt that there was no true incentive to continue to invest in the game of soccer. He commented in that podcast that "it's an expensive hobby [to continue to operate a 4th division club]…In the US, the reward for getting to a higher division is you can pay more."
This frustration led to Swinmurn creating a dual purpose concept in which there is a reason to engage from the investors' perspective, and from the soccer perspective, all that matters is winning. This is manifested in the new National High Stakes League (NHSL) – a series of cash prize soccer tournaments beginning with the Bay Area Cup in 2019.
I spoke with Nick to talk about everything NHSL.
MFP: First off, can you tell us a little about the National High Stakes League? How, why, and when did this become a concept?
NS: The NHSL will consist of a series of tournaments beginning with the Bay Area Cup in 2019. We think the tournament model serves as a great option either as an additional avenue and potential revenue stream for established league clubs or as a simplified stand alone option for new clubs. By eliminating the focus on attendance and sponsorships as primary revenue drivers, and eliminating the expenses of extended travel and game day field rentals, the NHSL provides an opportunity to establish community clubs with fixed expenses and a clear path to profits.  We believe that a tournament model with clear financial incentives that can include both new clubs and existing clubs playing in established leagues is a project worth pursuing.
I have been playing around with the Bay Area Cup tournament idea since 2014. Shortly after we withdrew from the SFFC to USL project last year I began to revisit it. It was frustrating to me that there was no financial reward for performance in the existing leagues. People always refer to investing in soccer in the US as a passion project or a hobby, which is fine, but I felt it limited the potential pool of investors. There was always the tug between do I invest in soccer to benefit the community or do I focus on businesses that can benefit the community and make money. I realized that it could eliminate the reliance on the community to be the primary revenue generator (through attendance and sponsorship) and instead made the results on the field dictate revenue that there might be a business somewhere in there. Not everyone will make money but everyone will clearly understand how to and what happens on the field will be the only driver.
MFP: You shared a podcast after the decision had been made to cease operations of the Burlingame Dragons and the USL San Francisco bid. You mentioned that there was no incentive for any funder to invest at any level of US Soccer. Is that the idea behind the NHSL, to give investors a clear incentive?
NS: Yes. I think fixed costs and a clear understanding of how you make money is key to investing in soccer. For example, with our first tournament, the entry fee will be $25k per team. There will be 16 teams split into 4 round robin groups, competing over three game days. The winner of each group will win $25k. Those four teams will be the semi-finalists. The two semi-finalist winners will each win an additional $50k. The champion will win an additional $100k. So of 16 teams over 5 game days, twelve will have spent $25k, two will have broken even, one will have made $50k and one will have made $150k. Not everyone will make money playing, but each has a clear understanding of how to do so.
MFP: Is this something that you felt as a former club owner would make you more interested in investing in a club again?
NS: Yes, the Burlingame Dragons will return in the NHSL Bay Area Cup.
MFP: Is this tournament open to anyone? What clubs can enter and what are the rules behind fielding a team/player eligibility?
NS: Yes, first sixteen are in, whether established clubs or new entries. Rosters will be locked once tournament begins but no restrictions on players.
MFP: Will the NHSL help facilitate connections between potential investors and current clubs as well?
NS: Yes, we believe there are people who'd like to invest in soccer if they had the correct technical or club partner and that there are also clubs seeking investors. We'd also be excited to see teams with a fan ownership element. For example, if a club had 100 fans each contribute $100 that club's entry would be 40% fan owned and the fans would share in any winnings. 15 players could each contribute $1,666 and take their chances as player owners.
MFP: What is the concept behind the name "High Stakes League"? Is it connected to the concept of gambling or poker?
NS: We believe that a competition with a cash prize based on performance is exciting. In the future we'd like to see tiers. There could be $5,000 tournaments and $1 million tournaments.
MFP: With a tournament like this, there wouldn't be the need to market the team and worry about ticket sales, because that would be taken care of by the League. Clubs would only have to worry about putting a high level team on the field. Is that correct?
NS: Correct. Teams would be free to attract any sponsors they can to help cover their entry fees and keep 100% of that revenue and obviously we'd love each team's fans to attend, but attendance will be free. The team's revenue model is based on win and make money versus draw a big crowd and make money.
MFP: What time of year do you plan on holding the tournament? Will it be available to clubs as a tool for preseason?
NS: We are shooting for spring 2019 for the Bay Area Cup. In theory a PDL team, for example, could win the tournament and cover its season expenses before the PDL season even began. I only mention PDL as that's what the Dragons were and I'm familiar with those expenses.
MFP: You are starting with just a Bay Area Cup. Can you tell us more about that? What are some of the key dates and what needs to happen next?
NS: First we need to prove that there are teams interested in participating. Without teams there will be no tournament.
MFP: What is the long-term plan for what this can become beyond the Bay Area Cup?
NS: We'd like to see 8-12 tournaments throughout the country with the winners of each tournament competing in the NHSL Cup. Money from each tournament will be set aside as prize money for the NHSL Cup so the winners will be competing for money with no additional entry fee needed.
MFP: Is there anything else you would like to tell the readers of Midfield Press about the National High Stakes League?
NS: We're excited to get started. We don't have all of the answers but we believe that a tournament model with clear financial incentives that can also complement each of the existing leagues is a project worth pursuing.