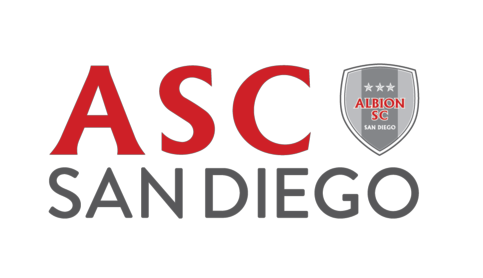 Albion SC Refocuses On Pro Goals With ASC San Diego Rebrand
Albion SC has been a fixture in the San Diego soccer community since 1981 and has become one of the region's top youth clubs, with over 3,000 youth soccer players in its system.  The club launched Albion Pros into the NPSL in 2015 to provide a full system, from youth soccer to full season pro soccer, for its players to aspire to.  Since its launch, Albion Pros, now ASC San Diego after its recent rebrand, has been pursuing a goal of climbing the US Soccer Pyramid.
"Last year we were in discussions with the North American Soccer League (NASL) about becoming its San Diego franchise; however, those discussions fell through. As they say, everything happens for a reason. We stayed focused and worked hard to strength our investor base and partnerships towards our goal of bringing full season professional soccer to our community. Today, ASC is in discussions to join either NISA or the USL (D2 or D3),"  said Noah Gins, ASC's CEO.
"We are excited about the opportunity to bring top tier professional soccer to the city of San Diego.  This is something we have been working on for a long time, and we are close to achieving our objective," said Gins.
Changing a time honored brand name is always a difficult choice for any business.  Gins explains:  "We felt that as a full season pro soccer team, we needed the city of San Diego in our name to truly represent our community.  There is a huge part of the city that knows and loves our club from youth soccer, but as we reach beyond the ranks of our parents, members and core supporters, we felt that it was really important for the general public to view us as a team playing for all of San Diego."
ASC is looking at venue options within the San Diego city limits. With 1904 FC looking to build a stadium in Oceanside, in the North County San Diego area, there would be sufficient distance between ASC San Diego and 1904 FC for both clubs to be successful.  Oceanside is about a 45 minute drive from the venues in the City of San Diego, and the region is densely populated enough to support two pro clubs in different parts of the market.
San Diego area journalist Dike Anyiwo of the San Diego Chronicle and SoccerNation feels that two pro teams could co-exist in different parts of the county:  "I absolutely believe that the greater San Diego region can support two teams. It always strikes me as strange when people express doubt in the capacity of this region to support soccer. Drive around on a weeknight or a weekend and find a field where people AREN'T playing soccer if you can. Or save yourself the time and trouble because you won't be able to. The game is everywhere here and so long as the two professional teams have distinct and specific identities, I have no doubt that each can be successful."
ASC San Diego could take the field in a brand new league as soon as 2019, depending on the which path it chooses.  NISA plans to launch its inaugural season in either August of this year or in 2019, and has accepted applications from teams in Connecticut, Chattanooga and Miami, while in discussions with others in St. Louis, Milwaukee, Omaha and Charlotte.  USL D3 has sourced its teams from PDL thus far, with Tucson and South Georgia as its first two clubs, and the Santa Cruz Breakers as well as another team in California to make the jump up.  USL D2 starts 2018 with 33 clubs, and is linked with adding another three in 2019.
Whichever league it selects, ASC San Diego will be looking to create special here in San Diego and something extremely rare in American soccer – a club that grew as a thriving youth program, ultimately building a full pyramid professional soccer organization from the ground up.